Caramel Apple Pie Taquitos like an apple pie rolled up into a cinnamon sugar crust, topped with caramel and slathered with whipped cream.
I love taquitos and well the obsession with rolled tacos was passed down to my kids. I totally blame my dad who every Christmas Eve makes traditional taquitos. My whole family looks forward to this day because we only have them once a year. It is such a treat to look forward to.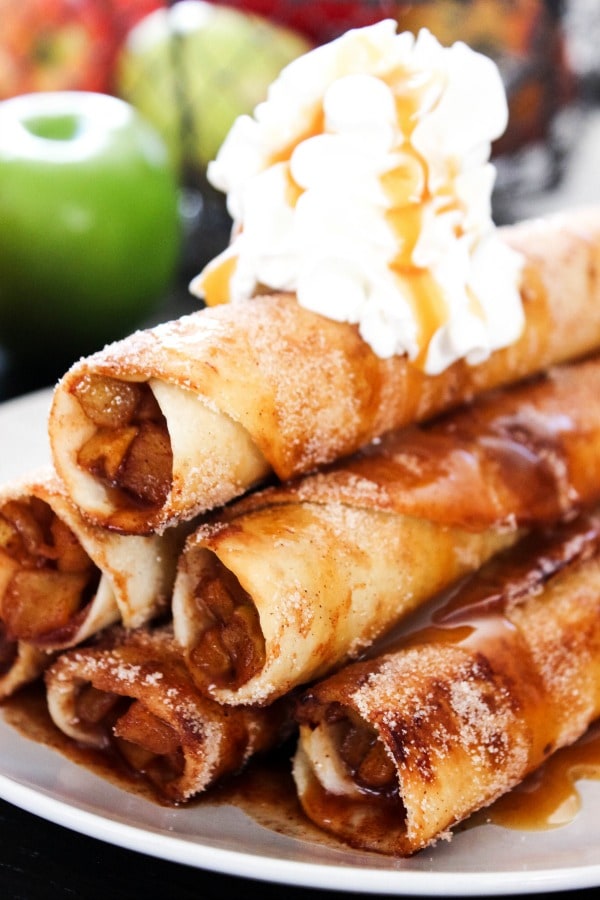 I love taquitos so much that I have a few different and healthier versions on my blog that we make every football and holiday season. Slow Coker Buffalo Chicken Taquitos and Slow Cooker Greek Chicken Taquitos, oh I forgot to mention that they are easy slow cooker recipes!
Taquitos a great finger food, pretty easy to prepare and dang delicious.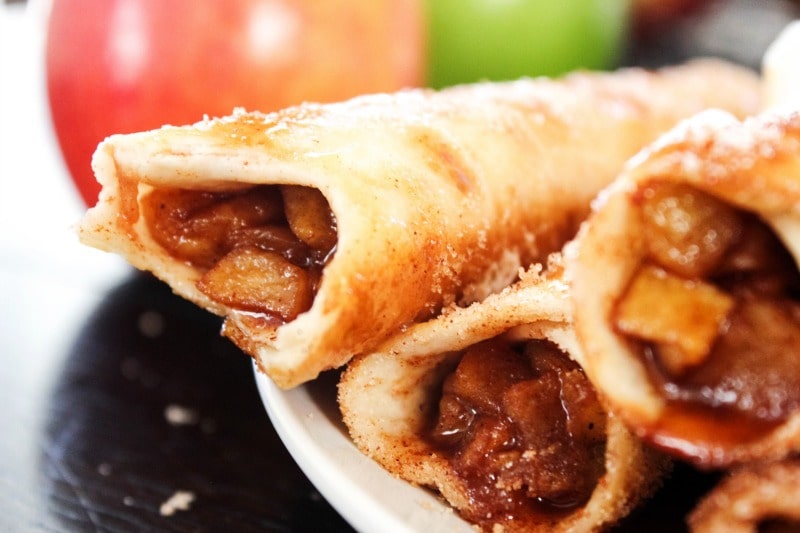 I saw this idea for Apple Pie Tacos from a Cooking Panda. My daughter Jersey saw it and was like oh, I want those. But I was like that looks a little messy so how can I maybe prevent a massive taco making mess with five kids? And this is what came to mind. When I Googled it to find the video again later I came across a recipe from my friend Holly, Spend with Pennies for Apple Pie Tacos, so if you are looking for more a taco then be sure to check out her recipe.
Otherwise grab a bowl of whipped cream and dip on in with these Caramel Apple Pie Taquitos.
Enjoy! San
Caramel Apple Pie Taquitos
Ingredients
4 large green apples
1/2 cup water
2 heaping teaspoons cinnamon
1/2 teaspoons nutmeg
1/2 cup sugar
6-8 taco sized flour tortillas
3-4 tablespoons canola or vegetable oil
1/3 cup sugar
1 teaspoon cinnamon
Caramel
Whip cream
Directions
Peel and core apples.
Dice apples into small chunks into a saute pan and place over medium-high heat. Add water, cinnamon, nutmeg and sugar, stir to combine.Cook apples until tender and sugar has caramelized. The amount of time this takes will completely vary on the temperature.
Once completely cooked. Remove from heat. Divided apples among the tortillas, placing a strip of apples down the center of the tortilla, like you are making a taco. Tightly roll the tortilla. Set aside and repeat with remaining tortillas.
Wash and dry pan.
In a small mixing bowl add sugar and cinnamon, Pour onto a dinner sized plate and set aside.
Add 2-3 tablespoons of cooking oil in the pan, place over medium high heat.
Cooking 3-4 taquitos at a time, add to the pan. Turn every 5-10 seconds until every side of the taquitos is a lightly golden brown.
Remove immediately from oil and roll in the cinnamon and sugar mixture. Repeat with remaining taquitos.
Top taquitos with caramel sauce and serve with whipped cream.
https://www.dashofsanity.com/caramel-apple-pie-taquitos/
Pin this to your favorite Pinterest board for later.
Save