Buffalo Chicken Dip – Delicious and full of flavor with buffalo sauce and ranch dressing, this cheesy dip is so addicting that it will quickly disappear.
This dip is just perfect for any get together, barbecue, potluck and especially for game day. This Buffalo Chicken Dip has become a favorite in our home and is requested at least weekly from either my husband or kids. I'll admit I love it just as much too.
The first time my family had this Buffalo Chicken Dip was at my sister Tami's house. The moment she put this dip on the counter to serve everyone gravitated towards it and was swarming it like busy little bees. I am not even kidding. There were very few words which I think it is one of the highest compliments you can give to a cook.
We were all a little shocked that Tami served something so amazing and homemade. Now Tami is known to be an amazing hostess but cooking is not her thing and she would be the first to say so. She is not a huge fan of cooking or spending too much time in the kitchen but she does love entertaining. She typically is the person who asks what she can buy to bring to a family get together.
So the fact that she served this best ever dip according to my kids and hubs is just astonishing. I immediately asked for the recipe and we have made it just a few (wink, wink) times since then.
The combination of cream cheese and Frank's Buffalo sauce is lethal and then add in the secret ingredient, ranch dressing well it just makes for a real crowd pleaser. We actually made this again last night and my son madden was dipping his chip loaded with this dip in extra ranch dressing. Which gave me the idea that you could even drizzle this tip with extra ranch or Frank's buffalo sauce. I think it would be absolutely even more delicious.
I see this dip becoming our summer to-go-to dish when we hit up our friends and families homes for a party. Or easy Sunday appetizer while we are grilling.
I never thought I could love Frank's Buffalo sauce more than I do but this Buffalo Chicken Dip has me even more in love. Thankful for my sister who never cooks for whipping this up. Grateful she made something and shared with us all her excellent taste in food and grateful that she is my sister.
Not only does Tami make a mean dip but also puppy chow and eggs. Love you Tam maybe even a little more than this dip.
Enjoy friends, excited for you to try this and be sure to come back and let me know what you think. XOXO San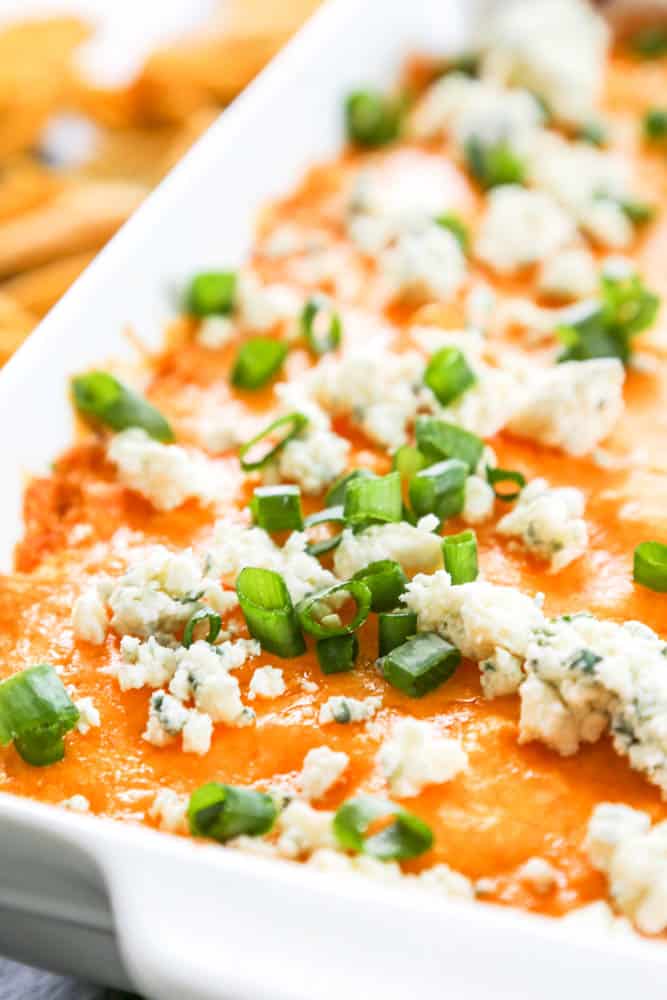 See just how easy this dip is to make, friends you will have this Buffalo Chicken Dip ready in no time!
My favorite kitchen items I used to make this Buffalo Chicken Dip.
This post may contain affiliate links. See my Full Disclosure for further details. 
HAND MIXER: I love these for small batches or quick and easy recipes that don't require a lot of ingredients. I love that you can have so many color options now, I love personally love teal.
MIXING BOWLS:
 I love having a variety of sizes of mixing bowls. From small to large, I find that having at least 3 bowls of different sizes has been essential in my kitchen. I prefer Pyrex because of the durability.
SERVING DISH:
Finding a 6×10 baking dish can be hard, so if you are looking for something you can use over and over again, try this Pyrex 8′ glass baking dish. It comes with a lid making it easy to travel with.
Don't forget to pin this for later to your favorite Pinterest board.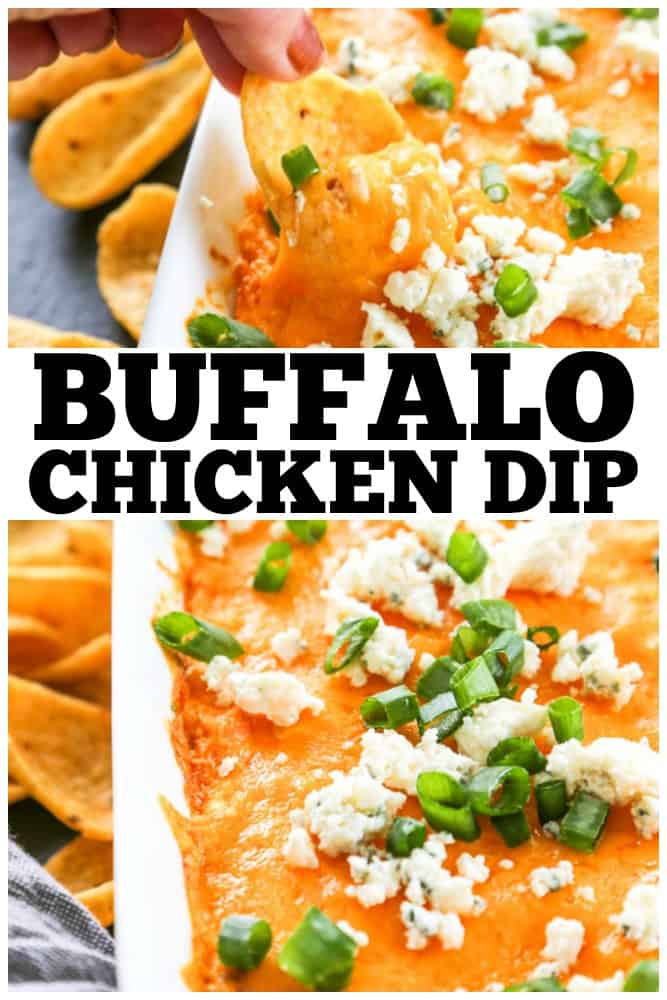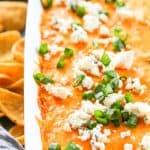 BUFFALO CHICKEN DIP
Buffalo Chicken Dip - Delicious and full of flavor with buffalo sauce and ranch dressing, this cheesy dip is so addicting that it will quickly disappear. - Delicious and full of flavor with buffalo sauce and ranch dressing, this cheesy dip is so addicting that it will quickly disappear.
Ingredients
8

ounce

cream cheese

2

cups

cooked chicken

approximately 2 chicken breasts

1/2

cup

ranch dressing

1/2

cup

Frank's Buffalo Sauce

2

cups

cheddar cheese

shredded + more if desired
Optional Toppings
green onions

blue cheese crumbles
Dippers
taco chips

crackers

celery

carrots

pita chips
Instructions
Preheat oven to 350 degrees.


Soften cream cheese to room temperature. Add to medium mixing bowl, add in buffalo sauce and ranch dressing and mix until well combined.

Stir in chicken and cheese. Spread dip into a small oven proof baking dish. 6x10 is a great size.

Bake in preheated oven for 20 minutes.

After you have baked 20 minutes, remove from oven and sprinkle with more cheese, if desired and broil on high for 2-3 minutes or until cheese is melted and bubbly.

Service immediately.

You can sprinkle with chopped green onion and blue cheese if so desired. Serve with any of the options listed above.
Nutrition Facts
BUFFALO CHICKEN DIP
Amount Per Serving
Calories 289
Calories from Fat 225
% Daily Value*
Total Fat 25g 38%
Cholesterol 73mg 24%
Sodium 732mg 31%
Potassium 119mg 3%
Total Carbohydrates 2g 1%
Protein 13g 26%
* Percent Daily Values are based on a 2000 calorie diet.
Save