BROCCOLI CHICKEN CURRY CASSEROLE a creamy delicious curry dish made with fresh broccoli chicken and a crispy cheese topping.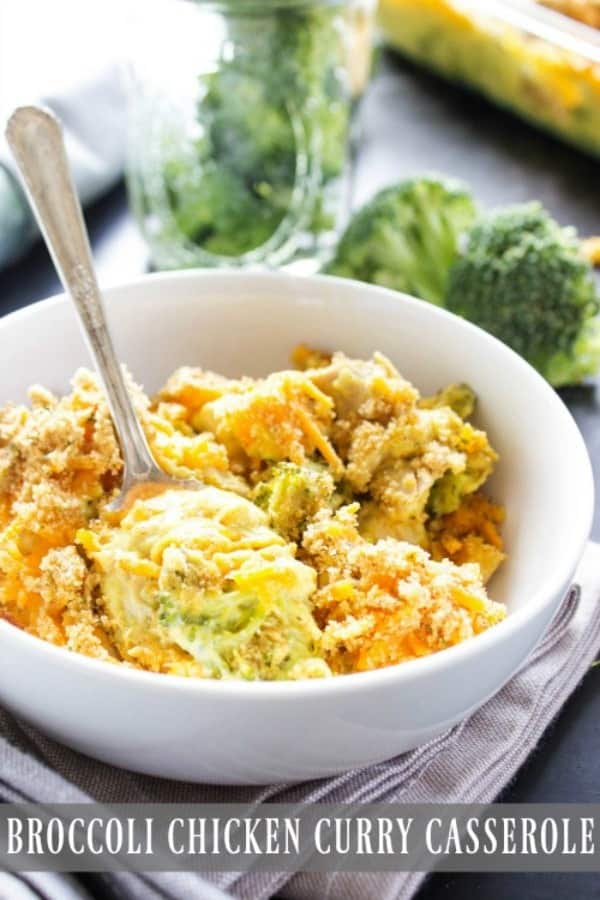 One of the first dishes that my mother-in-law ever made us was this Broccoli Chicken Curry Casserole. I had never, ever heard of it and I will be honest was a little put off by the cooked broccoli and the fact that it was a casserole. But because it was my mother-in-law, I had to try it and like it…lol. Well at least try it, right?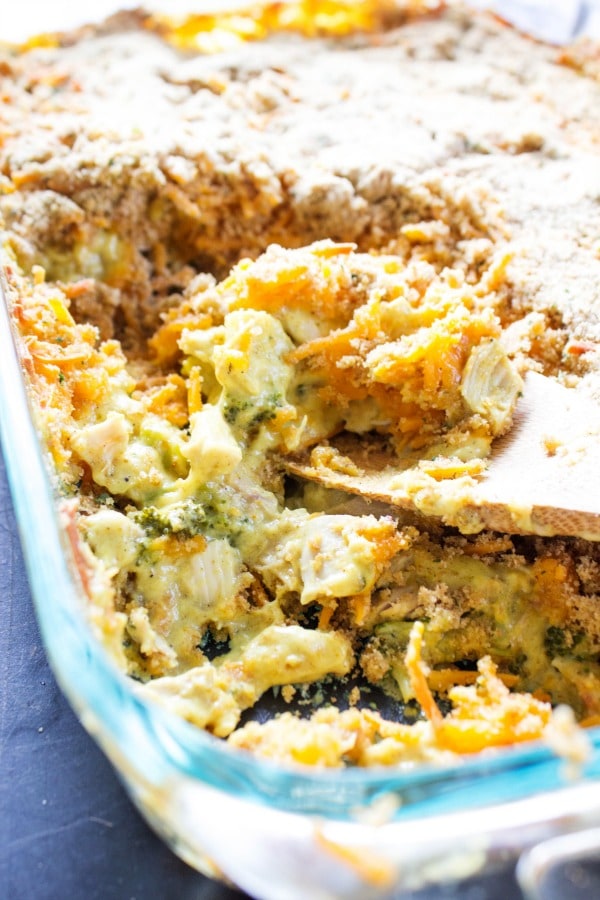 With the delicious crispy bread crumbs and cheese, I knew I would at least like that. I took that first bite, expecting mushy broccoli and I got the opposite. The broccoli was cooked but not ever done and the creamy curry filling was a perfect balance with the chicken and crumb topping.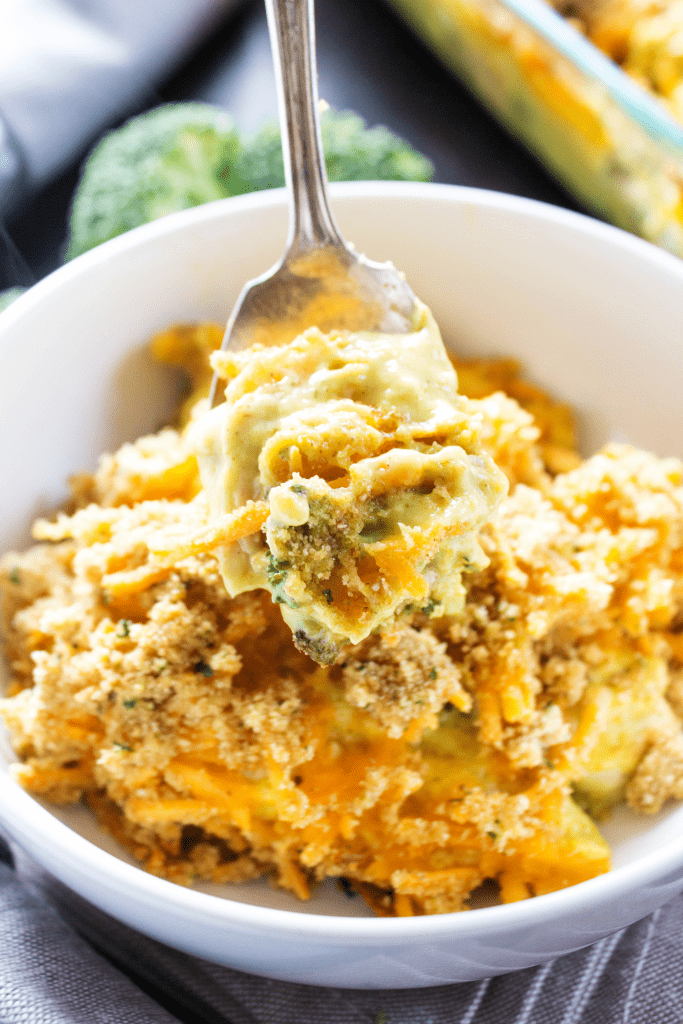 This casserole is my to-go-to dish to take to family and friends when they are in need of a meal. One because it freezes great and two it is so comforting, yet not your traditional casserole.
My son, Madden is by far our pickiest eater and he devours bowl full after bowl full.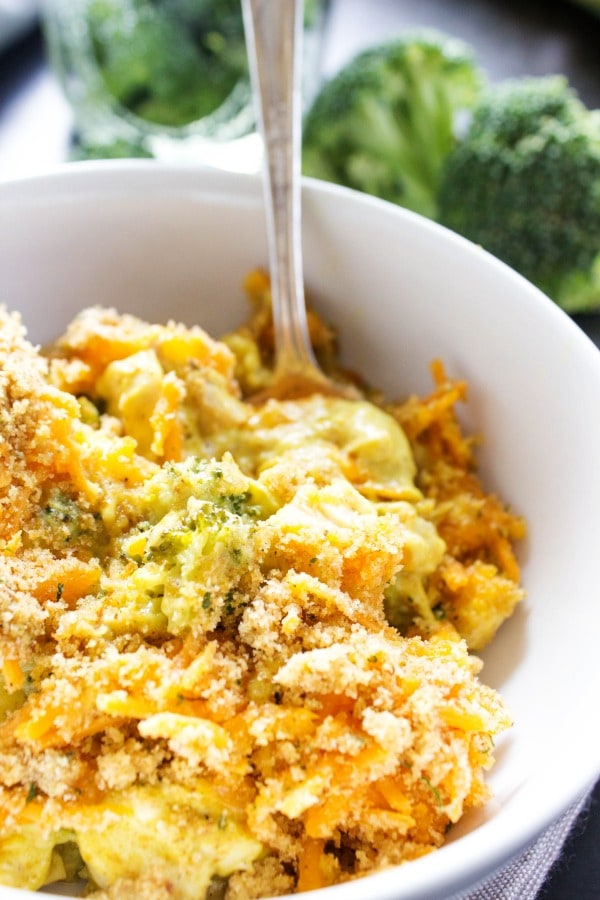 So advice to all you unmarried people out there, try your in-laws dishes, you may just be surprised I know I was. Enjoy this amazing dish from Jeanne's oven to yours. XOXO San
My favorite kitchen items I used to make this BROCCOLI CHICKEN CURRY CASSEROLE.
This post may contain affiliate links. See my Full Disclosure for further details.
9×13 BAKING PAN: I use my 9×13 baking pans all the time. Dinner, cakes and even for play dough fun, these are a kitchen must have in our home. I prefer the dark pans over glass pan – all because I feel like they cook more evenly, but this is just my own personal thoughts.
MIXING BOWLS:
 I love having a variety of sizes of mixing bowls. From small to large, I find that having at least 3 bowls of different sizes has been an essential in my kitchen. I prefer Pyrex because of the durability.
GLASS MEASURING CUPS:
 I use these all the time – almost daily. The large 4-cup one I use as a bowl most of the time. Mixing together sauces and gravy. The small ones I use for baking, mainly measuring liquids.
Don't forget to pin this recipe for BROCCOLI CHICKEN CURRY CASSEROLE to your favorite Pinterest board for later.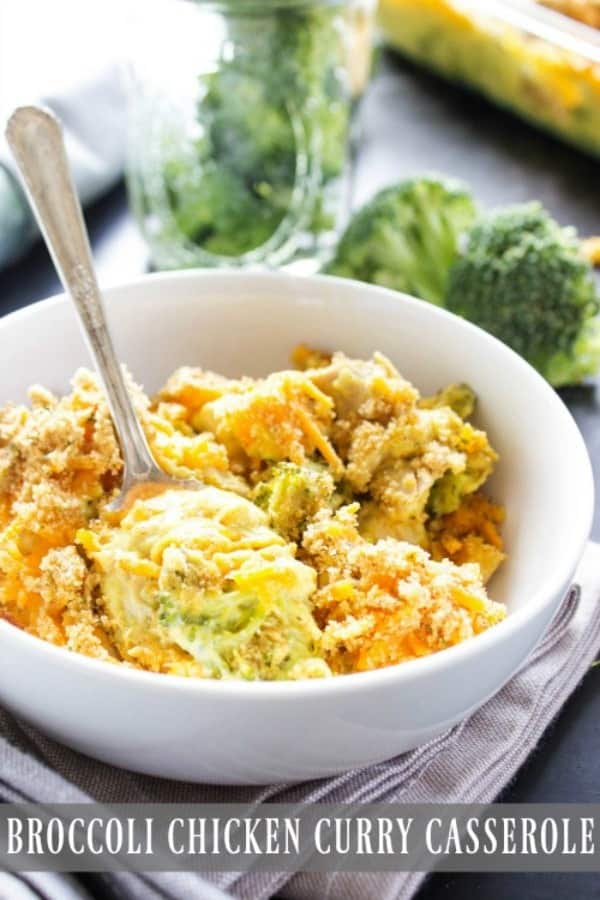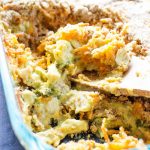 BROCCOLI CHICKEN CURRY CASSEROLE
BROCCOLI CHICKEN CURRY CASSEROLE a creamy delicious curry dish made with fresh broccoli chicken and a crispy cheese topping.
Ingredients
4

cups

broccoli florets

1

cup

mayo

1

tablespoon

curry powder

1/2

teaspoon

granulated garlic

2

cans

cream of chicken soup

1

Rotisserie chicken, all bones and skin removed, coarsely chopped

or 3 chicken breast, boiled until completely cooked and coarsely

1

cup

bread crumbs

1/2

cup

shredded cheddar cheese
Instructions
Preheat oven to 350 degrees.

Place all the of the broccoli florets at the bottom of the 9x13 pan.

In a mixing bowl combine chopped chicken, mayo, cream of chicken soups, curry powder and granulated garlic. Stir together until combined.

Spread evenly over broccoli florets. Top with shredded cheddar cheddar, you can add more or less depending on your taste. Top cheese with bread crumbs and place in oven and bake for 35-45 minutes.

Remove from oven and serve after letting it rest for 5 minutes.
Nutrition Facts
BROCCOLI CHICKEN CURRY CASSEROLE
Amount Per Serving
Calories 835
Calories from Fat 531
% Daily Value*
Total Fat 59g 91%
Cholesterol 155mg 52%
Sodium 1278mg 53%
Potassium 646mg 18%
Total Carbohydrates 25g 8%
Protein 47g 94%
* Percent Daily Values are based on a 2000 calorie diet.

This post was recently updated since its original post date of February 2017.
Save