BLUE CHEESE FONDUE – a perfect dip to feature the next time you homegate or watch the big game. With its rich and melt-in-your-mouth texture, this bold cheese fondue will wow every fan. And don't just serve this dip with bread; try out chicken wings, sausages and veggies too.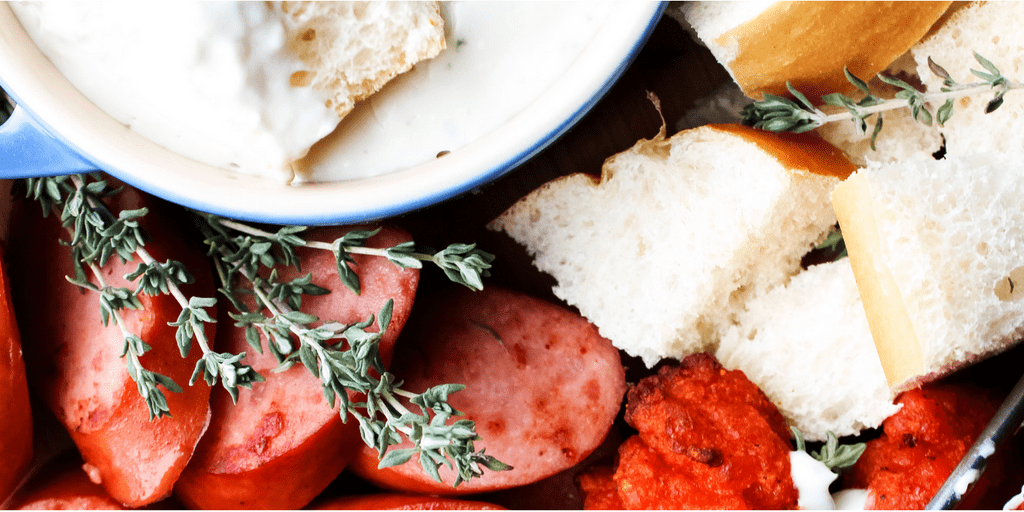 This post is written by me on behalf of Tyson Foods, Inc. All opinions are entirely my own. This shop has been compensated by Acorn Influence, Inc. and its advertiser. All opinions are mine alone. #ClubTysonFFL
I love entertaining for the big game day! I was super excited this year to move into our new home especially because we have more room to entertain. While I love serving my guests traditional classics like 7-layer dip, spinach artichoke dip, wings and fondue, I also love to have a few twists and surprises – dishes that leave your guests oohing and aahing.
My love for blue cheese inspired this fondue recipe. And of course, what goes fantastic with blue cheese – chicken wings! Whenever I think of hot wings, I automatically think blue cheese. So having Blue Cheese Fondue and Buffalo Chicken Wyngz from Tyson seemed like a natural fit – and a delicious one at that.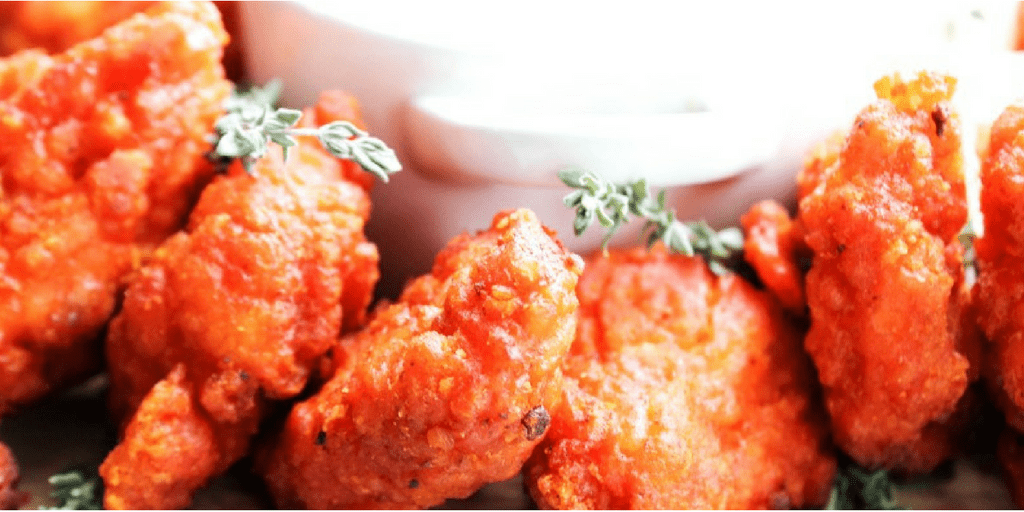 I loved that the Buffalo Chicken Wyngz were boneless, making it less of a mess for my guests and easy clean up for myself. They were easy to dip, bite into and dip again (so good, you'll have to watch those double dipping husbands). This is not only great during the football season, it'd knock the socks off during the holidays too!
I also think you need to offer a variety of dippers for the fondue. Trust me, more will be eaten this way, or should I say devoured. I went with some classics like French bread and carrot sticks, but I also included Hickory Farms Smoked Sausage, one of our kids' favorites. They love sausage by itself, but for my little blue cheese lovers, adding a cheese fondue was a huge success.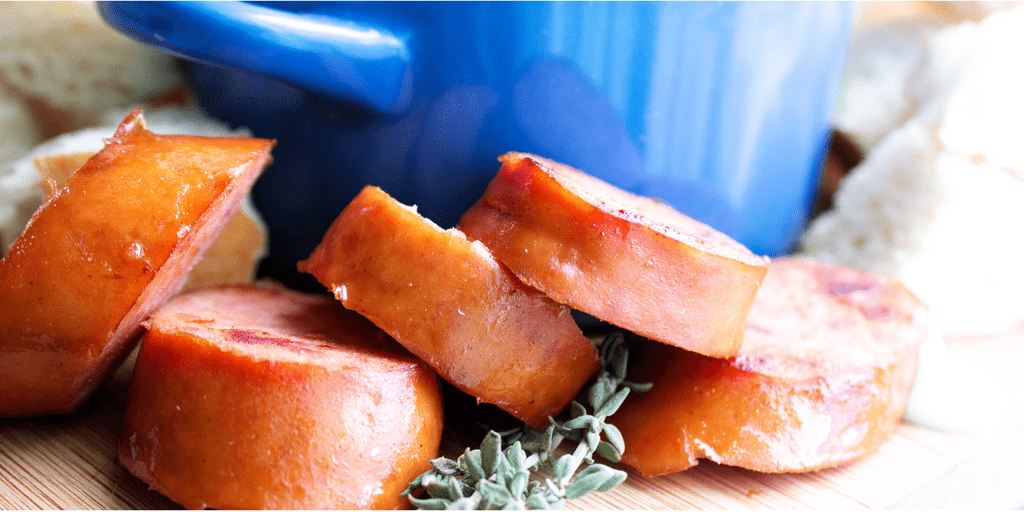 What I loved about using Tyson® Boneless Wyngz and Hillshire Farm® Smoked Sausage was that all I had to do was heat, serve and eat, simplifying my night (Yet everything looked liked I had prepared for hours). And since I will be feeding all our favorite fans and their friends, it's nice to be able to pick up both of these products from Sam's Club. The Tyson Boneless Wyngz come in a 3lb. bag, and the Hillshire Farm Smoked Sausages come in 3-lb. packages. So I can buy these both and use them for more than one get together – less running around and stress.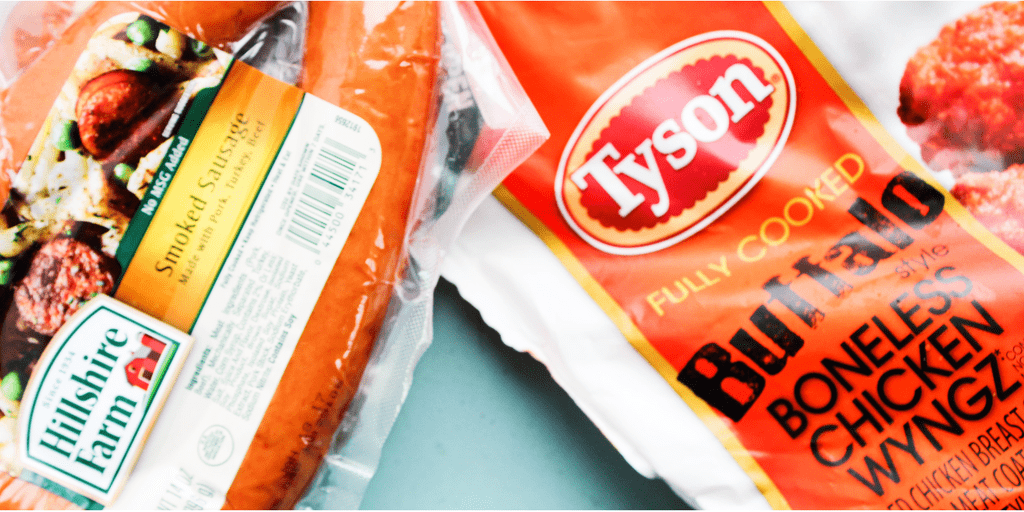 Time cheering on our favorite team, eating goodies, and visiting with friends and family over wins and losses are several of my favorite things of the week. I look forward to enjoying that time with them.  With this Blue Cheese Fondue, you can still serve a delicious spread or a gourmet meal without taking too much time in doing so. You can use products like these that ease your time preparing, allowing you more time being the awesome fan you are – or more time being merry & bright over the holidays.
Enjoy one of our new game days favorites: Blue Cheese Fondue. It will bring out the best game day fan in everyone. XOXO San
Ingredients
2 cups (8 ounces) crumbled blue cheese
1 tablespoon cornstarch
1 cup dry white wine
2/3 cup 1% low-fat milk
1 (8-ounce) block fat-free cream cheese, softened

Dippers

Tyson Boneless Wyngz (3 lbs)
Hillshire Farm Smoked Sausage (3 1lb packs)
French Bbread
Carrot sticks
Celery sticks
Directions
Bake and prepare Tyson Boneless Wyngz and Hillshire Farm Smoked Sausage according to package directions.
Slice and prepare other dippers and set aside.
Make fondue.
Combine the blue cheese and the cornstarch in a large saucepan over medium-high heat. Stirring constantly add wine, milk, and cream cheese. Stir until smooth and melted. Continuously stirring reduce heat to medium and bring to a boil and cook for 1 minute.
Reduce heat to low; cook 8 minutes or until mixture is smooth, be sure to stir often. Pour into a fondue pot or keep warm over low flame. Serve with dippers listed above.
Notes
https://www.dashofsanity.com/blue-cheese-fondue/
Don't forget to pin this to your favorite Pinterest board for later.

Save