BEST EVER SOFT PEANUT BUTTER COOKIES are a classic soft & chewy peanut butter cookies have quickly become our favorite sweet treat.
My family can't keep their hands off these Best Ever Soft Peanut Butter Cookies. This soft peanut butter cookie recipe is a classic and will quickly become your favorite. This recipe is not your traditional crunchy peanut butter cookies, but there really isn't a better peanut butter cookie out there, trust me I've looked.
While I do love making peanut butter cookies 3 ingredients or add vanilla and make it peanut butter cookies 4 ingredients, they are just not as soft and chewy. I love them but I am not as satisfied.
These Best Ever Soft Peanut Butter Cookies go right in line with my love peanut butter. Peanut butter is my to-go-to anytime I am hungry.
Whether it's by the spoonful, with pretzels, on a sandwich or paired with some Nutella, I really could eat peanut butter in any way, shape or form. Because I have a sweet tooth, of course cookies are at the top of my favorite foods. This makes peanut butter cookies are an obvious hit.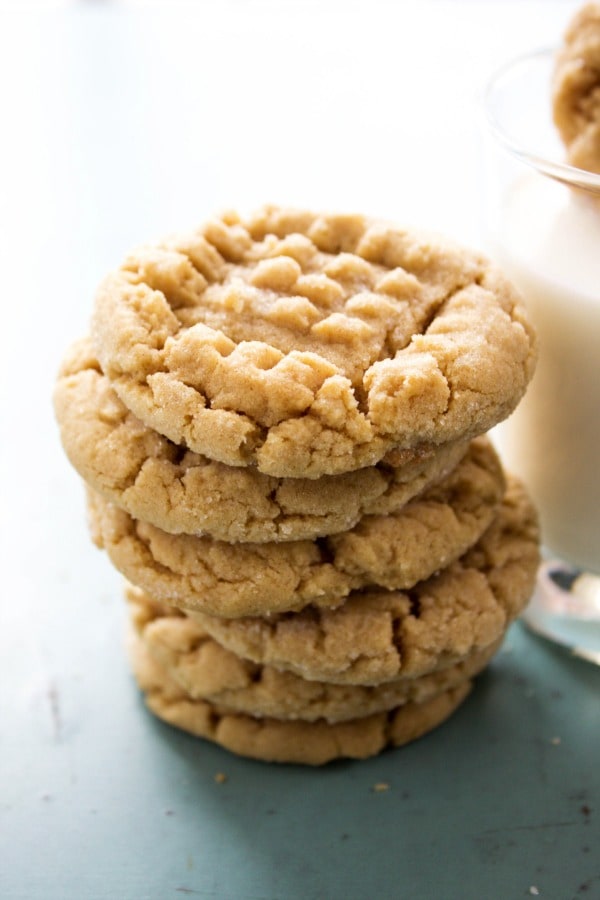 While I love creamy peanut butter for cookies typically, there are those moments like with my morning breakfast toast with bananas that I reach for the crunchy peanut butter.
We are a house divided on creamy and crunchy peanut butter. While my son, Aiden and I am more in the middle and could eat either, my husband and daughter Jersey love crunchy and my other 3 kids Jojo, Cannon and Madden will only ever eat creamy. If I accidently pack them crunchy the sandwich will still be in their lunchbox when they get home.
We also have very strong opinions on whether a soft or crunchy peanut butter cookie are the best.
I tend to lean towards chewy soft cookies. And thes best peanut butter cookies I have ever had are my Best Ever Monster Cookies. Most classic peanut butter cookies that I have had are too crunchy, leaving you a crumbly mess. So I have been on a mission for far too long to find the best chewy, soft peanut butter cookies and finally, finally I found it.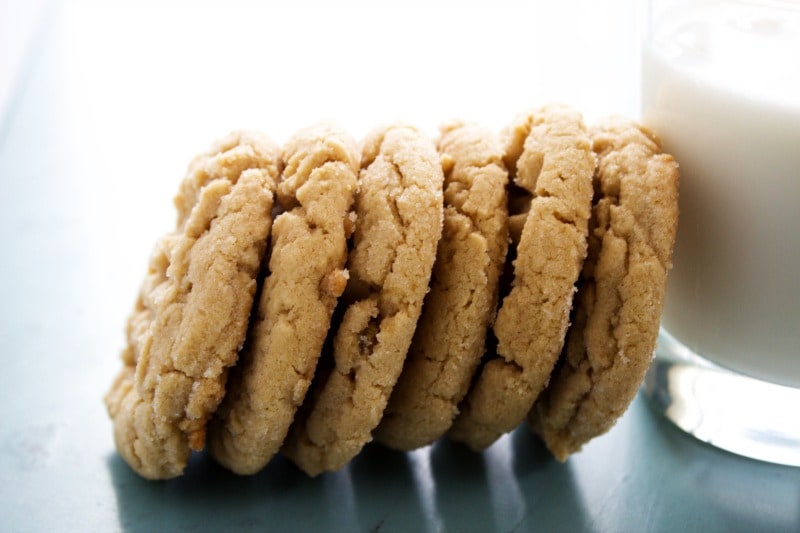 Everyone but Aiden have the opinion that peanut butter cookies are best when soft and chewy. Aiden though loves a good crunchy peanut butter cookie you can dip in milk. Although he won't decline these BEST EVER PEANUT BUTTER COOKIES.
The first time I made these cookies, I stuffed them with Rolo candies. Drooling as I think about those Rolo Stuffed Peanut Butter Cookies, they were to die for. The second time made these peanut butter cookies, I made them plain ole' Jane. Although the word plain seems a little harsh for these cookies, as they are far from it.
I guess I just mean that they are so dang good you don't need any fanfare like chocolate chips or M&M's the cookie is perfect just the way it is. These cookies are so good it will be hard to resist eating them right off the beaters.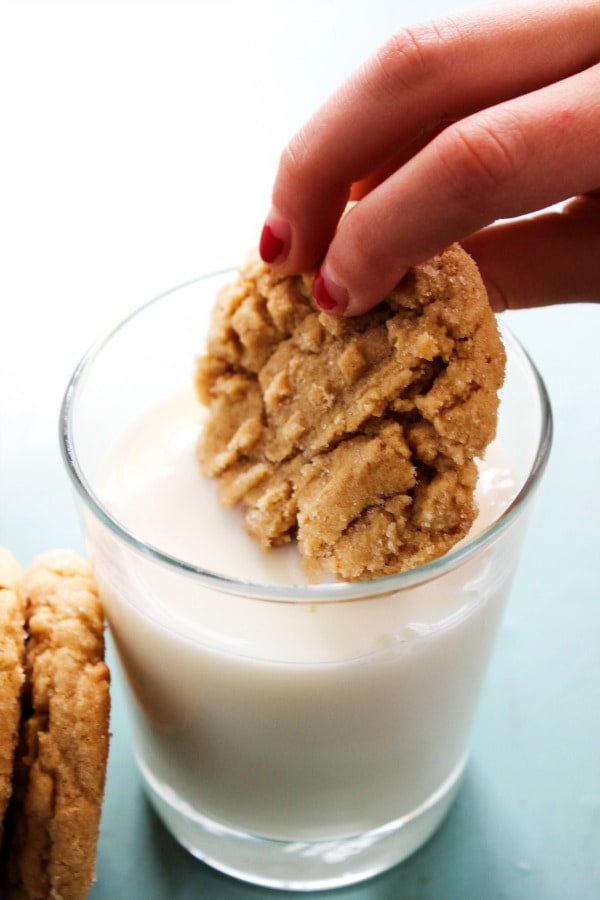 I can't wait for you to get your hands on a dozen or two of these as they are simple just the Best Ever Soft Peanut Butter Cookies. XOXO San
My favorite kitchen items I used to make these BEST EVER SOFT PEANUT BUTTER COOKIES.
This post may contain affiliate links. See my Full Disclosure for further details.
SHEET PAN: I love using a larger sheet pan while cooking because I am feeding my family of seven. I love aluminium for when I do sheet pan meals. I would start with this 13 by 18 half sheet pan. I love these pans so much that I have 9!
HAND MIXER: I love these for small batches or quick and easy recipes that don't require a lot of ingredients. I love that you can have so many color options now, I love personally love teal.
KITCHENAID MIXER: I love my Kitchenaid mixer and use it almost daily. For cookies, breads, sauces, frostings and dough – I find many recipes that I can use my KitchenAid to reduce prep time. I have two that I couldn't live without.
MIXING BOWLS: I love having a variety of sizes of mixing bowls. From small to large, I find that having at least 3 bowls of different sizes has been an essential in my kitchen. I prefer Pyrex because of the durability.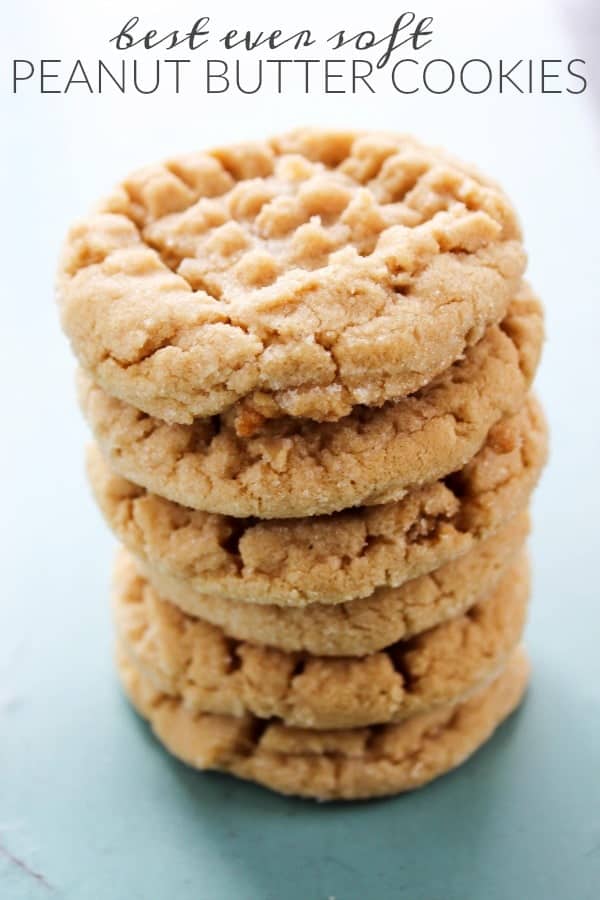 Check out how easy these peanut butter cookies are to make.
Looking for some other cookies recipes? Check out some of my favorites: Best Ever Soft Sugar Cookie, Grandma's Ginger Cookies, Best Ever Chewy Chocolate Chip Cookies and my favorite German Chocolate Cake Cookies.
Don't forget to pin this to your favorite Pinterest board for later.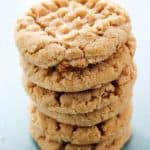 BEST EVER SOFT PEANUT BUTTER COOKIES
Best Ever Soft Peanut Butter Cookies these classic cookies have quickly become my favorite cookie. Soft, chewy and made with peanut butter, there isn't a better peanut butter cookie out there, trust me I've looked.

Ingredients
1

cup

peanut butter

1/2

cup

butter

softened

1/2

cup

white sugar

1/2

cup

brown sugar

1

egg

1

tablespoon

vanilla extract

1 1/2

cups

flour

1

teaspoon

baking soda

1/4

teaspoon

salt
Instructions
Preheat the oven to 350 F. Line 2 baking pans with parchment paper, if desired.

In a large mixing bowl, cream together the peanut butter, butter, sugar and brown sugar. Beat together until smooth & creamy best if using a stand mixer or hand mixer.

Add the egg and vanilla extract and continue to mix until well combined.




In a small mixing bowl, whisk together the flour, baking soda and salt. Stir in the flour mixture to the butter and sugar mixture and mix until well combined.


Using a cookie dough scooper or making the dough into 1 inch balls. Roll in white granulated sugar if you desire and place on to baking sheet.


Using a fork, press down on each ball of dough to slightly flatten and creating a criss-cross pattern.


Bake for 8-9 minutes. Let cool on the baking sheet for a few minutes and then transfer to a wire rack.


These keep well for a couple of days in an airtight container.
Nutrition Facts
BEST EVER SOFT PEANUT BUTTER COOKIES
Amount Per Serving
Calories 130
Calories from Fat 63
% Daily Value*
Total Fat 7g 11%
Cholesterol 13mg 4%
Sodium 125mg 5%
Potassium 69mg 2%
Total Carbohydrates 13g 4%
Protein 3g 6%
* Percent Daily Values are based on a 2000 calorie diet.
Love peanut butter?  You need to try these cookies too!
Rolo Stuffed Peanut Butter Cookies
This post was recently updated.

Save