Best Ever Italian Stuffing my mom's classic Italian stuffing. A tradition passed down from my grandma to my mom and now me. This will never miss our Thanksgiving table.
I seriously love this recipe and I am not even a big stuffing fan. The Italian sausage, celery, onion and seasonings make this a classic and the Italian (you could use the French bread too) takes it over the top. I love the big chunks of bread.
There are those classic Thanksgiving favorites that are a table must have right? Pumpkin pie, cranberries, turkey and ham. And it seems that everyone has their favorite stuffing. Everyone who has this stuffing recipe, raves about it and always wants the recipe. Even at every family gathering whether it be Christmas or Thanksgiving my aunts and uncles request this.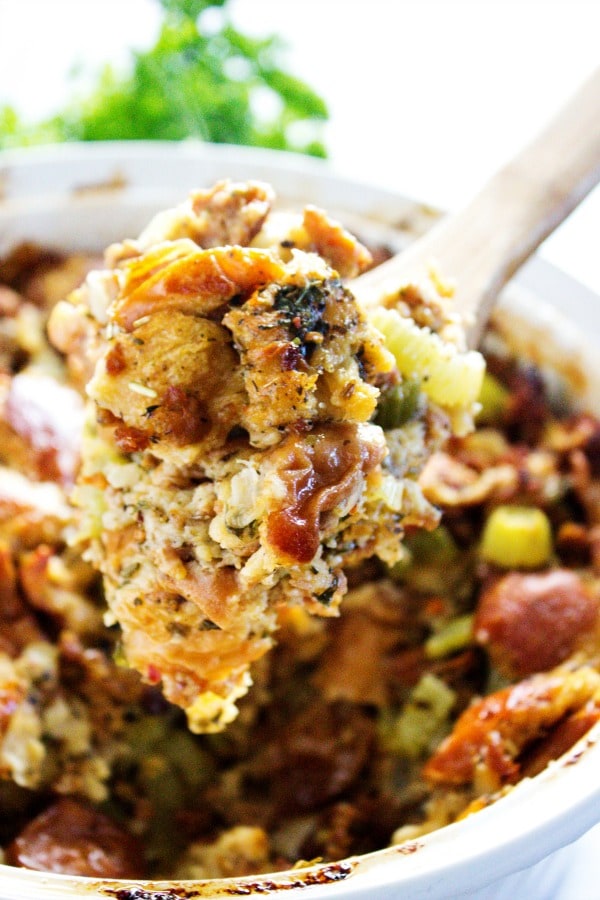 The best thing about this stuffing is that it makes the best leftovers. BEST LEFTOVERS! I can't even say that enough. I am always praying for leftovers but it rarely happens.
From my grandma's recipe box to your holiday table – enjoy this Best Ever Italian Stuffing. XOXO San
Looking for other Thanksgiving recipes? Check out these posts.
25 Thanksgiving Desserts That Are Not Pie
Best Ever Italian Stuffing
Ingredients
2 cups Milk
10 cups of Italian/French bread, cubed
1 egg
1 cups celery, sliced
1 lb Italian Sausage
1 small yellow onion, diced
1 teaspoon dried basil
1 teaspoon dried oregano
1 teaspoon celery salt
1 teaspoon garlic salt
1/2 cup butter
1 teaspoon seasoning salt, I used Lawry's
1 tablespoon Italian seasoning
2 teaspoons dried parsley
Directions
Break up bread into 1-inch chunks and let it sit on a baking sheet for 2-4 hours to dry out. Best results if done over night.
In a large sauce pan cook and crumble Italian sausage until it is completely cooked and browned. Strain grease from meat and place in a small mixing bowl for later.
In the same pan over medium-hgih heat sauté butter, celery and onions until tender.
Remove pan from heat, add cubed bread, whisked egg and all of the remaining dry ingredients. Toss mixture to combine, pour in milk and toss again to combine. Place stuffing in a 2qt casserole dish.
Bake at 350 for 1 hour covered with lid. Then bake an additional 30 minutes uncovered.
If you desire a crispier top, which I suggest place oven on low broil and broil 5-10 minutes or until top of stuffing is a light golden brown.
Notes
Italian Stuffing recipe passed down to me from my mom, who was given the recipe from her Grandma.
https://www.dashofsanity.com/best-ever-italian-stuffing/
Pin this to your favorite Pinterest board for later.

Save