Insanely delicious this BANANA ZUCCHINI CAKE with mouthwatering layers of cream cheese frosting and walnuts; it is one of our family's favorite cakes.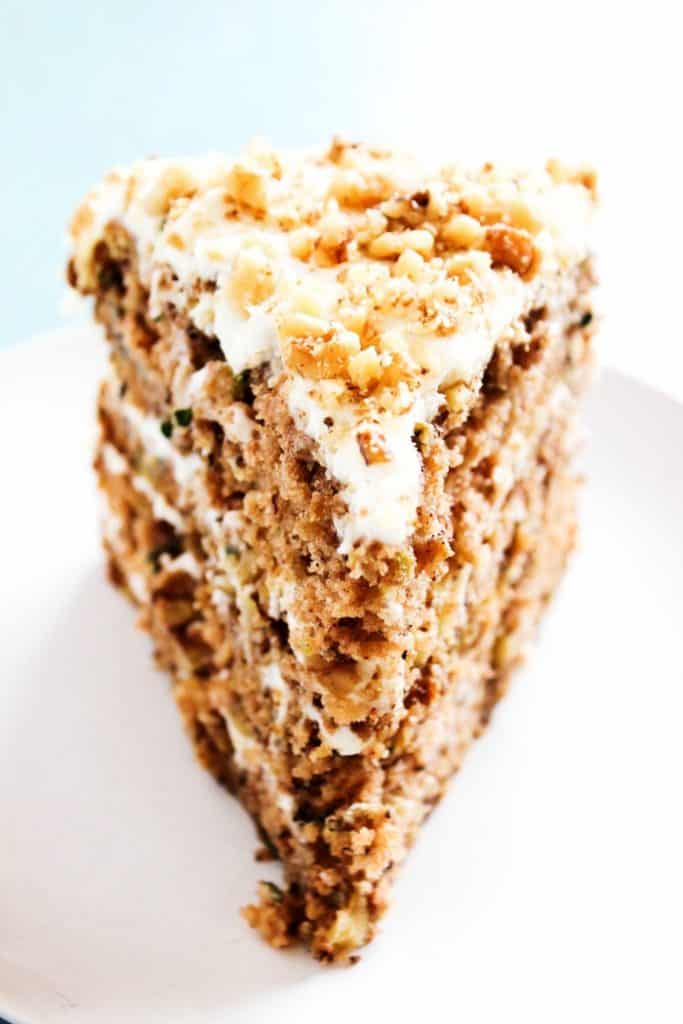 I love cake, if you didn't already know that, well now you do. This BANANA ZUCCHINI CAKES is something that I love to make all year long to feed my urge to splurge. With that said, since this cake has zucchini and bananas in it – I feel a whole lot less guilty devouring a slice or 3.
I also love zucchini, and this past fall I had a plethora of zucchini thanks to my friend Erin, over at Dinner, Dishes and Dessert. I pretty much incorporated zucchini into everything. A month of so ago, I made this Pumpkin Zucchini Cake and while we all loved it my husband said that he would have loved the addition of walnuts. I informed his that walnuts would go well with a Banana Zucchini Cake, not a Pumpkin Zucchini Cake. Therefore that conversation sparked this recipe.
The funny thing about this whole cake, is that I made it for a special occasion but when our guest arrived we went with hot fudge so I just left this cake in the refrigerator and my kids and hubby were just chopping at the bit to eat it. But I made them wait an entire two days for when we had some family coming into town and I didn't want to have to make another dessert.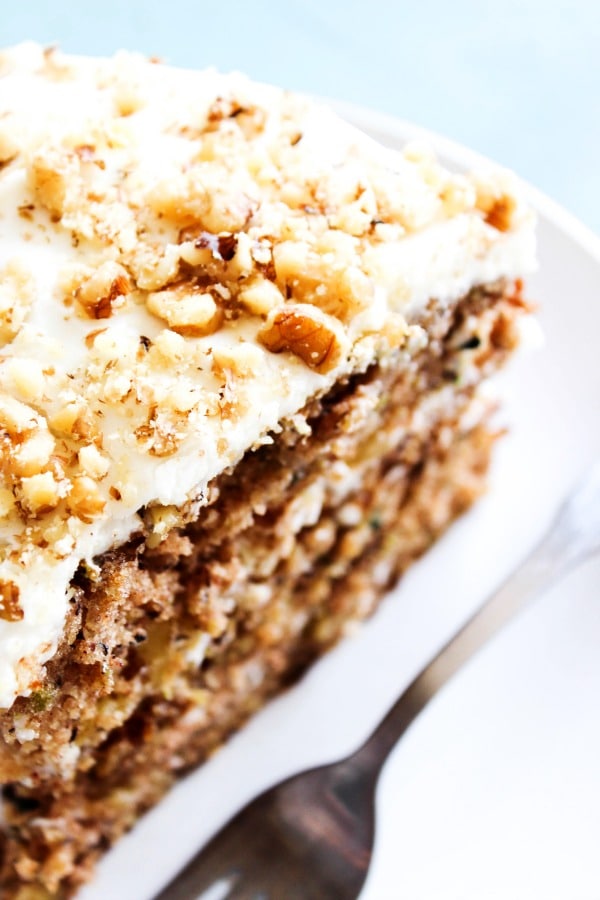 HOW TO MAKE THE PERFECT BANANA ZUCCHINI CAKE:
Make sure to grease your pans well to allow the cakes to remove from the pan easily. I love to line the bottom of the pan with parchment paper, allowing for a beautiful, stackable cake.
Be sure to allow the cake to completely cool before frosting and stacking the layers.
Chop up your walnuts. This makes it easier for the walnuts to stick to the frosting.
Use freshly grated zucchini for best results.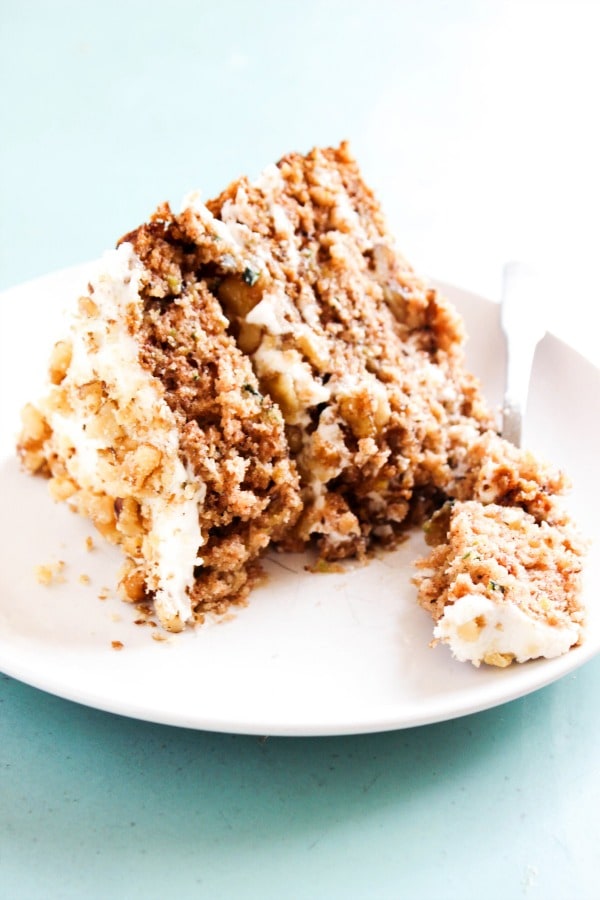 Once we did get to eat it, everyone was oohing and awing. And it was hard to keep my hubby away from the cream cheese ice with walnuts. So it was a big winner. And this is easily my favorite cake, which is big of me to say since I am a HUGE, HUGE chocolate lover.
My son, Madden took a slice of leftover cake to his teacher, Mrs. Cawley the next day and when I saw her a few days later she was raving about it.
Enjoy friends. XOXO San
My favorite kitchen items I used to make this recipe for BANANA ZUCCHINI CAKE.
KitchenAid Mixer: I love my Kitchenaid mixer and use it almost daily. For cookies, breads, sauces, frostings and dough – I find many recipes that I can use my KitchenAid to reduce prep time. I have two that I couldn't live without
Hand Mixer: I love these for small batches or quick and easy recipes that don't require a lot of ingredients. I love that you can have so many color options now, I love personally love teal.
Mixing Bowls: I love having a variety of sizes of mixing bowls. From small to large, I find that having at least 3 bowls of different sizes has been an essential in my kitchen. I prefer Pyrex because of the durability.
Check out a few items that will make this recipe easier: cake pans and a spatula.
Don't forget to pin this recipe for BANANA ZUCCHINI CAKE to your favorite Pinterest board for later.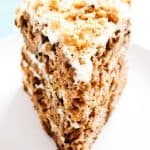 BANANA ZUCCHINI CAKE
Insanely delicious this BANANA ZUCCHINI CAKE with mouthwatering layers of cream cheese frosting and walnuts; it is one of our family's favorite cakes.
Ingredients
4

eggs

1

cup

canola oil

1

cup

sugar

3/4

cup

brown sugar

2

teaspoons

vanilla

2

cups

grated zucchini

1

cup

ripe banana

smashed

3

cups

flour

2

teaspoons

baking soda

1

teaspoon

salt

1

teaspoon

baking powder

2 1/2

teaspoons

cinnamon

Cream Cheese Frosting

5

cups

powdered sugar

8

oz

cream cheese

softened

¼

cup

butter

melted

4

tablespoons

milk

optional

1 2/3

cup

chopped walnuts
Instructions
Preheat oven to 350 degrees.

Prepare 2 9-inch round cake pans by spraying with cooking oil and line the bottom with parchment paper. Set aside.

Combine all ingredients for cake in order as listed above, beat on medium-high until well combined.

Bake for 20-25 minutes or until toothpick inserted in center comes out clean. Remove from oven and cool on baking rack.

Once cake is completely cool make cream cheese frosting.

Beat together cream cheese and melted butter until smooth and there are no cream cheese chunks. Add in powder sugar and cream together by beating on medium-high. Add in milk one tablespoon at a time, until you get your desired consistency, if you want to make the frosting a little runnier, like pictured add al 4 tablespoons.

Cut each round cake in half. Place one layer on a cake plate or the serving plate you will be using. Add ¾ cup frosting and 1/3 cup chopped walnuts, then add another cake layer. Repeat with remaining cake, frosting and walnuts. After the last cake layer add the remaining frosting and walnuts. I just poured mine in the center and then using a knife gently pushed it from the center out and let it run naturally down the sides of the cake. Sprinkle with remaining walnuts. Refrigerate for 30 minutes or until ready to serve.
Nutrition Facts
BANANA ZUCCHINI CAKE
Amount Per Serving
Calories 522
Calories from Fat 162
% Daily Value*
Total Fat 18g 28%
Cholesterol 64mg 21%
Sodium 377mg 16%
Potassium 285mg 8%
Total Carbohydrates 84g 28%
Protein 7g 14%
* Percent Daily Values are based on a 2000 calorie diet.

Love zucchini? Here are some other ideas to incorporate this fall favorite.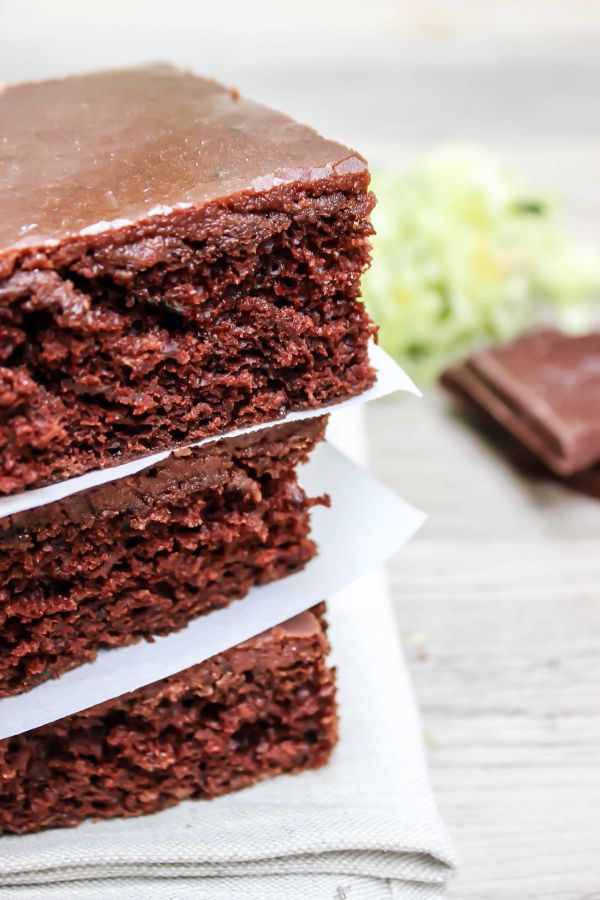 Triple Chocolate Zucchini Cake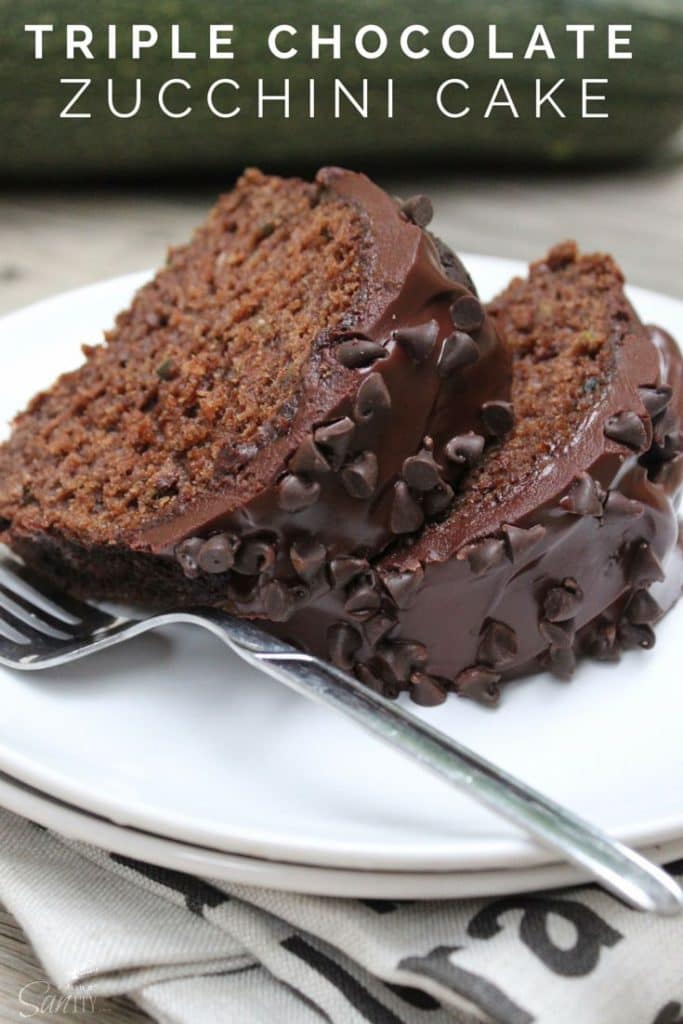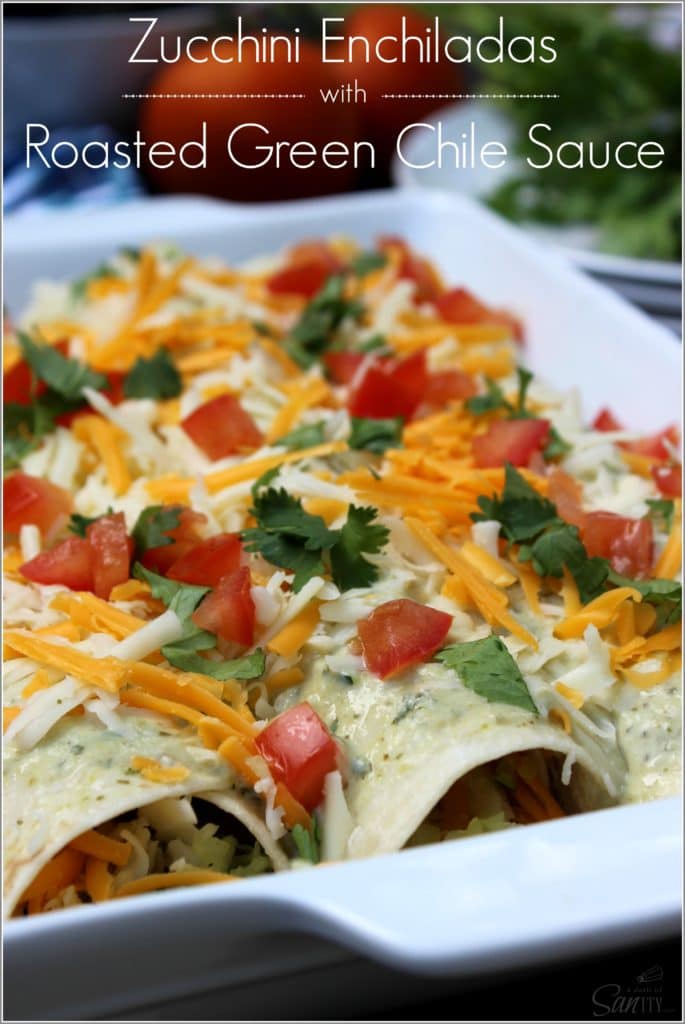 Save