These Banana Split Cookie Dough Bites are little bites of an ice-cream classic, banana split. No-bake, eggless banana sugar cookie dough with maraschino cherry center topped with chocolate and sprinkles, you can't get cookie dough much better than this.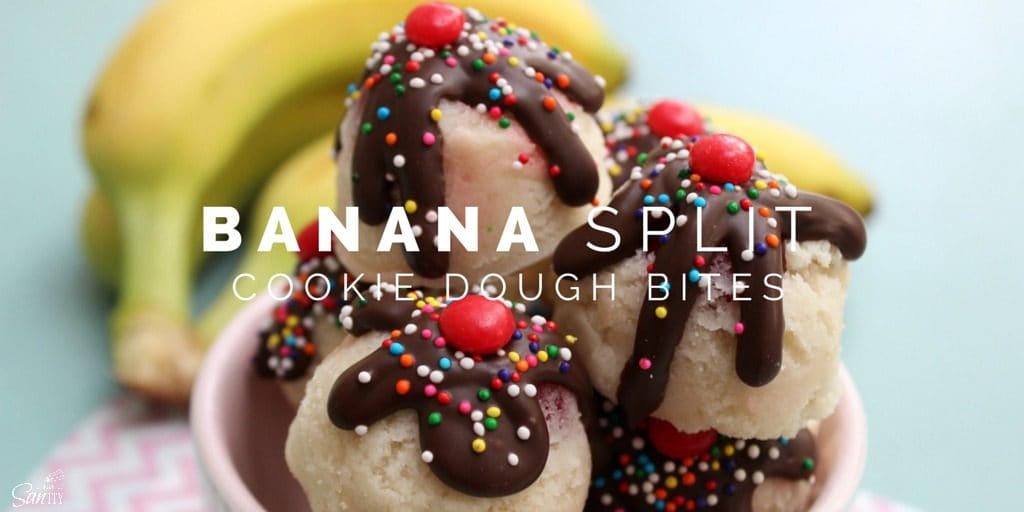 I literally can't believe how good these are! Seriously.
I came up with these little bites of love from my kids. Every time I ask them what they want me to make for snack or as a treat 99% of the time they say my Banana Split Cupcakes. While I love making those there are two reasons I always stray them to something else. With the amount of time and sugar, I just always convince them that a cookie is much better.
Then the other day, I was a little exhausted of hearing of the cupcakes, so I thought about how can I make them smaller and easier. That is when I came up with this idea. I wanted to use fresh bananas but well the cookie dough would brown and then I know the kids would not be into them. So that is when I decided to use banana flavoring and viola it worked. So. Excited.
The kids just absolutely loved them. My husband and I did as well, much to our surprise. I am not a huge cherry fan, but I love them this way, it balances out the whole cookie dough bite.
So enjoy these Banana Split Cookie Dough Bites all by themselves or on top of a sundae. Either way this 15 minute treat is just that…a treat.
Enjoy! XOXO San
Banana Split Cookie Dough Bites
Ingredients
1/2 cup unsalted butter, softened (1 stick)
2 tablespoons Ghirardelli White Chocolate Melting Wafers, melted and smooth
1 cup granulated sugar
2-3 teaspoons banana flavoring
1 ¼ cups all-purpose flour
1/4 teaspoon baking soda
¼ teaspoon salt
2 tablespoons milk or cream, only if necessary for dough consistency
18 maraschino cherries
1 cup Ghirardelli Dark Melting Wafers
18 red hot candies
2 tablespoons sprinkles
Directions
In a medium-sized bowl, shift together flour, salt, and baking soda. In a mixing bowl, beat in butter, sugar, melted white chocolate and banana flavoring extract until is creamy. Add in flour mixture until it starts to come together and is smooth, add milk 1 tablespoon at a time until you get the consistency you are looking for stiff cookie dough. I use approximately 2 teaspoons.
It is easier to make these if you have a cookie dough scooper!
Add 1 maraschino cherry into the cookie dough scooper, scoop the banana sugar cookie dough into the scooper with the maraschino cherry in it. Pack in the dough then remove from the scooper or tablespoon and a sheet of parchment paper. Repeat with remaining cherries and dough.
Place pan in the refrigerator to chill, approximately 10 minutes.
While the dough is chilling, melt Ghirardelli Dark Melting Wafers according to package directions. I heat in 30 second intervals, until chocolate is completely melted, this took about 1 minute.
Time to top the "sundae". You can do this 2 ways. Dip the tops in the chocolate or drizzle the chocolate over the bites by snipping of the corner of a Ziploc bag and place chocolate in there, slow drizzle or pope the chocolate over the cookie dough bites. Once the chocolate is on the bite immediately top with sprinkles and 1 red hot. Repeat with remaining chocolate, sprinkles, red hot candies and cookie dough bites.
Now they are ready to enjoy! Or store the cookie dough bites in an airtight container in the refrigerator for up to 3-4 days.
https://www.dashofsanity.com/banana-split-cookie-dough-bites/
Save