These Baked Red Velvet Cake Donut Holes are literally the most amazing donut you will ever have, EVER! Filled with a cream cheese buttercream, then dipped in ganache; this is my Valentine's treat to you.


I was never a huge red velvet fan until I met my husband. Now I just love Red Velvet cake, cupcakes, donuts and my new favorite these Baked Red Velvet Cake Donut Holes.
Do you want to know why these donuts holes are perfection? Because every bite has all the flavors of a delicious Red Velvet cake. With the red silk chocolate cake, the classic cream cheese icing, then finished off with the sweet ganache ending. It is a perfectly balanced bite.
I am sorry, well not really that sorry if you eat the whole batch in one morning or afternoon sitting. I made a batch thinking that I would have leftovers to take to a friend that night, well it didn't happen. Between me, the kids, and a few friends stopping by, all 48 donut holes were gone. Well, I actually did set aside a few for my mom and dad as an early Valentine treat and they loved them!
These are so easy to make, don't feel overwhelmed by the directions, the 30-40 minutes it takes to make these are well worth every second, especially if you are a bowl licker like me, you will be in heaven throughout the entire process.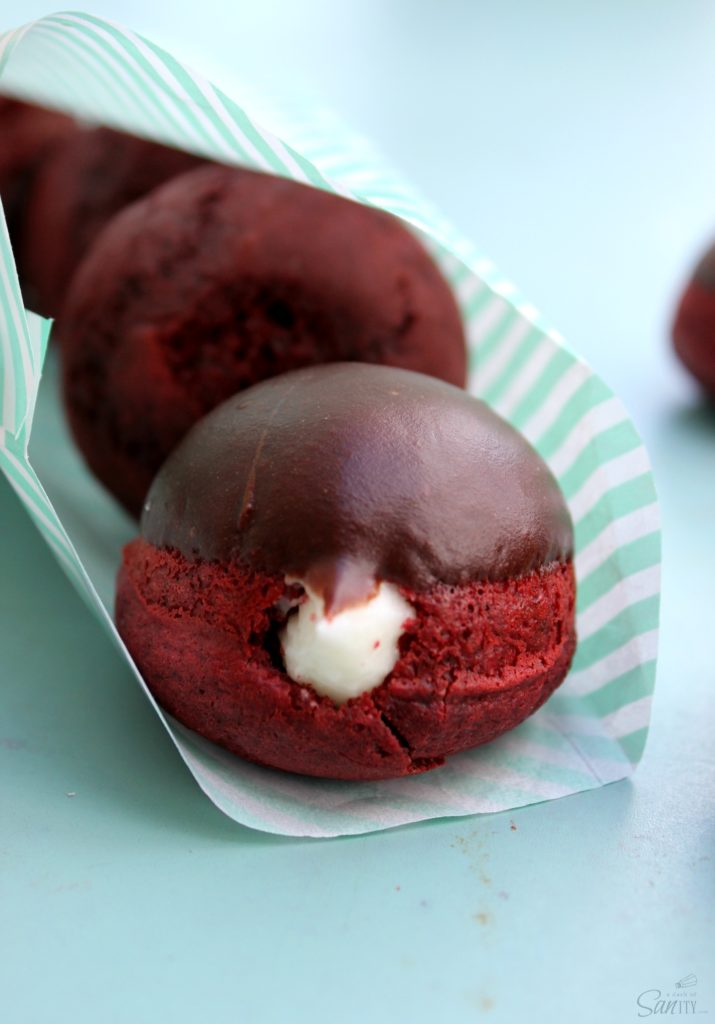 Enjoy my Valentine's treat to you, the best donut you will ever have, EVER!
XOXO San
 Don't forget to pin this to your favorite Pinterest board for later.

Baked Red Velvet Cake Donuts Holes with Cream Cheese Buttercream Filling
These Baked Red Velvet Cake Donut Holes are literally the most amazing donut you will ever have, EVER!
Ingredients
Red Velvet Donut Holes

2 cups flour
¼ cup cornstarch
1 tablespoon baking powder
1 teaspoon baking soda
1 teaspoon salt
¾ cup sugar
2 large egg
4 tablespoons unsalted butter, melted
6 tablespoons unsweetened cocoa powder
1 tablespoon vanilla extract
3/4 cup buttermilk
1 tablespoon red food coloring

Cream Cheese Buttercream

½ cup unsalted butter
4 ounce package chilled cream cheese
1 ½ teaspoons clear vanilla extract
2 ¼ cups confectioners' sugar

Ganache

3 tablespoons butter, cut into ½ inch squares.
¾ cup semi-sweet chocolate chips, dark chocolate is my preferred type of chocolate chip
1 tablespoon corn syrup
Directions
Red Velvet Donut Holes
Preheat oven to 350 degrees.
In a medium mixing bowl, shift together flour, cornstarch, cocoa, baking powder, baking soda, and salt.
In a separate bowl cream together sugar and melted butter, add in eggs one at a time. Then mix in dry ingredients, once combined, mix in buttermilk, vanilla extract and food coloring. Mix well until well combined. Grease your donut hole pan with cooking spray, if you don't have a donut hole pan use a mini-cupcake pan and line with cupcake wrapper or spray pan.
Fill each donut hole pan or cupcake holder 2/3 full. Bake in the oven 350 degrees, 9-12 minutes or until completely cooked all the way through.
Cream Cheese Buttercream
Using an electric mixer, beat butter and cream cheese until light and creamy, mix in vanilla extract. Beating on low, gradually add in the 2 cups confectioners' sugar until well combined. Once combined, beat on high for 1 to 2 minutes. Then transfer frosting to a Ziplock or piping bag with a small round tip, really any tip will do, set aside.
Fill cooled donut holes, with Cream Cheese Buttercream, as pictured. Then dip in ganache.
Ganache
In a double boiler over medium heat combine butter, chocolate chips and corn syrup. Stir until completely melted and well incorporated.
Once glaze is done and donuts are cool and filled, dip the tops of the donut holes into the glaze and turn over, and set on the counter. Glaze side up. Allow glaze to harden, 10-15 minutes or like our family, serve right away….yum!
https://www.dashofsanity.com/baked-red-velvet-cake-donuts-holes/
Save