Disclosure: I'm proud to partner with CVS Pharmacy on this post BAKED BARBECUE CHICKEN & QUINOA BOWLS for the CVS healthy foods line. All opinions expressed are my own, and all product claims or program details shared should be verified at CVS.com or with the appropriate manufacturers.
BAKED BARBECUE CHICKEN & QUINOA BOWLS – healthy, easy & delicious.
Let's be real, finding snacks and meals that have all the nutrients your family needs while tasting delicious can be hard. And spring is a time of year when all 5 of my kids are participating in basketball, baseball, football, dance and Science Olympiad. So that means less time at the table eating together as a family and more time eating dinners on the go. Complicated? Yes. Stressful? Can be. Fun? Completely. We love doing all of these things together as a family. Whether cheering at a football game or science fair event, we love supporting each other; it's something special watching our 8-year-old daughter insanely screaming her head off at really any of our other kids' events. But all those activities make for expensive and sometimes unhealthy eating choices.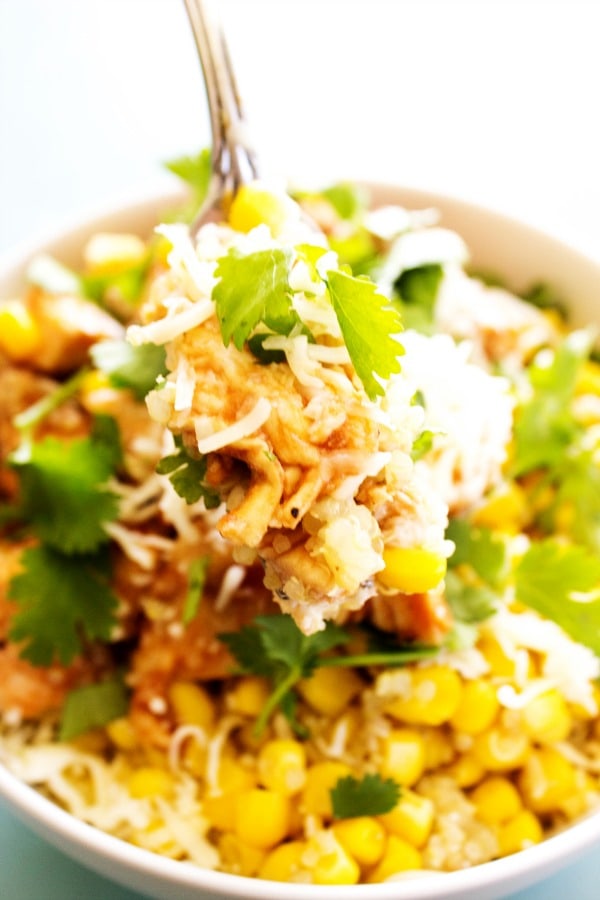 So I decided to try something new and make some meal prep bowls. That way, when we need to eat on the go, we still have a delicious, homemade meal that gives us everything we need to keep us going. These BAKED BARBECUE CHICKEN & QUINOA BOWLS combine the things my kids love, barbecue chicken and corn, while throwing in something for myself: quinoa. Everyone is pleased, especially mom.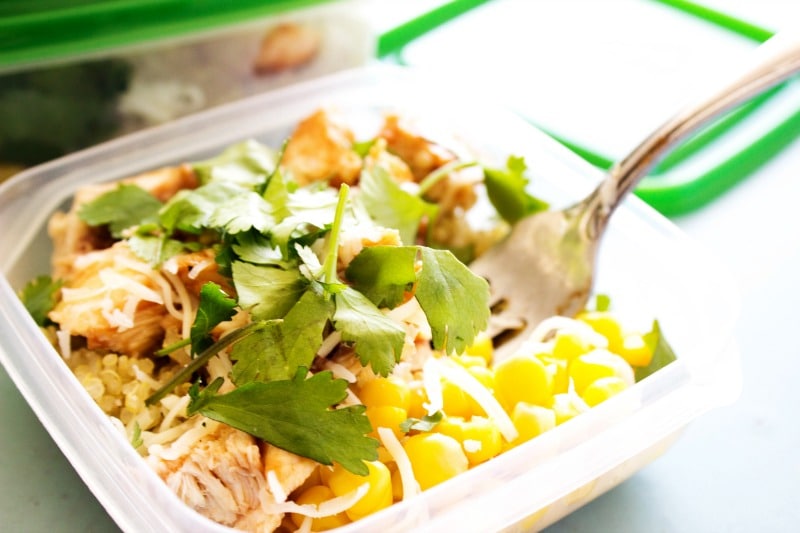 You'd think dinner time would be the hardest meal time to figure out. But honestly, it's the snacks that kill me. It always seems those are the one things I forget to pack, and I can't tell you how many times we've run into the store to grab a snack on the way to somewhere – more times than I'd like to admit. Convenient stores are the worst because they "conveniently" leave the worst, sugary products in the easiest places for my kids to grab. Where are the healthier choices? In the back of course. So when they run into grab something, they aren't even going to see the good stuff. And I'll be honest, sometimes I feel in such a hurry, I won't even take the time to go and look for the healthier, more nutritious items. As a mom, this can be frustrating. Not only did I forget the snack, but now my kids are loading up on sugar, and you know we'll all pay for that later.
CVS Pharmacy has been working hard to combat this exact issue by stocking on-the-go healthier-for-you snacks. And I am beyond excited for the initiative of making it easier for consumers to find healthier snack options at a more convenient location. Just one of the things that CVS Pharmacy is doing is swapping out 25% of the front checkout space, which has been traditionally occupied by those sugary snacks I was talking about, with better-for-you snacks like KIND bars (my son Aiden's favorite) and Larabars (my favorite).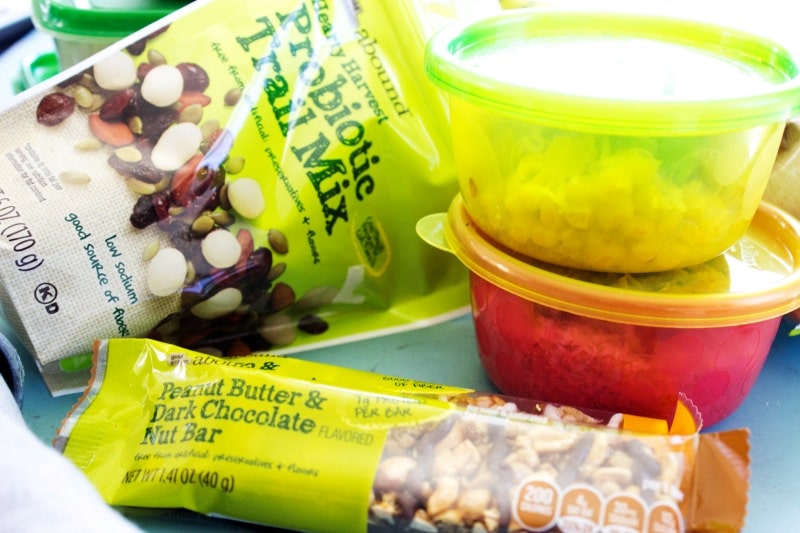 What I am most impressed with is the brands they are working with, including Amy's Kitchen, Annie's Homegrown, Chobani, Vita CoCo, Bai, Krave Jerky, Rhythm Superfoods, That's It bars as well as new products from the CVS Pharmacy exclusive line, including Gold Emblem abound™, which is free from artificial preservatives, flavors and colors.
From Jalapeno Cheddar Quinoa Puffs, which I am seriously addicted to, to trailmix, sun flower crisps, granola bars and even offering options for those with dietary restrictions like Paleo and vegan, finding a better-for-you snack has never been as easy as it now is at CVS Pharmacy.
It's like they knew what families like mine needed and took care of some of my worries and concerns, and making choices to better fuel our bodies easier. So from this crazy, busy mom of 5 – not only is dinner-on-the-go taken care of this week with these Baked Barbecue Chicken & Quinoa Bowls, but if I forget to pack a snack, which I will, CVS has my family's interest in mind. XOXO San
Don't forget to pin this to your favorite Pinterest board for later.

BAKED BARBECUE CHICKEN & QUINOA BOWLS
Ingredients
4 cups chicken broth
2 cups uncooked quinoa
3 large chicken breast
1 bunch of cilantro
2 1/2 cups sweet corn cooked, I used frozen sweet corn
Shredded Monterrey Jack cheese
Recipe for Sweet Maple Barbecue Sauce
1 (packed) cup brown Sugar
1 cup ketchup
1/4 cup red wine vinegar
1/4 cup water
¼ heaping cup pure maple syrup, meaning a little over ¼ cup
1 tablespoon Worcestershire sauce
2 teaspoons ground mustard
2 teaspoons Paprika
1-1/2 teaspoons kosher salt
1 teaspoon black pepper
Directions
In a large mixing bowl prepare Sweet Maple Barbecue Sauce by following directions in the above link.
Filet each chicken breast in half, so now you have 6 pieces of chicken. And place in the large mixing bowl with the Sweet Maple Barbecue Sauce.
Cover the bowl of chicken with foil or plastic wrap and set in the refrigerator, marinate the chicken for 1-2 hours.
Preheat oven to 350 degrees. Line a rimed baking sheet with tin foil and aside.
Arrange the chicken on the baking sheet in a single layer.
Bake in the oven for 25-35 minutes or until chicken is cooked all the way through.
While chicken is baking, prepare quinoa.
In a medium sauce pan bring the 4 cups of chicken broth to a boil.
Stir in quinoa and bring back to a boil. Reduce heat to a medium and cover with a lid. And cook covered over reduced heat for 12 minutes.
Once quinoa is cooked, remove from heat and fluff. Put quinoa into a medium bowl and allow it to cool.
Once chicken is completely cooked, dice into 1 inch cubes.
Cook corn.
You can use frozen, canned or fresh, it is a personal choice. I used frozen corn and heated according to package directions.
Chop up cilantro and shred cheese.
Prepare quinoa bowls - add 1/2 -1 cup cooked quinoa, 1/2 -1 cup diced chicken, 1/3 - 2/3 cup cooked corn, garnish with cheese and cilantro. Serve immediately.
If you are packing these for lunches, adjust serving size according to who is eating these. I have a small, medium and large containers - one for my younger kids, my older kids and the hubby and I.
Place the lids on each of the containers and store for 2-3 days in the refrigerator. These Baked Barbecue Chicken & Quinoa Bowls can be reheated to serve warm or be devoured cold. Either way enjoy!
Notes
Total time includes: marinating, cooking and prepping bowls.
https://www.dashofsanity.com/baked-barbecue-chicken-quinoa-bowls/
Save