20-MINUTE CREAMY TOMATO BASIL SOUP is a classic comfort food and the is best tomato soup, thanks to 2 secret ingredients.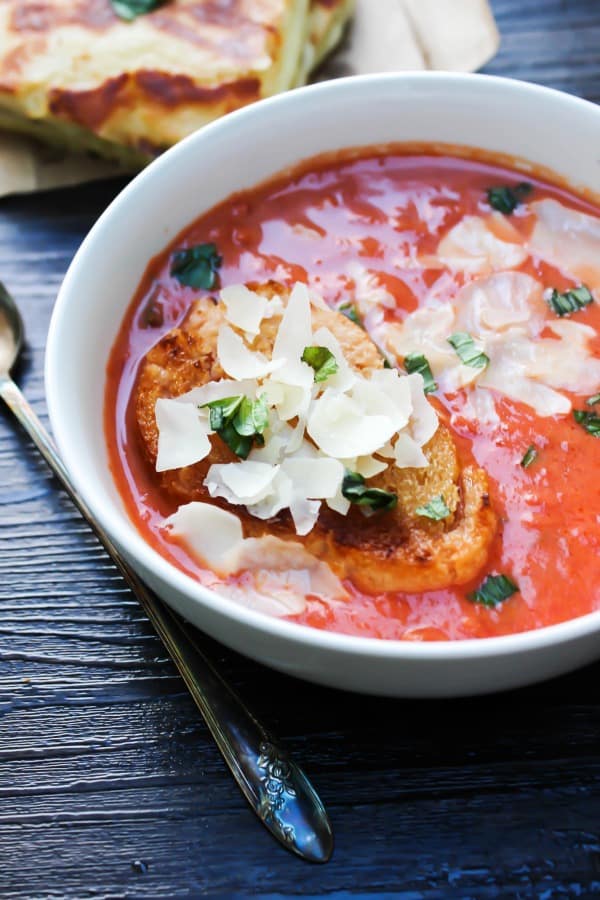 I love this 20-MINUTE CREAMY TOMATO BASIL SOUP because it reminds me of my childhood. I grew up on grilled cheese and tomato soup. It wasn't until I made homemade tomato soup that I fell in love with this traditional combination. I mean, I thought tomato soup was okay, but I never thought it was amazingly delicious.
Then when I made this recipe for my family and my parents, that I found out that my mom hates tomato soup. I served her a bowl of this deliciousness and was so excited for her to try it. I literally almost gasped out loud when she told me she hated tomato soup. I was like but we ate it all the time and then she told me how it really went and well basically my memory was flawed.
IMy mom said that it was my dad who loves tomato soup and she only made it for him, that she never actually had the soup. What?You see my parents regardless what we were eating always made us have a "no thank you" helping. Whether we hated the dish or not, we had to eat it; in fact we stayed at the table until we ate it. So while I wasn't the biggest fan of tomato soup, I ate it because of the "no thank you" helping rule.
While my mom hated tomato soup, she tried mine I think because she felt bad that I was so excited for her to try it.
Well guess what friends? She loved it!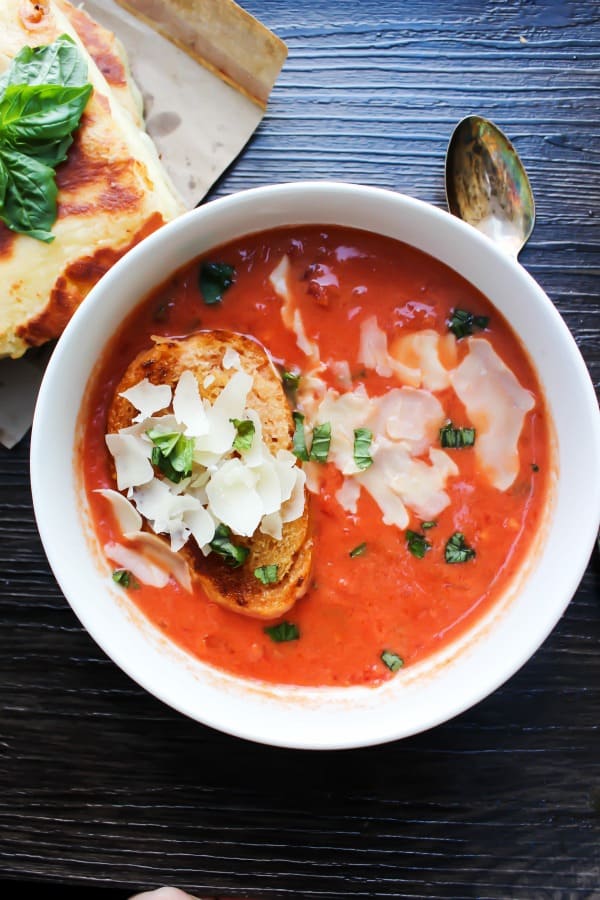 I love this soup too. Completely blows any other soup out of the water for our family, or well at least a close second to my Chicken Pot Pie Soup. Typically I would say the best part is the 20-minutes that you make it in. But it's not. The best part of the soup is the sautéed garlic and shallots combined with broken up whole tomatoes, gives this soup a rustic feel and robust flavor.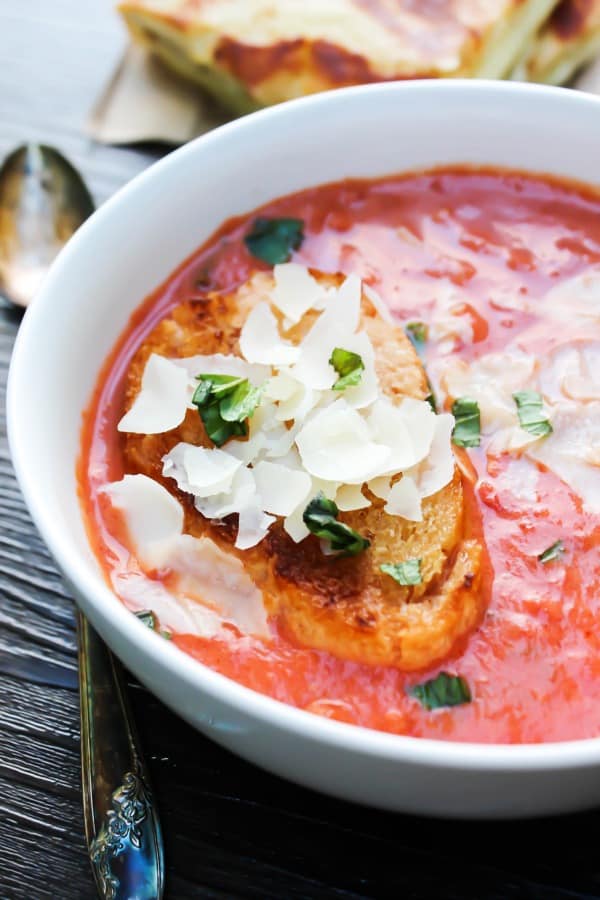 And for the grilled cheese friends. Oh, grilled cheese. Cheese and bread, wait make that melted cheese and toasted bread. There is this amazing grilled cheese sandwich over at Bon Appetit, that I just love making it. And there are two key ingredients to making the best grilled cheese: bread and mayo. I know you are probably a little disturbed right now, but a thin layer of mayo on the outside of the bread, oh..my..heavens. So crispy, delicious and downright amazing.
One evening I was out of bread, so I grabbed some left over flatbread, we love the Stonefire Flatbreads from Costco and surprisingly this was the best way to make a grilled cheese. In fact I will never make grilled cheese any other way. As for the cheese, pull out your favorite. I made mine with a combination of shredded white cheddar, Parmesan and Asiago.
So whether it is cold outside or you are just looking for a quick and easy meal, try this 20 MINUTE CREAMY TOMATO BASIL SOUP.
Enjoy friends! XOXO San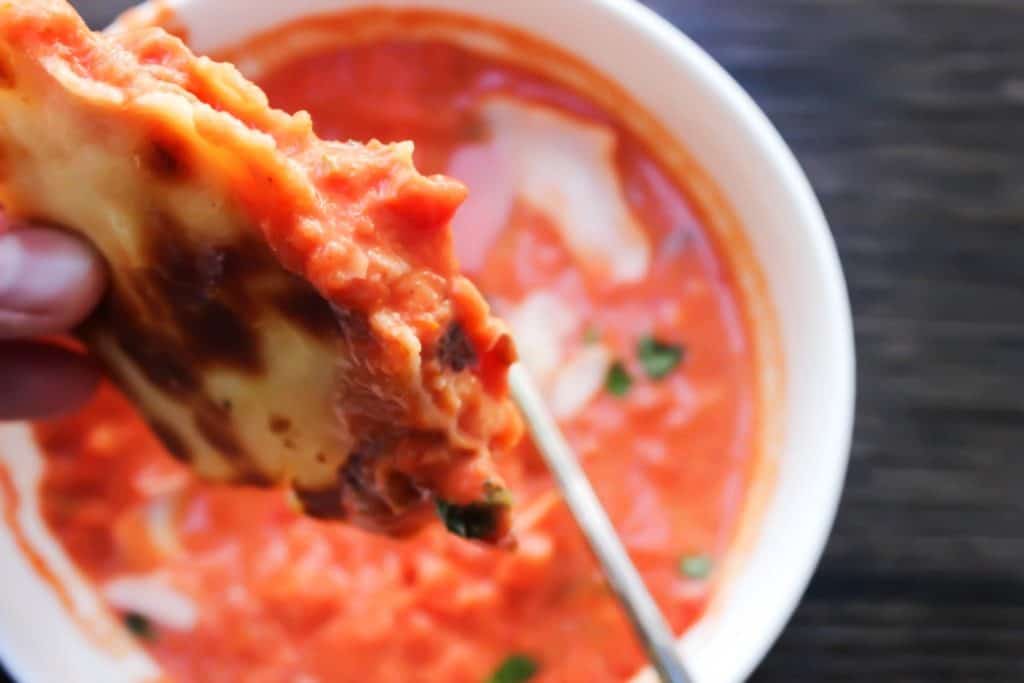 My favorite kitchen items to make this 20-Minute Creamy Tomato Basil Soup are below, you will want of few of these just for your everyday cooking.
This post may contain affiliate links. See my Full Disclosure for further details.
Pots: So I am a total pan snob after having an assortment of brands in our cupboard over the years. After getting some Calpho pans on sale at my local grocer, I won't try anything more. They are affordable and durable – a win, win in our home.
Measuring Cups: Nothing beats a good set of measuring cups that last a long time. I love metal measuring cups because of their durability.
Measuring Spoons: I have to have a metal set of measuring spoons on hand. The plastic ones just don't last long in our house partly due to the garbage disposal.
Don't forget to pin this recipe for 20-MINUTE CREAMY TOMATO BASIL SOUP to your favorite Pinterest board for later.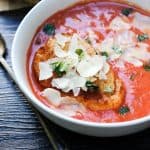 20 MINUTE CREAMY TOMATO BASIL SOUP
20-MINUTE CREAMY TOMATO BASIL SOUP is a classic comfort food and the is best tomato soup, thanks to 2 secret ingredients.
Ingredients
4

cloves

garlic

minced

2

tablespoons

minced yellow onion or shallots

2

tablespoons

olive oil

2

14-ounce cans

crushed tomatoes

1

14-ounce can

whole tomatoes

2

cups

chicken broth

1

teaspoon

sea salt

1

teaspoon

sugar

1/2

teaspoon

white ground black pepper

1/3

cup

heavy cream or half-n-half

4

tablespoons

fresh basil

julienned

parmesan cheese
Instructions
In a medium to large saucepan add olive oil over medium heat, sauté garlic and shallots for 3 minutes or until shallots are translucent. Stir in the crushed tomatoes.

Add in the whole tomatoes one at a time, breaking them up by squeezing them as you put them into the pan, make sure to also stir in the juice for from the tomatoes as well. Stir in chicken stock, salt, pepper and sugar until combined then allow it to cook over medium for 10 minutes, stirring occasionally.

Once it has cooked for 10 minutes reduce heat to low and stir in heavy cream and chopped basil. Simmer for a few minute, then serve.

Optional toppings like parmesan cheese, grilled cheese, toasted bread and chopped basil make great additions.
Nutrition Facts
20 MINUTE CREAMY TOMATO BASIL SOUP
Amount Per Serving
Calories 71
Calories from Fat 54
% Daily Value*
Total Fat 6g 9%
Cholesterol 4mg 1%
Sodium 681mg 28%
Potassium 99mg 3%
Total Carbohydrates 2g 1%
Protein 1g 2%
* Percent Daily Values are based on a 2000 calorie diet.
This post was recently updated from original post date of January 2016.

Save