Zucchini Brownies are the best way to use up and eat fall's favorite squash. Rich, chocolaty and made with no-eggs. You will be making these Zucchini Brownies will be made all year long, trust me!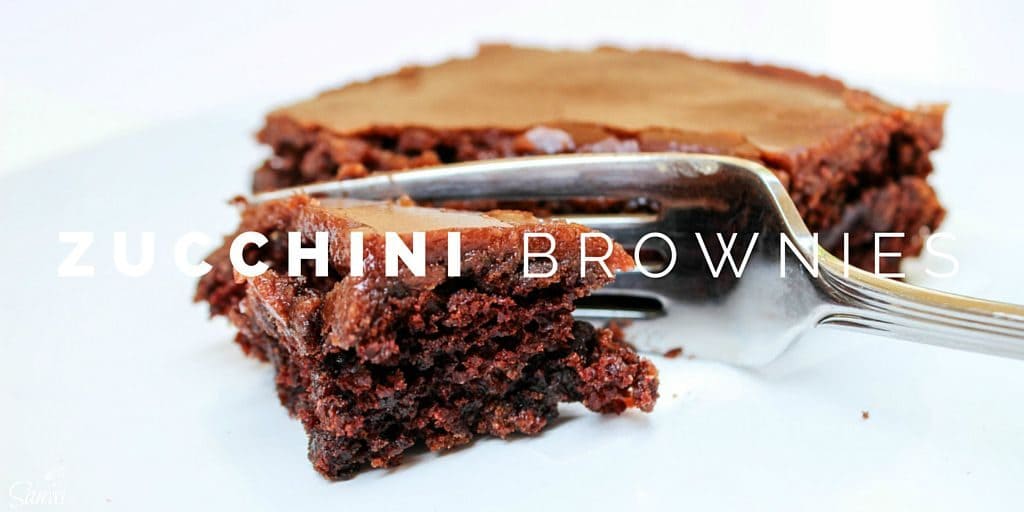 I owe this recipe thanks to my friend, Erin once again who provided me with enough zucchini to make two amazing recipes and a loaf of bread. I love brownies, they are one of my weaknesses. Really anything with chocolate is a weakness. And when I came across my Aunt Patty's zucchini brownie recipe in my mom's recipe tin I couldn't resist. It sounded much better than zucchini noodles. I whipped up a batch but instead of adding nuts, which is what her recipe called for I added Ghirardelli chocolate chips. YUM! Then to make this even more amazing, I topped it with my dad's brownie frosting.
Delicious! Seriously still bummed about the zucchini garden that I have always had in our own home and counting down the days I can plant one, no more like 5, at our new house.
So get ready to whip up a batch of these zucchini brownies. They will have you making a trip to the Farmer's Market to pick up a couple zucchini squash this coming weekend. Or just find a friend like mine, she will make your day.
Looking for a few other ways to eat zucchini check out the following recipes Triple Chocolate Zucchini Cake & Zucchini Enchiladas. YUM!
Enjoy!
XOXO San
Ingredients
2 cups grated zucchini
2 cups flour
1 ¼ cup sugar
1 ½ teaspoons baking soda
1 teaspoon salt
½ cup oil
½ cup cocoa
½ cup Ghirardelli Semi-Sweet Chocolate Chips (optional)

Frosting

1 cube butter
6 tablespoons buttermilk
4 tablespoon cocoa
1 tablespoon vanilla
3 3/4 cup powdered sugar
Directions
Preheat oven to 350 degrees.
In a large mixing bowl or stand mixer, add all of the ingredients and mix until well combined.
Pour into a 9x13 baking pan. Bake for 22-25 minutes or until toothpick inserted into the center comes out clean. Remove from oven and cool on baking rack.
Once brownies are cooled prepare frosting.
In a medium glass mixing bowl add butter and cover with a plate and heat butter for 1 minute in the microwave. Remove from microwave and remove lid. Stir in vanilla and buttermilk, place back in the microwave and heat for 30 seconds, stir, then heat for another 30 seconds, stir, heat for 30 seconds and stir and then heat for another 30 seconds.
Remove from microwave and stir in cocoa and powder sugar, until well combined. Place back in the microwave and heat for 30 seconds, stir. Heat for another 30 seconds and stir, repeat 1more time if needed, until frosting is smooth and there are no clumps. Pour over brownies, and spread evenly. Let frosting cool and harden.
Cut and serve.
https://www.dashofsanity.com/zucchini-brownies/
Save