White Chocolate Caramel Snickerdoodles – Classic soft & chewy Snickerdoodle cookie dipped in white chocolate caramel sauce with a dash of salt. You won't be able to just eat one.
I love my Best Ever Snickerdoodle Cookie Recipe, I mean who doesn't love a soft & buttery cookie rolled in cinnamon and sugar? Take that cookie and top it with a white chocolate caramel sauce and finished with a dash of coarse sea salt, literally, Snickerdoodle cookies have never tasted so good.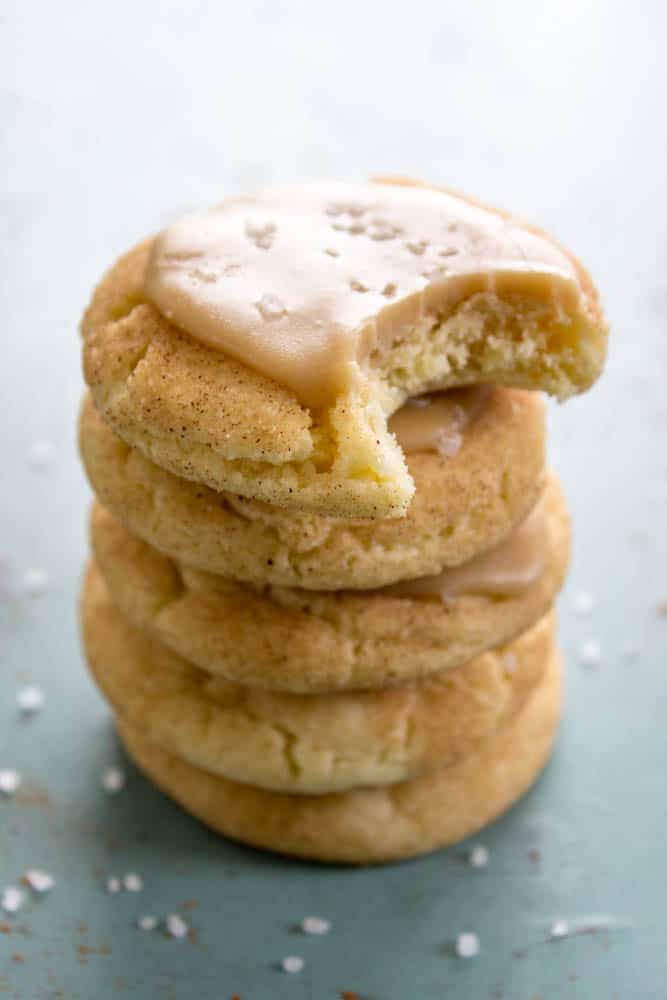 We are Snickerdoodle cookie obsessed here in our home. My son Aiden loves them. It is his favorite cookie.
I love how soft Snickerdoodle cookies are. Then the touch of cinnamon just makes it for me, it is sort of like a churro in cookie form. I made this White Chocolate Caramel Sauce for an ice cream treat and was inspired to dip these cookies in it and well, I fell in love, hard.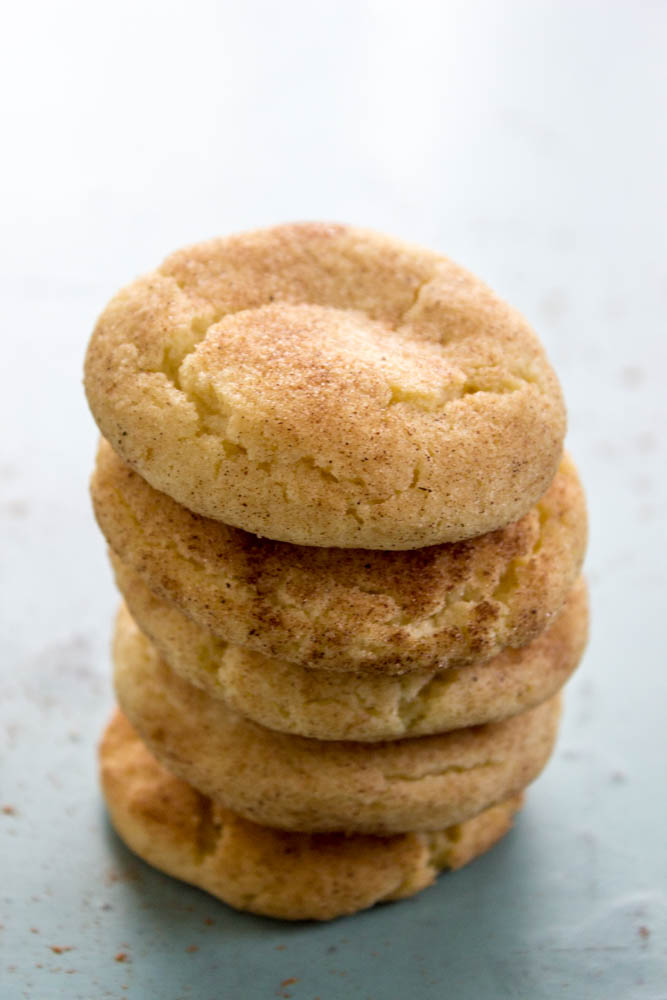 The white chocolate caramel sauce could literally be poured over any sort of dessert cake, cookies, ice cream, and pie. You name it, it will make everything taste even more delicious.
The caramel sauce isn't hard to make at all. My friend Kim's son, who is Madden's age (12), made it with no issue. In fact, he made the sauce for these cookies (pictured). I love that even kids can make this recipe.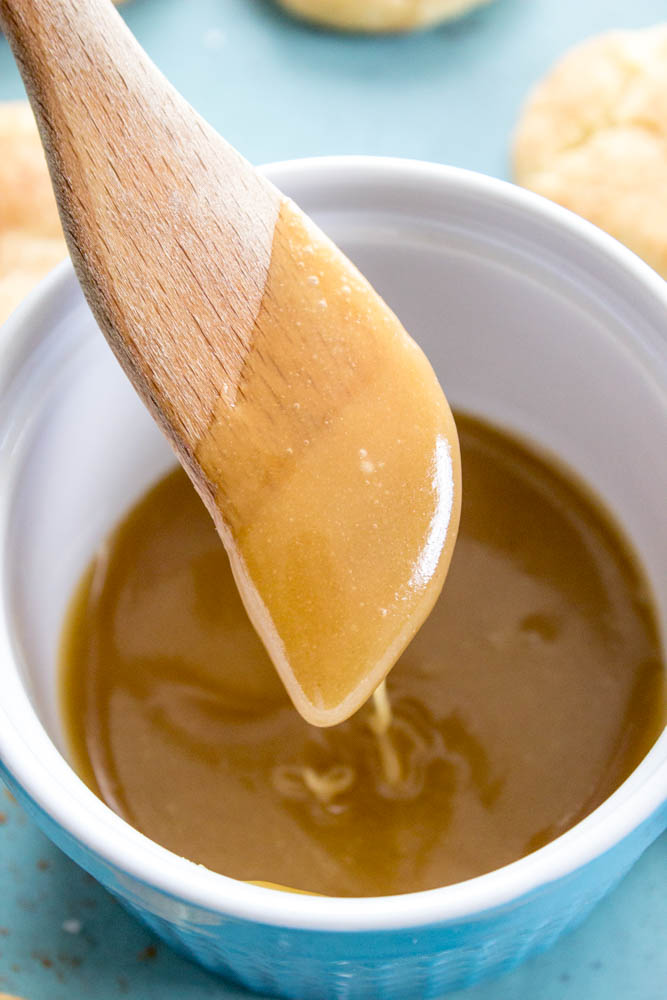 My favorite part of the whole process of making these is sampling the dough and sauce along the way.
We have made a variety of Snickerdoodle Cookies in our home including the Best Ever Snickerdoodle Cookie recipe, Carrot Cake Snickerdoodles, Peanut Butter Snickerdoodles, and Reese's Stuffed Snickerdoodles. And while it would be hard to pick a winner of the best one – the combination of the cinnamon, caramel, and salt – makes these White Chocolate Caramel Snickerdoodles a clear winner.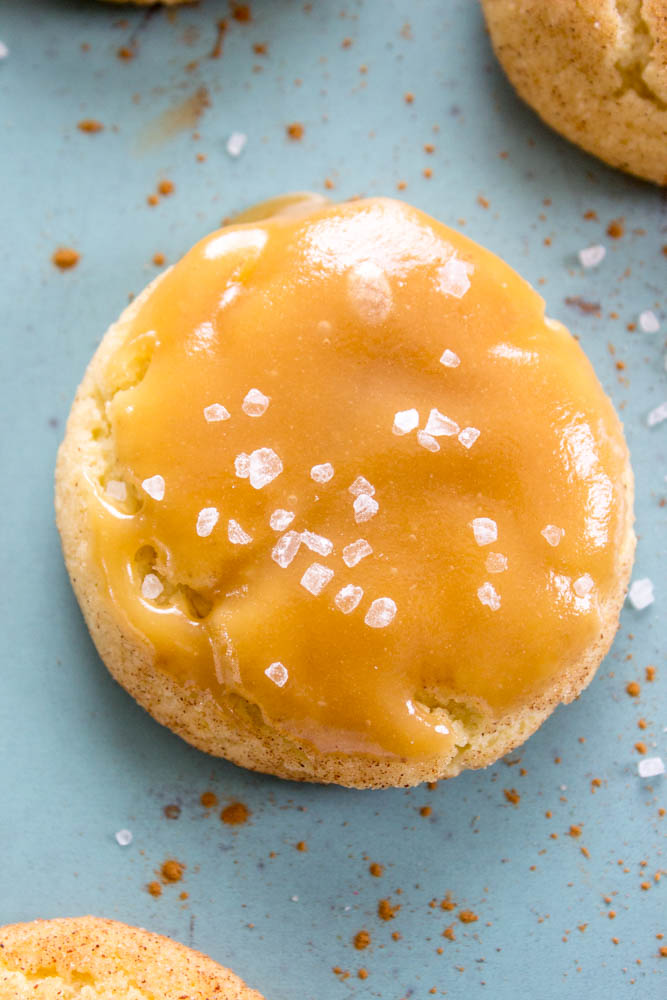 My favorite kitchen items that I used to make these WHITE CHOCOLATE CARAMEL SNICKERDOODLES.:
This post may contain affiliate links. See my Full Disclosure for further details.
Sheet Pan: I love using a larger sheet pan while cooking because I am feeding my family of seven. I love aluminum for when I do sheet pan meals. Start with this 13 by 18 half sheet pan. I love these pans so much that I have 9!
Hand Mixer: I love these for small batches or quick and easy recipes that don't require a lot of ingredients. I love that you can have so many color options now, I love personally love teal.
KitchenAid Mixer: I love my Kitchenaid mixer and use it almost daily. For cookies, bread, sauces, frostings, and dough – I find many recipes that I can use my KitchenAid to reduce prep time. I have two that I couldn't live without.
Mixing Bowls: I love having a variety of sizes of mixing bowls. From small to large, I find that having at least 3 bowls of different sizes has been essential in my kitchen. I prefer Pyrex because of its durability.
Don't forget to pin this recipe for WHITE CHOCOLATE CARAMEL SNICKERDOODLES to your favorite Pinterest board for later.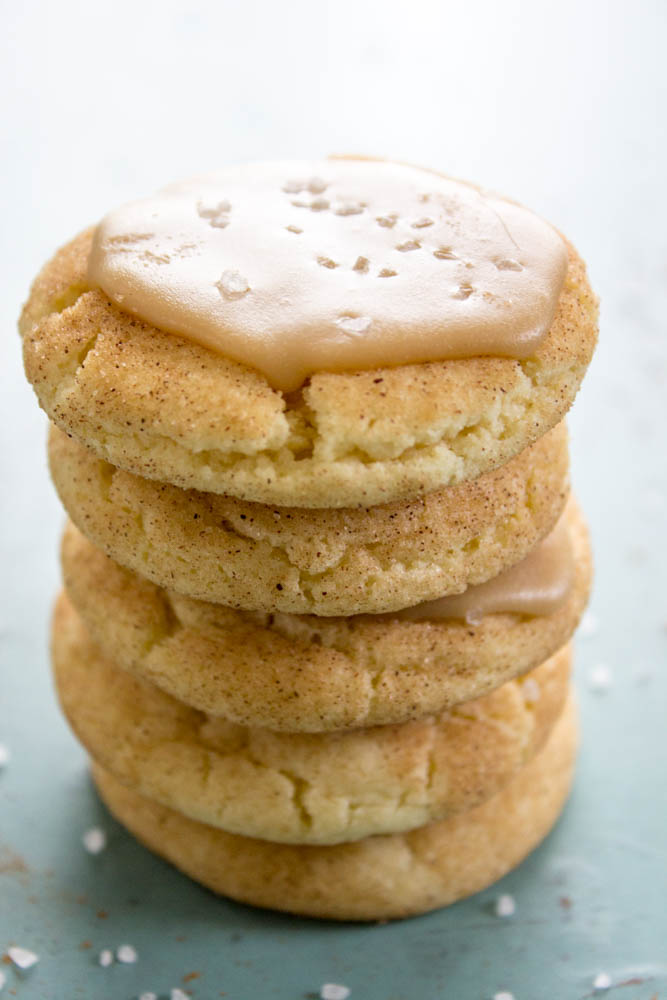 White Chocolate Caramel Snickerdoodles
White Chocolate Caramel Snickerdoodles - Classic soft & chewy Snickerdoodle cookie dipped in white chocolate caramel sauce with a dash of salt. You won't be able to just eat one.
Ingredients
Snickerdoodles
2

tablespoons

white sugar

2

teaspoons

ground cinnamon

1/2

cup

butter

softened

1/2

cup

shortening

1 1/2

cups

white sugar

2

eggs

2

teaspoons

vanilla extract

2 3/4

cups

all-purpose flour

2

teaspoons

cream of tartar

1

teaspoon

baking soda

1/4

teaspoon

salt

1

tablespoon

coarse sea salt

for topping
White Chocolate Caramel Sauce
1/2

cup

butter

2

cup

brown sugar

4

tablespoons

white granulated sugar

1

cup

half & half

2

tablespoons

vanilla

pinch

salt

1

cup

white chocolate melting candies
Instructions
Snickerdoodles
Preheat oven to 400 degrees F (200 degrees C).

Combine the 2 tablespoons sugar and 2 teaspoons cinnamon in a small bowl and set aside.

Cream together butter, shortening, sugar, eggs, and vanilla in a mixing bowl or a stand mixer.

Stir in flour, cream of tartar, baking soda, and salt.

Spoon dough with a tablespoon or cookie dough scoop and roll into a ball.

Roll ball in the sugar and cinnamon mixture, then place each cookie 2 inches apart on ungreased baking sheets.

Bake for 8 to 10 minutes, or until set.

Remove from baking sheets immediately and place on cooling rack. While cooling, make the caramel sauce.
White Chocolate Caramel Sauce
Add all ingredients except for the white chocolate in a medium sauce pan over medium-low heat.

Cook for about 5-7 minutes while constantly whisking, until it starts to thicken.

Remove from heat and whisk in white chocolate until completely combined. Let the sauce cool for 5 minutes.

Spread caramel on top of each cookie. This is easiest to do while the sauce is still slightly warm, but not hot.

Once all of the cookies are topped with caramel, sprinkle a pinch of sea salt on each cookie.

Serve immediately or let the caramel set before stacking or storing cookies. Enjoy!
Recipe Notes
Snickerdoodle Cookie recipe from Allrecipes.com
Nutrition Facts
White Chocolate Caramel Snickerdoodles
Amount Per Serving
Calories 180
Calories from Fat 72
% Daily Value*
Total Fat 8g 12%
Cholesterol 24mg 8%
Sodium 223mg 9%
Potassium 55mg 2%
Total Carbohydrates 24g 8%
Protein 1g 2%
* Percent Daily Values are based on a 2000 calorie diet.
Save