Show someone how much you love with these ooey, chewy & delicious VALENTINE'S RICE KRISPIE TREATS. Easy, delicious and irresistible.
These  VALENTINE'S RICE KRISPIE TREATS are the perfect way to show someone how much you love them, on this very special day. Made with the pink marshmallows, marshmallow cream they're ooey, Rice Krispies and sprinkles your kids will love these.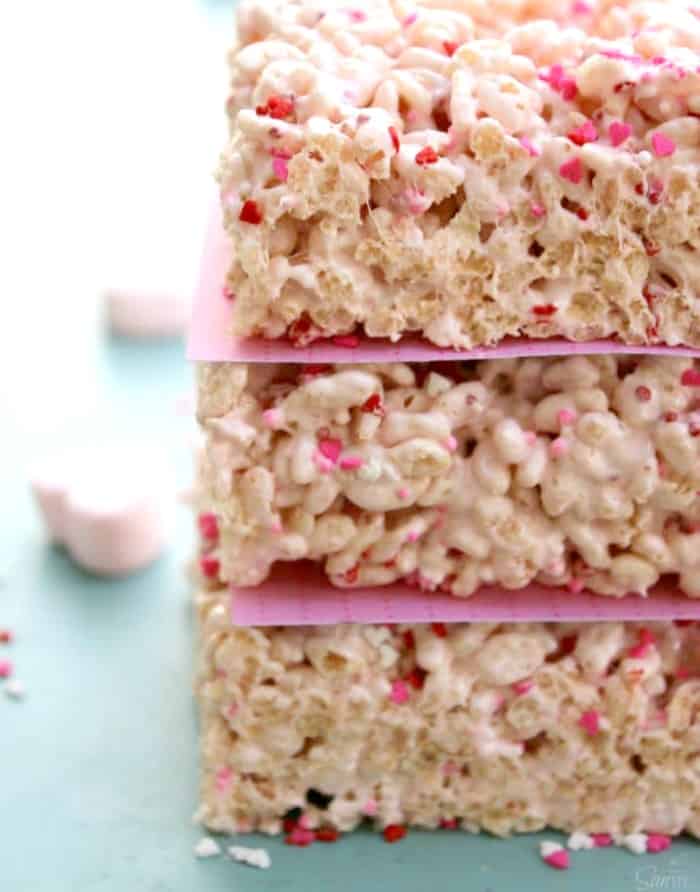 I did this recipe for Valentine Rice Krispie Treats back in 2015, when my daughter Jersey was only 6 years old. Now 9 years young she has requested these. When she said she wanted the Valentine's Day Rice Krispie Treats that is on my blog, I told her I didn't have a recipe for that. She said yes, you do, look. So I did and she was right.
I laugh now even thinking about this, knowing my memory is quickly fading. So while we can't take these in for the school class party, we will be making these for our family and friends.
If you know a little bit at all you know I am on a huge Rice Krispie Treat fan. Like if I could have them everyday, I would. I secretly go to Noodles & Co. just for their Rice Krispie treats when I don't want to make them or only want one for myself. I may have been known to walk in just for one of them, on a school day and eat it in the car all alone. Hee hee.
One of my favorite treats when I was pregnant with Jersey and Cannon, the youngest 2 of my 5 kids. I would grab a bowl and fill it with 2-3 scoops of ice cream, then top with Rice Krispies and drench it in Hershey's chocolate syrup. I would proceed to mix it all together and oh, man I was addicted to this combination.  I would so make this now, but sadly I have no ice cream in the freezer, but you can guess what we will be making this weekend.
A few years ago when I first made these, it was an inspired treat after first finding the pink Jet-Puffed Marshmallows in the store. I remember when I opened the bag I was a little skeptical, as they are strawberry flavored. Then I tried one and still was a little worried but after strong encouragement from the kids we made Rice Krispie treats with them. I added in the butter, marshmallow cream and Rice Krispies and they came out amazing. My son, Cannon and his friend, Jace added the finishing touch of the sprinkles and then viola these love day treats were done. Ready in 10 minutes, I can make these suckers fast enough for my serious craving.

So you know that these VALENTINE'S DAY RICE KRISPIE TREATS are the best kind of treat when your daughter who was 6 years-young the first time you made these, remember them 3 years later.
Make a sweet Valentine's Day memory and whip up a batch of these VALENTINE'S RICE KRISPIE TREATS and enjoy them friends with those your care about. XOXO San
Be sure to pin this recipe for VALENTINE'S RICE KRISPIE TREATS to your favorite Pinterest board for later.
My favorite kitchen items I used to make these VALENTINE'S RICE KRISPIE TREATS.
This post may contain affiliate links. See my Full Disclosure for further details.
9×13 BAKING PAN: I use my 9×13 baking pans all the time. Dinner, cakes and even for play dough fun, these are a kitchen must have in our home. I prefer the dark pans over glass pan – all because I feel like they cook more evenly, but this is just my own personal thoughts.
MIXING BOWLS:
 I love having a variety of sizes of mixing bowls. From small to large, I find that having at least 3 bowls of different sizes has been an essential in my kitchen. I prefer Pyrex because of the durability.
GLASS MEASURING CUPS:
 I use these all the time – almost daily. The large 4-cup one I use as a bowl most of the time. Mixing together sauces and gravy. The small ones I use for baking, mainly measuring liquids.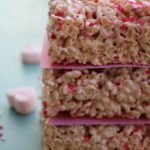 VALENTINE'S RICE KRISPIE TREATS
Show someone how much you love with these ooey, chewy & delicious VALENTINE'S RICE KRISPIE TREATS. Easy, delicious and irresistible
Ingredients
4

tablespoons

butter

5 1/2

cups

marshmallows

I used Jet-Puffed Pink Heart Mashmallows

1

cup

marshmallow cream

8

cups

Rice Krispies

6

tablespoons

sprinkles

Valentine's sprinkles, suggested
Instructions
In a large saucepan add butter and marshmallows, constantly stir over medium-high heat until marshmallows are completely melted

Once butter and marshmallows are completely combined and melted remove from heat and stir in the 1 cup of marshmallow cream until well combined. Then gently stir in the 8 cups of Rice Krispie cereal until all the cereal is well coated.

Add in 5 tablespoons of sprinkles by sprinkling them evenly over mixture, stir a few times, and then press the Rice Krispie cereal into a 9x13 pan. Top with the left over 1 tablespoon of sprinkles, by evenly scattering them over the treats. Cut and serve immediately, or let it sit and serve later.

Fun way to serve these yummy treats is using a heart shaped cookie cutter. You can even make homemade arrows, if you wish out of skewers and tape (liked pictured). But my kids liked the traditional squares.

* Store in an air-tight container, either at room temperature or in the refrigerator, for up to 5 days.
Nutrition Facts
VALENTINE'S RICE KRISPIE TREATS
Amount Per Serving
Calories 267
Calories from Fat 36
% Daily Value*
Total Fat 4g 6%
Cholesterol 10mg 3%
Sodium 159mg 7%
Potassium 23mg 1%
Total Carbohydrates 57g 19%
Protein 1g 2%
* Percent Daily Values are based on a 2000 calorie diet.
Save