This post may contain affiliate links. See my Full Disclosure for further details.
TRIPLE CHOCOLATE PUMPKIN CAKE a chocolate pumpkin cake with ganache then finished off with chocolate chips. Grab a fork and dig in. This cake is incredibly delicious and perfect for fall.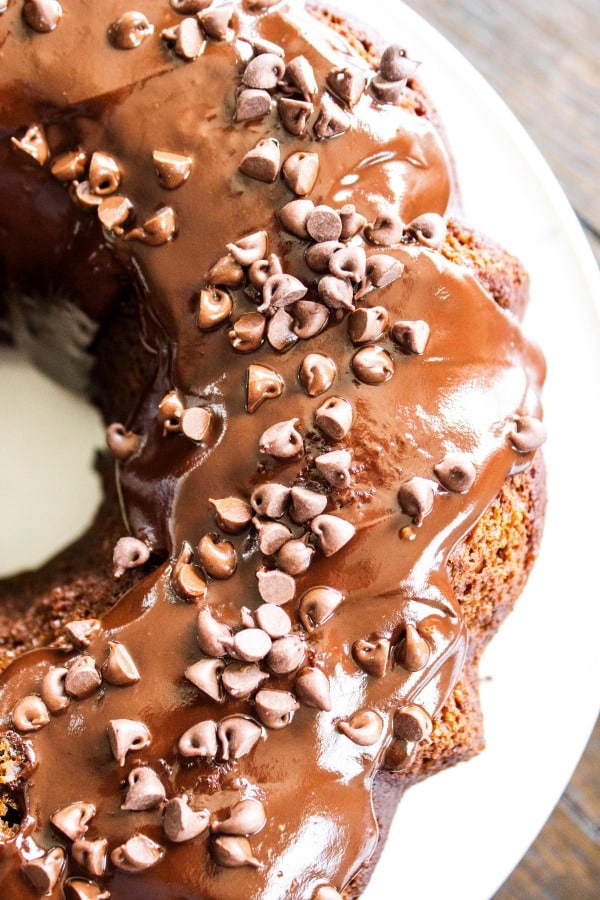 This recipe comes from inspiration from my Triple Chocolate Zucchini Cake . The original recipe with the zucchini came from my Aunt Patty and it is a family favorite. And by family, I mean my entire family.
This TRIPLE CHOCOLATE PUMPKIN CAKE took my love for pumpkin to a whole new level. Really you add triple chocolate to anything I would eat it. But the pumpkin and the cinnamon are a great combination for a cake. And well a Starbucks drink too.
This cake turned out to be amazing! I literally could have devoured the entire cake on my own, not kidding. But thankfully, my kids, hubby, friends and family were ready to dig in. Even my husband who claims to hate anything pumpkin, LOVED this cake.He said it was a perfect balance of flavors…wow!I couldn't wait to post this recipe, well because it is that damn good! And I can't wait for you to try!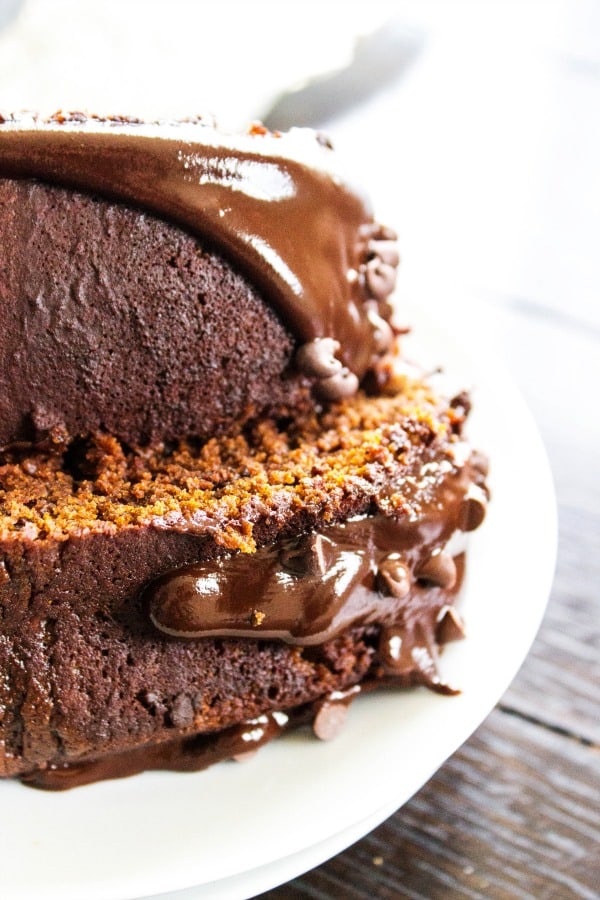 If you want to try something new, you can try baking the cake in an awesome bundt cake pan. Having trouble getting the cake to come out?- just use some non stick spray before you put the batter in. Enjoy this recipe for the best TRIPLE CHOCOLATE PUMPKIN CAKE. XOXO San
My favorite kitchen items I used to make this TRIPLE CHOCOLATE PUMPKIN CAKE.
Hand Mixer: I love these for small batches or quick and easy recipes that don't require a lot of ingredients. I love that you can have so many color options now, I love personally love teal.
Mixing Bowls: I love having a variety of sizes of mixing bowls. From small to large, I find that having at least 3 bowls of different sizes has been an essential in my kitchen. I prefer Pyrex because of the durability.
Love pumpkin as much as I do? Check some of these other amazing recipes out: Pumpkin Nutella Dip, Pumpkin Chocolate Chip Overnight Oats, Spicy Toasted Pumpkin Seeds and my personal favorite Pumpkin Zucchini Cake.
Don't forget to pin this TRIPLE CHOCOLATE PUMPKIN CAKE to your favorite Pinterest board for later!

Triple Chocolate Pumpkin Bundt Cake
Triple Chocolate Pumpkin Cake has the taste of all the warm fall spices and a dark chocolate glaze.
Ingredients
2 cups sugar
¾ cup oil
3 eggs
1 teaspoon salt
1 ½ teaspoon baking soda
½ cup cocoa
1 teaspoon cinnamon
1 ½ teaspoon baking powder
2 teaspoon vanilla
2 ½ cups flour
½ cup milk
15 ounce canned pumpkin

Glaze

3 tablespoons butter, cut into ½ inch squares.
¾ cup dark chocolate chips
1 tablespoon corn syrup
1 cup mini-chocolate chips, for topping
Directions
Mix together sugar, oil and eggs. In a separate bowl combine flour, salt, baking soda, cocoa, and cinnamon and baking powder. With the mixture on medium mix in the flour mixture. Then slowly adding milk and pumpkin. Mix until well combined.
Pour into greased pan.
Bake at 325 for 50-60 minutes.
Let the cake cool until the pan is cool to the touch, this helps it come out of the pan in one beautiful piece. Prepare glaze.
Glaze
In a double boiler over medium heat combine butter, chocolate chips and corn syrup. Stir until completely melted and well incorporated. Drizzle over cake and sprinkle with mini-chocolate chips.
Notes
Note – you do not have to use this recipe in a bundt pan, you can use your standard 9x13, I personally just love the presentation.
https://www.dashofsanity.com/triple-chocolate-pumpkin-cake/
This post has recently been updated from it's original date Sept 2014.
Save