SWEET & SALTY CHOCOLATE LAYER CAKE layers of rich buttermilk chocolate cake and ganache, then drizzled with a salted caramel sauce & topped with coarse sea salt. Sweet & salty has never tasted this decadent.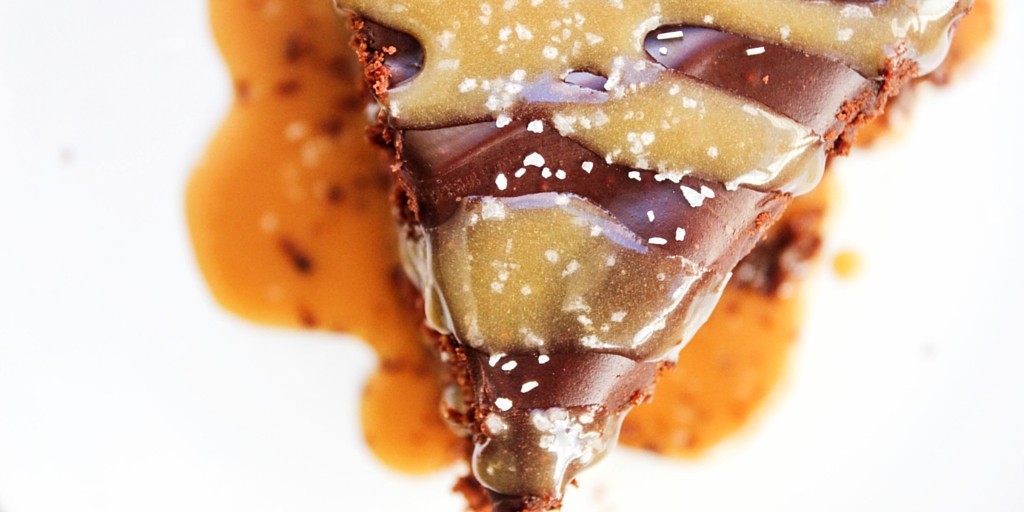 I love rich &  fudge like desserts and that is exactly the kind of cake I wanted for my birthday.
We recently went to our favorite restaurant in the Denver, Hacienda Colorado. Our entire family literally drink their salsa by the bowl fulls. And we are always so full from their chips & salsa that we never order dessert. That was until last month during our Spring Break staycation. We saw another table get this chocolate layer cake and it looked to die for. Of course we ordered it to go so we could eat it that night in our hotel room while watching a movie.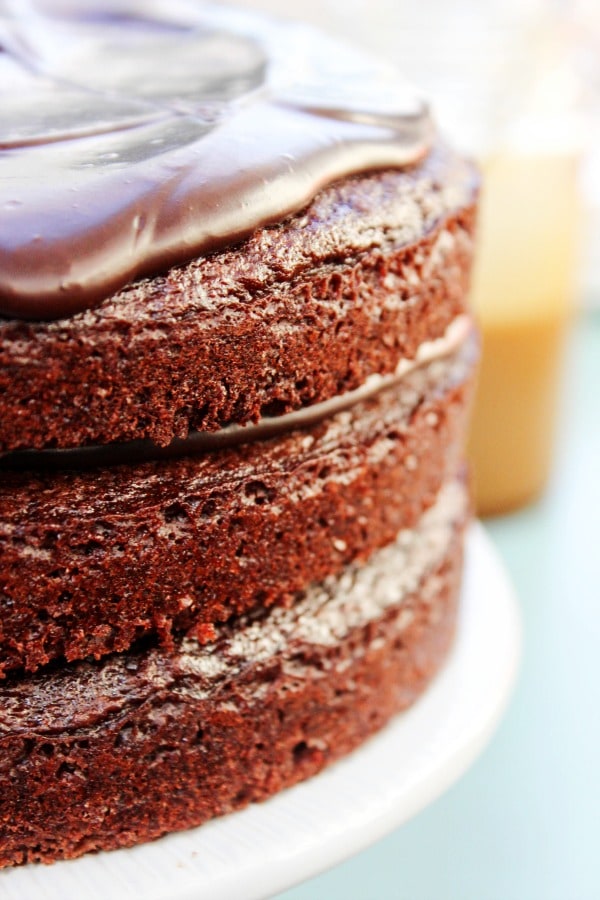 The kids and I were uber excited to try it and like I expected there would silence after we each had our first bite. But sadly the only moment of silence was for how terrible this cake was. It tasted completely freezer burned and was such a disappointment. I told the kids not to worry that when we got home I would make the same cake but better, which trust me wouldn't be hard to do.
Since my birthday was only a week away, I decided that would be the day to make a better version of the Sweet & Salty Chocolate Layer Cake. And my homemade version of this cake lived up to it's hype. Each of us took a small slice because it is that rich. Then topped it with a small dab of vanilla bean ice cream to balance the decadent cake. My birthday turned out to be one tasty celebration.
If you follow my blog you know I am a sucker for anything sweet and salty especially if it involves chocolate. Love this Sweet & Salty Chocolate Layer Cake? Check out some of my favorite and salty desserts & snacks. DESSERTS: Chocolate Peanut Butter Caramel Tart, Peanut Butter Toffee Bark, Peanut Butter Caramel Sauce and Peanut Butter Hot Fudge. SNACKS: Sweet & Salty Marshmallow Popcorn, Sweet & Salty No Bake Popcorn Cookies, Sweet & Salty Halloween Chex Mix and Sweet & Salty Roasted Pumpkin Seeds. XOXO San
Don't forget to pin this SWEET & SALTY CHOCOLATE LAYER CAKE recipe to your favorite Pinterest board for later.

Sweet & Salty Chocolate Layer Cake
Ingredients
1 cup buttermilk or 1 cup milk + 1 tablespoon lemon juice, stir together and let it sit for 5 minutes
1 cup water
2/3 cup vegetable oil
2 cups sugar
2 eggs
1 teaspoon baking soda
½ teaspoon salt
2 cups all-purpose flour
¾ cup unsweetened cocoa powder

Ganache

1 cup heavy whipping creamy
1 ½ cup semi-sweet chocolate chips
1 teaspoon vanilla

Caramel

You can use 1 cup store bought caramel sauce. If you use store bough then heat in the microwave for 1 minute, then stir in sea salt, start with 1/1 teaspoon and add more if desired.
-OR-
I made Pioneer Woman's Caramel Sauce and just used sea salt for the salt in the recipe.
Top with coarse sea salt, Kosher salt will work too.
Directions
Pre-heat oven to 350º F.
Lightly spray two or three, depending on what look you are going for, 9-inch round cake pans with cooking spray and lightly dust with flour, tapping with a spoon to remove excess; set aside.
In mixing bowl, add buttermilk, water, oil, sugar, eggs, baking soda and salt; stir together until it is well combined. Add in flour and cocoa powder and whisk until smooth and there are no lumps. This batter is runny don't stress, instead lick the bowl clean.
Pour batter evenly into prepared pan(s).
Bake for 25-30 minutes (3 pans) or 30-35 minutes (2 pans), or until you can lightly touch the center and it springs back. Cool pans on a wire rack for 10-15 minutes, then remove cake and allow to completely cool on the wire rack. Once cooled prepare filling.
In a small sauce pan add the whipping cream and bring to a boil, remove from heat and add in chocolate chips. Do not mix or stir them in, let the chocolate sit for 5 minutes. Stir until smooth. Let it cool for about 15 minutes or until it starts to thicken and not be so runny. Make sure it is cool, at least to room temp before you layer the cake.
Layer the cake by placing one cake on a cake plate or stand, spread ½ cup of the ganache on top of the first layer of the cake. Set in the fridge to chill for 5 minutes. Remove from the fridge, place another cake layer on top of the ganache layer. Then spread ½ cup of ganache of the cake. Place in fridge to chill for 5 minutes. Remove from the fridge and add the last cake layer and add the remaining ganache on top of the cake. Chill cake in fridge for 20 minutes or until ganache is set.
Slice the cake, add one piece of cake to plate, generously drizzle with caramel sauce and sprinkle with coarse sea salt, although kosher salt would work as well.
https://www.dashofsanity.com/sweet-salty-chocolate-layer-cake/
Save