This post may contain affiliate links. See my Full Disclosure for further details.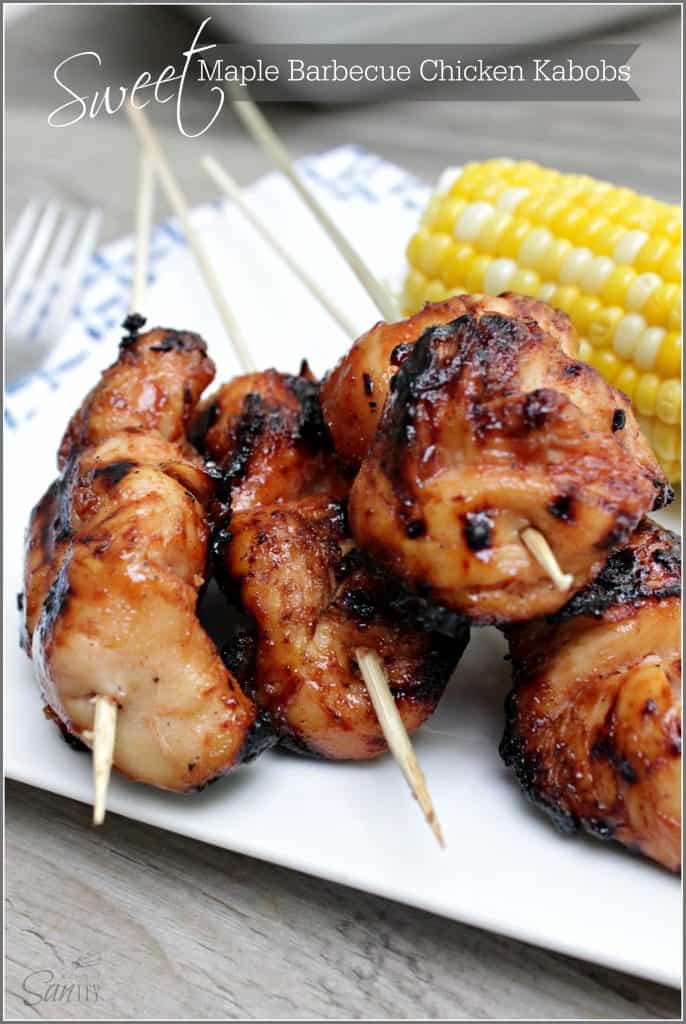 Continuing with the theme for this week of chicken kabobs; today I am sharing my favorite barbecue sauce used for grilling. And I'll let you in on a little secret… it was made by accident!
Don't you love it when those things happen and it turns out to be better than your original recipes?
You see, I went to reach for the honey and grabbed the maple syrup instead, distracted by some shrilling screams coming from the backyard I started to pour in the syrup, then realized what I had done.
Instead of starting over I decided to go with it and so glad I did. I love the touch of caramelized sweetness that this adds to my traditional sauce. It isn't overly sweet, like sometimes honey barbecues sauces can be.
I already have this on the menu again for next week. From my accidental recipe kitchen to yours.
Enjoy!
XOXO San
My favorite kitchen items I used to make these SWEET MAPLE BARBECUE CHICKEN KABOBS.
Knives: A good set of kitchen knives is essential for preparing any meal. I just recently invested in some Cutco knives and I have not regretted it one bit. These are hands down my favorite knives I have owned.
Cutting Board: For me this is a kitchen must-have and kitchen counter saver. While we have counter tops you can cut on, I find that this extra step will preserve my counter. I also find that using a cut board makes for less clean up afterwards. I love this cutting board because it has a groove all the way around the board prevent juices from running all of the counter.
Mixing Bowls: I love having a variety of sizes of mixing bowls. From small to large, I find that having at least 3 bowls of different sizes has been an essential in my kitchen. I prefer Pyrex because of the durability.
Looking for some other chicken kabob ideas? Check out some of my favorites: Healthy Sweet & Sour Chicken, Grilled Citrus Chicken Kabobs, Grilled Paprika Yogurt Chicken Kabobs, Hawaiian Chicken Kabobs,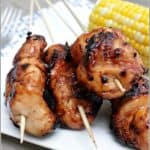 Sweet Maple Barbecue Chicken Kabobs | summer of the kabobs
With a touch of caramelized sweetness, this takes your traditional barbecue sauce and elevates it to a whole new level.
Ingredients
2

lbs.

chicken tenders

1

packed cup brown Sugar

1

cup

ketchup

1/4

cup

red wine vinegar

1/4

cup

water

¼

heaping cup pure maple syrup

meaning a little over ¼ cup

1

tablespoon

Worcestershire sauce

2

teaspoons

ground mustard

2

teaspoons

Paprika

1-1/2

teaspoons

kosher salt

1

teaspoon

black pepper
Instructions
Marinade:

Mix brown sugar, ketchup, red wine vinegar, water, pure maple syrup Worcestershire sauce, ground mustard, paprika, kosher salt and pepper in a large bowl. Place chicken tenders in the marinade. Cover and let the chicken marinate for at least 2-4 hours or overnight. I like to throw all the ingredients in a Ziplock and let it marinate this way.

If you are using metal skewers skip this part, if you are using wood skewers follow the directions below.

Now I know there is a debate whether or not to soak your skewers and to each their own. But I soak mine, I have found that I get less wood pieces in the chicken and they don't go up in flames. They still may char a tad, but not following apart or on fire.

I completely soak my skewers for 30 minutes, sometimes accidently longer, like the whole day. Make sure the entire stick is completely dredge in water. Once they have soaked, remove and start to assemble the skewers.

Kabobs:

Remove the chicken from the fridge, one piece at a time grab a tender and lace through the skewer. I start at the chunkier end and do a weave motion. Or you can just slide the entire tender on the kabob and not make it all fancy like a wave. Either way, they will taste the same. Set kabob on a plate and repeat the process. Once completed drizzle extra marinade over the chicken, and let it sit while grill is heating up.

Heat gas or charcoal grill, remove chicken from marinade. Place chicken on grill over medium heat. Cover grill and cook 3 minutes, then turn over the kabob and cook another 3 minutes. At this point check the chicken. To know if the chicken is done the juices should be clear and the center of thickest part is cut (170°F). If not done, continue to cook, at this point I leave the lid open and just turn the kabobs so they are cooked evenly on both sides. My chicken takes about 8-10 minutes.

Remove from grill and serve immediately. Or cover with foil and serve later.

Great to serve with grilled corn on the cob, cornbread – my favorite Sweet Jalapeno Cornbread and coleslaw.

Use the leftovers the next day for a grilled chicken salad.
Recipe Notes
Total time does not include the time to marinade.
Save