Strawberry Mint Spritzer a fresh, fruit & thirst quenching non-alcoholic beverage that is made with 4 simple ingredients and in 5 minutes.



Like my friend Sarah would say when something is unbelievable…"shut the front door!" And oh my you will just not believe just how amazing this drink is, well that is until you try it. Seriously. Get to that now.
Have you had a hard day at work? OR were you locked up in the house all day with 5 kids, like me? Or do you just need a good drink to relax?
This is it. And it is simple.
And here is the catcher, it is non-alcoholic. That's right, but that doesn't matter, trust me, it is amazing. My friend Ashley tried it and said it tasted just like her favorite strawberry margarita.We'll Ashley hold the calories and the tequila – this Strawberry Mint Spritzer has everything you need in a fresh, thirst quenching drink. And it is a beauty to look at. Inspired by a girls-night-out this drink will continue to bring friends together in the years to come.
While this will be the perfect drink to serve in the spring and summer months DON'T WAIT until then. MAKE THIS NOW. Am I shouting? Yes, it is too good to wait.
Enjoy this Strawberry Mint Spritzer, I know I am.
XOXO San
Ingredients
1 package (10 ounces) frozen sweetened sliced strawberries
2 liters lemon-lime soda, chilled, I used Fresca
1 can (12 ounces) frozen pink lemonade concentrate, thawed
½ cup fresh mint, roughly chopped
Strawberries, diced, optional topping
Lemon, sliced, optional topping
Directions
Place the strawberries in a blender or food processor and puree.
In a large pitcher stir together soda, ¼ cup chopped mint (more if desired) and lemonade concentrate.
The in the bottom of serving glasses or serving pitcher, add the pureed strawberries. Then gently pour in the mint & lemonade mixture on top of the pureed strawberries, garnish with lemon slices, diced strawberries and mint leaves.
Notes
https://www.dashofsanity.com/strawberry-mint-spritzer/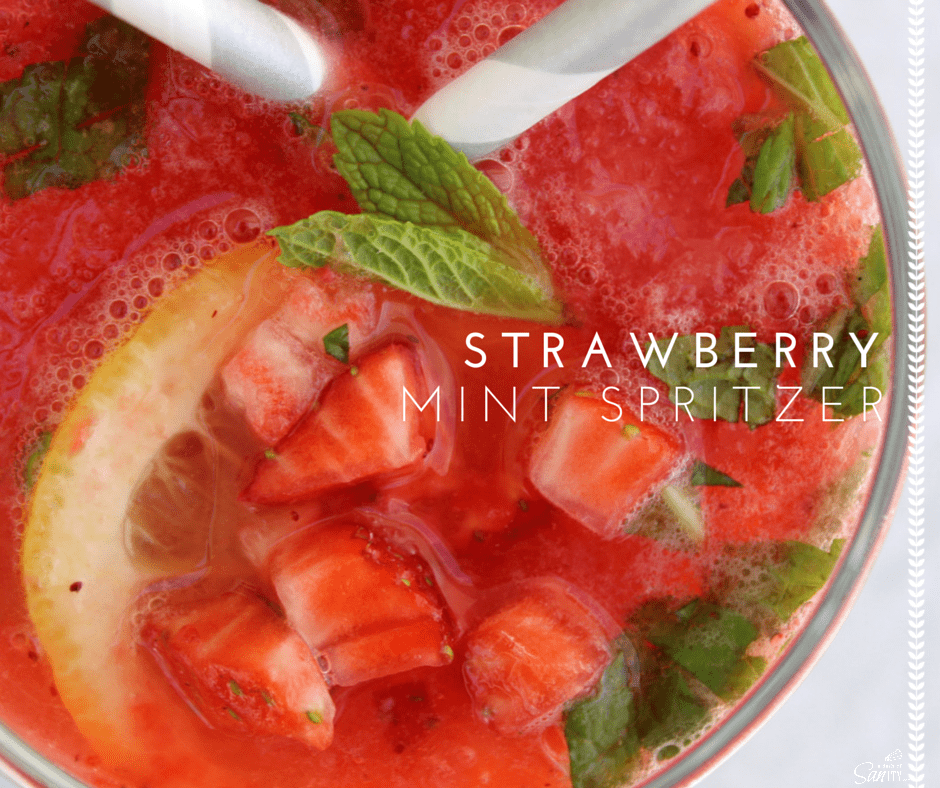 Save