Strawberry Chicken Salad Wraps fresh strawberries, chicken, mozzarella cheese, spinach and poppy seed orange dip plus, the best tips for getting back into the packing lunches groove.
It's hard coming up with ideas that the kids love and I approve for the lunches. I know that I need to step up my game this year. This school year will be known as the year of the lunch wraps and today I am sharing one of my favorite wrap ideas made with my kids favorite lunch items Horizon String Cheese and Silk Yogurt. Plus one printable and 5 tips that will be life changing when it comes to preparing lunches for the week.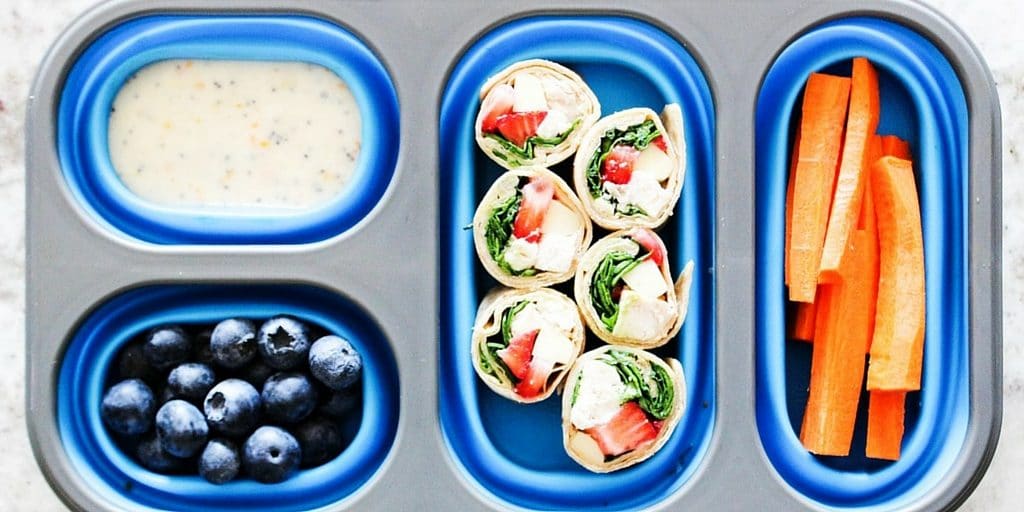 So many times I was screaming the morning of as we were headed out the door about lunches. Hurrying, making sure I had everything and that their lunch was one that would give them energy throughout the day. But let me tell you it was stressful, because half of the time, if I didn't get the lunch exactly right according to my kiddo the lunch box would come home 1/2 full. So that is when I decided to involve the kids in the entire lunch process from planning their lunches and snacks, packing and gasp, occasionally help with the grocery shopping. I wanted to share a cute printable that my daughters Jersey and Jojo helped me make so that we could plan the lunches all together, kids and mom.
Be sure to check it out – we made it a free printable, so that your family can use it too!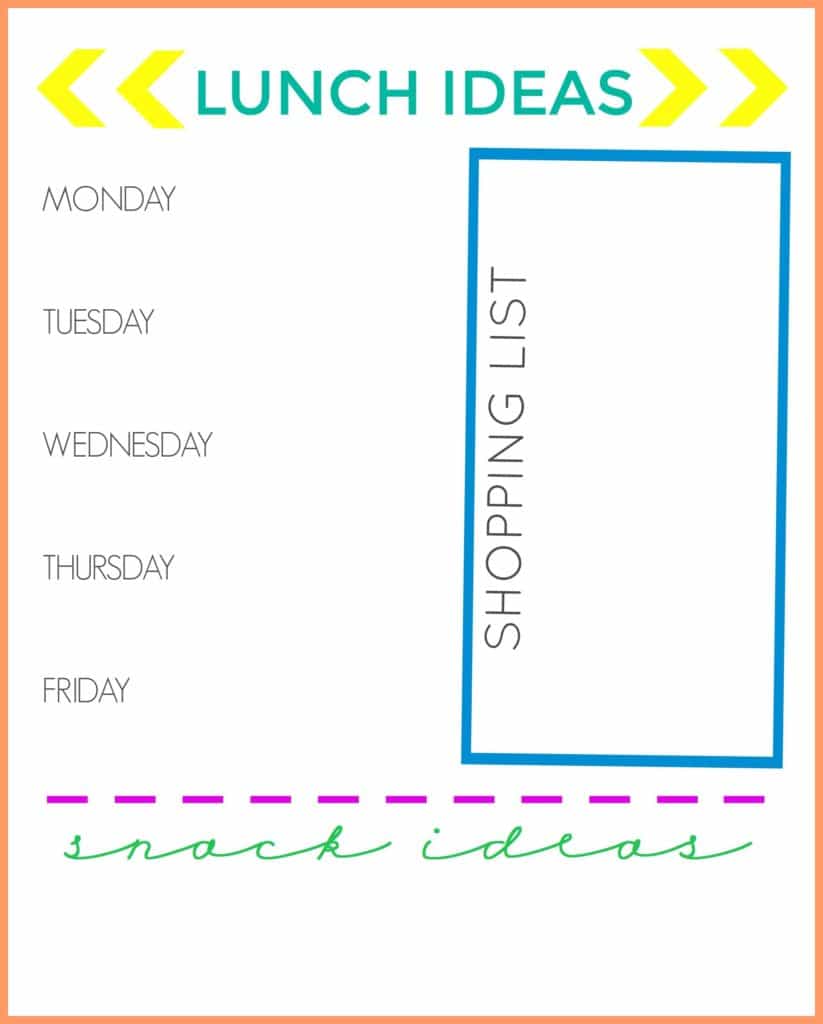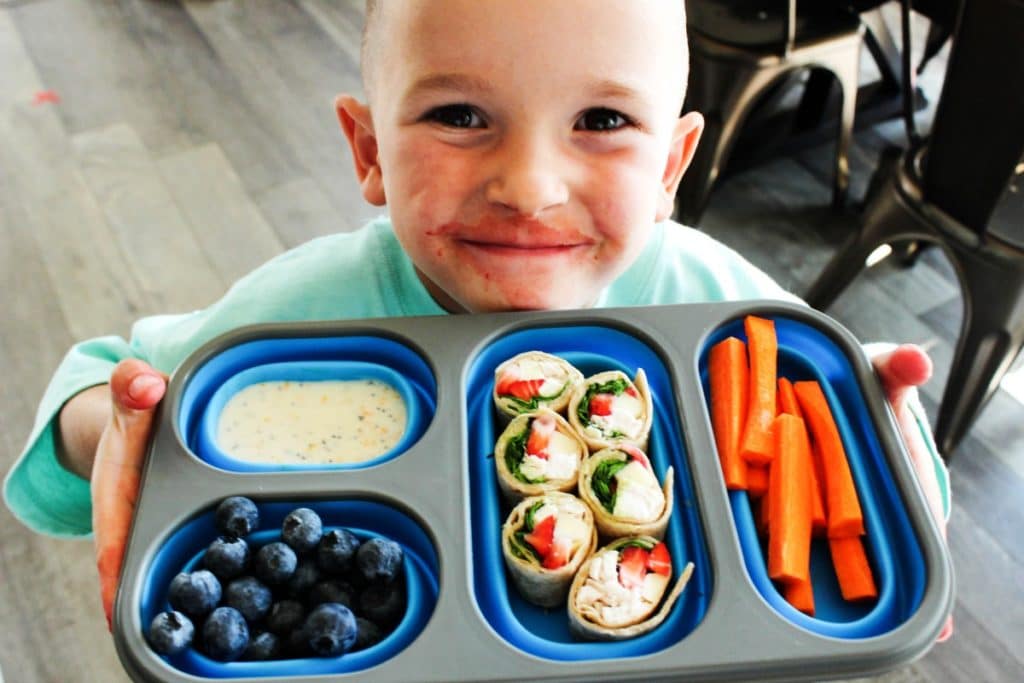 Now for a simple easy and delicious wrap you and the kids will love! The kids favorite part of this wrap are the strawberries – that is probably a bit obvious from this picture with Cannon who was "helping" me making the wraps. (More like eating.) I love his cute little strawberry face.
Strawberry Chicken Salad Wrap & Best Tips for Back to School Lunches
Ingredients
8 whole wheat tortillas
1 chicken breast cooked & shredded
12 strawberries
1/2 of Horizon String Cheese, cut vertically
1/4 cup chopped spinach

Poppy Seed Orange Dip

1/2 cup Silk Vanila Yogurt
1 -2 teaspoons orange zest
1/2 teaspoon poppy seeds
Directions
Lay one tortilla flat, cut off edges if you want to make it square. I will cut the tortilla to be the same length as the string cheese.
In the center lay string cheese, chicken, strawberries and spinach. Roll tightly up and cut into 1-2 inch pieces, kind of like sushi.
Repeat with remaining tortillas, chicken, cheese, strawberries and spinach.
Dip
Mix all ingredients together in a small mason jar, stir or shake to combine and serve immediately or store in the refrigerator until ready to use.
https://www.dashofsanity.com/strawberry-chicken-salad-wraps-best-tips-for-back-to-school-lunche/
And here are my 5 FAVORITE TIPS FOR THE LUNCH BOX: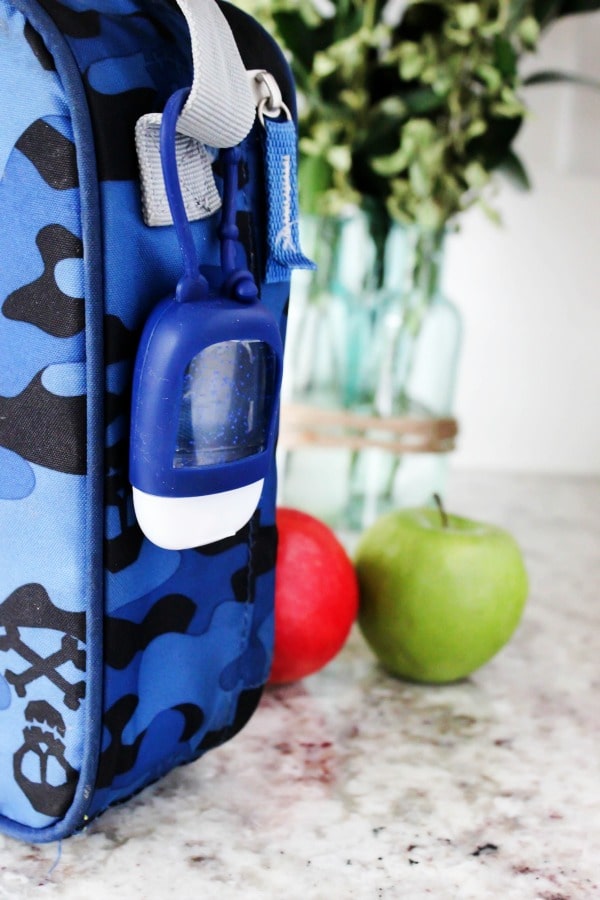 1. PACK HAND SANITIZER. There is never time for kids to wash their hands before lunch. And if your school is like my kids', then you have lunch right after recess. Coming in from the playground after playing basketball, tag, jump rope or acting like animals in the sand, hands are definitely not dirt or germ free. My daughter Jojo is so good about washing and sanitizing her hands that she inspired this idea.
2. PACK WET WIPES. All you need to do is drop on or two in a baggie and put it in there. You can reuse the same baggie every day to so that you are not wasting it. This allows them to "clean-up" after lunch. If you have a son, then chances are that wet wipe will still come home unused. But if you have a daughter like mine, it'll be used, and she'll be ever grateful.
3. PACK THE LUNCHES THE NIGHT BEFORE. Have your child pack their own lunch with you the night before. This helps them select and know what they're eating. Give them options; for instance, let them choose between two sandwiches like jelly and peanut butter on whole wheat bread or my daughter's favorite – Jif Hazelnut Spread on whole wheat bread. Give them a choice between two different crackers, veggies and fruit. This makes them responsible with you still having a say.
4. PACK A WATER BOTTLE. Packing a water bottle beats the sugar-filled drinks and helps keep them hydrated. Even though they always say they don't need it, they always come home empty.
5. WRITE A NOTE. My mom did this on our field trip days, and it always lifted my spirit and made me smile (even in middle school, although I didn't want anyone to see it and acted like I didn't see it either, but secretly I always looked forward to it.).
This is a sponsored conversation written by me on behalf of Horizon, Silk, & So Delicious. The opinions and text are all mine.
Don't forget to pin this Strawberry Chicken Salad Wrap & Back to School Tips to your favorite Pinterest board for later.

Save