Strawberries & Cream Beignets a classic dessert made with a simple cream and beignets that take only minutes to make. Deliciously easy. Strawberry season has never tasted to good. Love what you see before to check out the other 10+ strawberry desserts that will have your mouthwatering.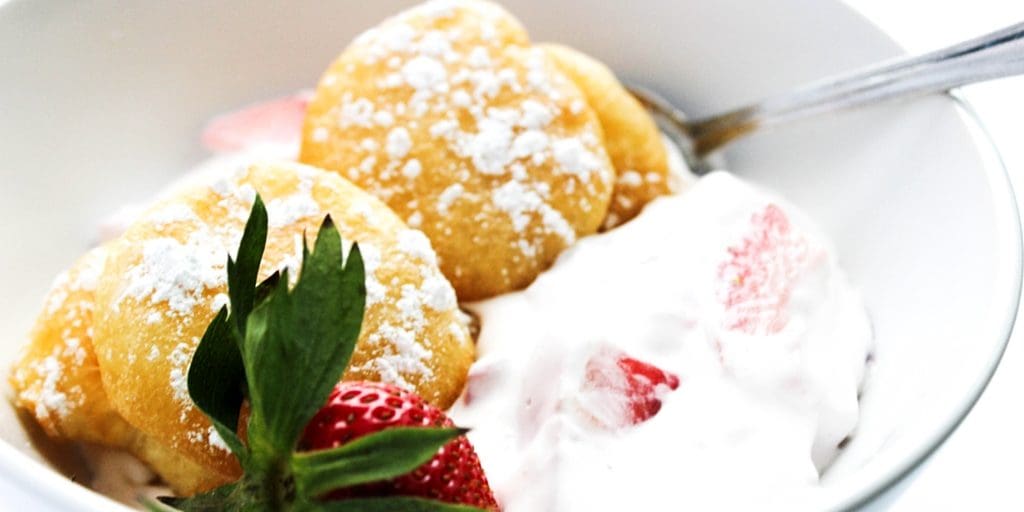 I love strawberries and one of my favorite desserts growing up was Strawberry Shortcake. I love anything with cake, cream and fruit. So naturally the first time I had a beignet I was in love. It came with homemade whipped cream and a caramel sauce that was to die for. The first time I made beignets for my kids they were literally in love. I limited them to just one but I am pretty sure there were seconds and thirds when I wasn't looking.
I love being inspired on ingredients that are in season. And my entire family looks forward to strawberry season. We have tried to grow strawberries without much success, thanks to some sneaky squirrels but getting them from our local farmer's market is the best on a Saturday morning. When I heard it was National Strawberry Day I knew I had the perfect excuse to make some easy beignets to go with our favorite strawberries and cream.
This recipe may sound hard – but trust me friends it is oh, so easy. The beingets will take only take minutes to make the dough, a few more minutes to fry up and only seconds to eat.
Enjoy friends! And be sure to check out some other amazing recipes to celebrate National Strawberry Day.
XOXO San
Strawberries & Cream Beignets
Ingredients
1 cup sour cream
3 tablespoon sugar
1 generous cup Cool Whip
1 quart of strawberries, rinsed, hulled and chopped
½ cup butter
1 cup water
¼ teaspoon salt
1 cup all-purpose flour
4 eggs
Oil for frying
Confectioners' sugar, optional for dusting
Directions
Make strawberries & cream first so that it can chill while you make the beignets.
In a medium mixing bowl stir together sour cream, sugar and Cool Whip until well combined and smooth. Fold in strawberries. Cover and set in the refrigerator to chill.
NOTE I like to double the batch of strawberries and cream, my kids love it that much.
In a medium sauce pan melt butter in the water. Stir in salt and flour until the batter starts to come together. Don't worry, it will be sticky. Beat in the eggs, one at a time. Continue to beat in all 4 eggs until the batter is smooth.
In a heavy pot add oil until it is about 2- inches deep. Heat over medium-high heat until oil reaches 375 degrees. I used a heavy bottomed skillet.
Using a cookie dough scooper or tablespoon measuring spoon, add a scoop of dough and fry it for 1-2 minutes on one side or until dough is a light golden brown the gently flip over the dough to fry the other side. Each side should take 2-3 minutes. NOTE you can fry more than one at a time, I do them in batches of 5-6.
Remove fried dough from the pan and allow to drain off grease on a paper towel or cake cooling rack.Dust with confectioners' sugar, if desired.
Continue with remaining dough until all of the beignets are made.
Remove strawberries and cream from the refrigerator, add a scoop (or two) to the bottom of a bowl, top with 1-2 beignets and fresh strawberries and serve.
https://www.dashofsanity.com/strawberries-cream-beignets/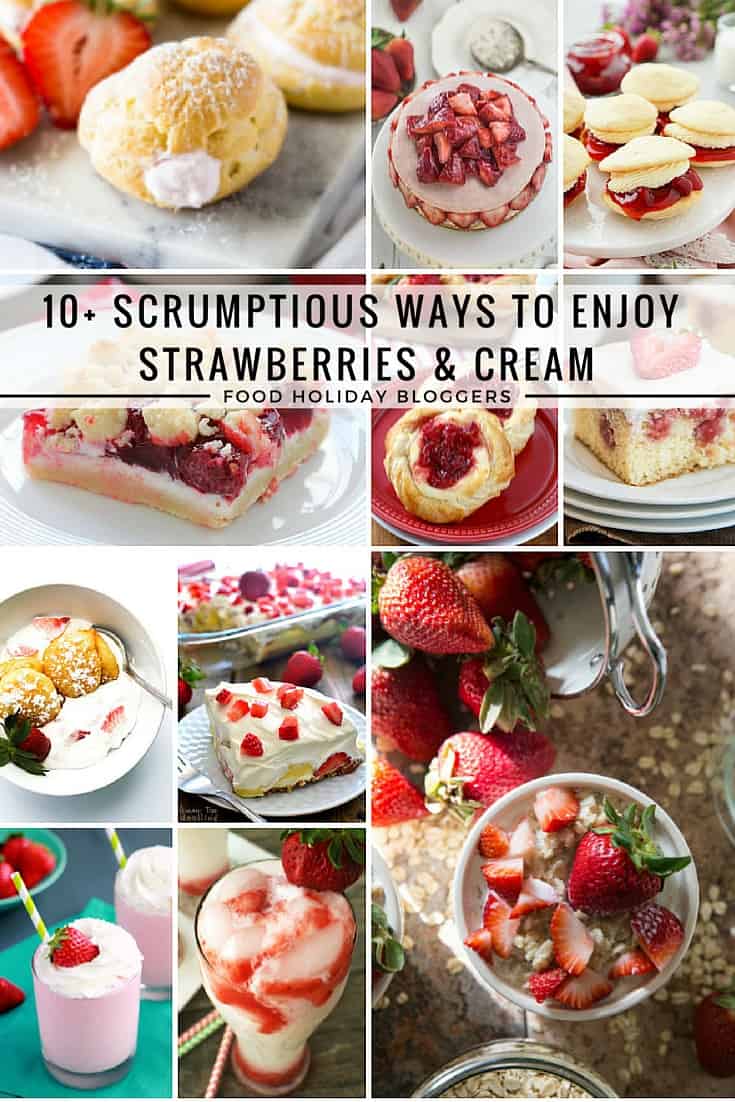 Slow Cooker Strawberries and Cream Cheesecake //
Save