Gorgeous with its rich red color, this Smoky Roasted Salsa is made with roasted roma tomatoes, tomatillos and garlic, and chipotle and guajillo chiles.
Grab a bag of chips and dip away my friends.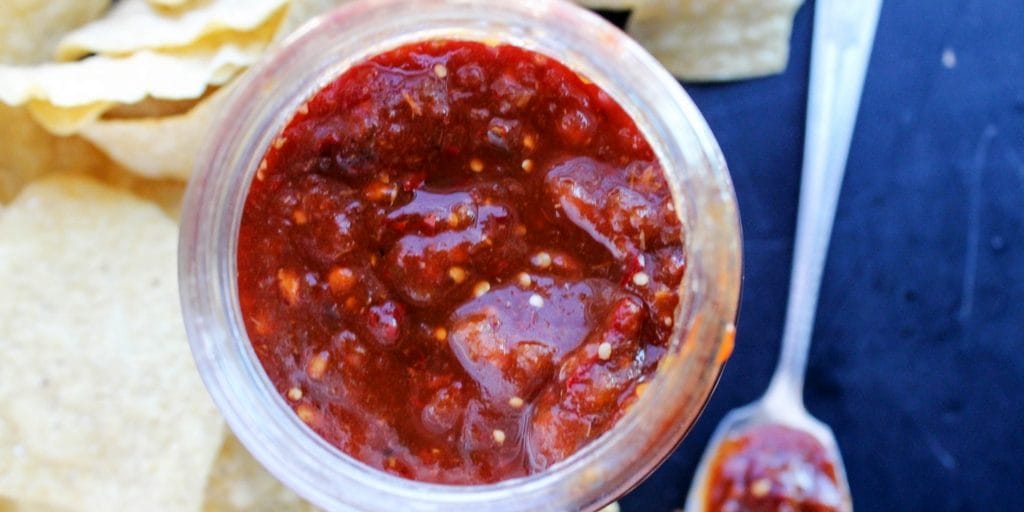 Everyone who knows my husband and I, knows just how much we love salsa. I mean, we'll totally walk into a local Mexican restaurant, ask to try their salsa and let that determine whether we stay or not. At first I was embarrassed my hubby did that, but now over the years, I've decided you can pretty accurately judge a place by its salsa.  My kids don't fall far from the tree and love salsa as much as we do. It's now surprise our family puts down at least two quarts when we frequent out favorite Tex-Mex establishment.
So naturally, when I received my friend Rebecca's book Not Your Mama's Canning Book, I was drawn to her Smoky Roasted Salsa. But let me tell you,this book has several recipes that you'll be drawn to. The pictures are gorgeous, the recipes are off the hook and you'll literally salivate at every turn of the page.
I had heard about Rebecca's Korean Barbecue Sauce before reading the book from our mutual friend Mary from Barefeet in the Kitchen. Mary raved about it to the point I knew I'd have to buy the book just to get that recipe. Luckily, when Rebecca sent me a copy of her book, she included a jar of the infamous Korean Barbecue Sauce… drooling as I type. And it lived up to the hype; it is out of this world. I literally opened the jar to tasted it and couldn't stop "tasting". Who says you can't triple dip? Then I made my hubby come over and try it, and well, he was impressed, which is hard to do.
I have ordered a few copies of Not Your Mama's Canning Book for my friends, and I can't wait to bundle them up with some fresh veggies and a jar of the Smoky Roasted Salsa so they'll become just as excited as I was when I received it.
The recipes are amazing, but my favorite thing about the book was the encouragement I felt to make these recipes and to actual can something. You see, I am not a canner. I have only done it once with my mother-in-law, and when I first received Rebecca's book, I was immediately intimated because Ithought, "How will I ever be able to make something that gorgeous?" But as I read the forward by Ree Drummond and read through the recipe descriptions, I felt inspired and empowered. It was as if my sweet friend was in the kitchen with me across my counter, guiding and encouraging me. I felt her love.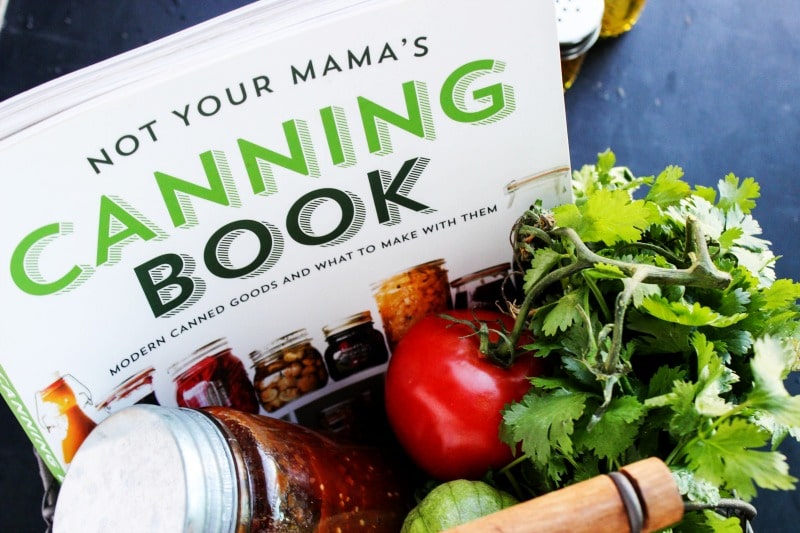 Not Your Mama's Canning Book has nearly 40 recipes that you can make using her canning recipes. So not only are you getting some amazing jams, salsa, sauces and fillings, you're getting additional recipes that you can make with them. This book is genius, and I feel honored to be able to share it with you today. 
XOXO San
Ingredients
12 dried chipotle chiles, stems and seeds removed
12 dried guajilla chiles, stems and seeds removed
2 cups boiling water
2 small onions, I used white
1 head garlic, separated into cloves but not peeled
2 pounds Roma tomatoes
2 pounds tomatillos, husks removed
1 cup bottled lime juice
1 tablespoon agave, you could also use honey or sugar
1 1/2 teaspoons kosher salt
Directions
Prepare chiles.
Using a damp paper towel, wipe off chiles. Rebecca notes to do this to get rid of any dust on the chiles.
Toast chiles by placing a large skillet over medium high heat, add chiles and cook them until pliable. Remove from skillet and add to a glass or stainless steel bowl, immediately add boiling water on top of the chiles. Weigh the chiles down in the water, I used a small plate to do this. Soak for 20 minutes.
While chiles are soaking roast onions, garlic, tomatoes and tomatillos by placing them under broiler until charred, turning occasionally to brown all sides. I did this in my oven under high broil on a large rimmed baking sheet.
TIP: line your baking sheet with foil, makes it easier to clean after.
Remove from oven. Transfer garlic, onions and tomatillos to blender and pulse until smooth and add to large stock pot.
Cover tomatoes with plastic wrap on the pan and allow them to cool.
Remove soaked chiles from the bowl and add to blender, puree until smooth. And add to pot with tomatillos.
When the tomatoes are cool, remove skins. Add tomatoes to blender and puree until completely smooth and add to pot. Add honey, lime juice and salt to pot. Cook over medium-high heat until it comes to a boil making sure to constantly stir so that it doesn't burn to the bottom. Reduce heat to low and simmer for 15 minutes.
Ladle into jars and devour immeidately or can.
For canning directions head over to Foodie With Family
Notes
https://www.dashofsanity.com/smoky-roasted-salsa/
Love this recipe? Be sure to follow Rebecca over at Foodie With Family on Pinterest, Facebook and Twitter.
Don't forget to pin this to your favorite Pinterest board for later.

Save