Slow Cooker White Chicken Chili a creamy chicken chili that makes a delicious meal that is full flavor.
Welcome to the last day of Halloween Week on the blog. Don't worry I have another couple of Halloween recipes to come. But sharing a traditional favorite today. If you missed the first few days of the week here is a recap: Day #1 Best Ever Monster Cookies, Day #2 50 of the BEST Halloween Treats, Day #3 Quick & Easy Halloween Candied Apples and Day #4 Caramel Apple Coffee Cake.
I love easy recipes, especially ones that go in the slow cookers. Some of our family favorites all are cooked in the slow cooker.
The reason I am sharing this chili recipe during Halloween Week on the blog is because it is our family tradition to have chili every Halloween. This tradition was started by my mom and dad for as long as I can remember. And I love that my sister, Nicole and I continue it.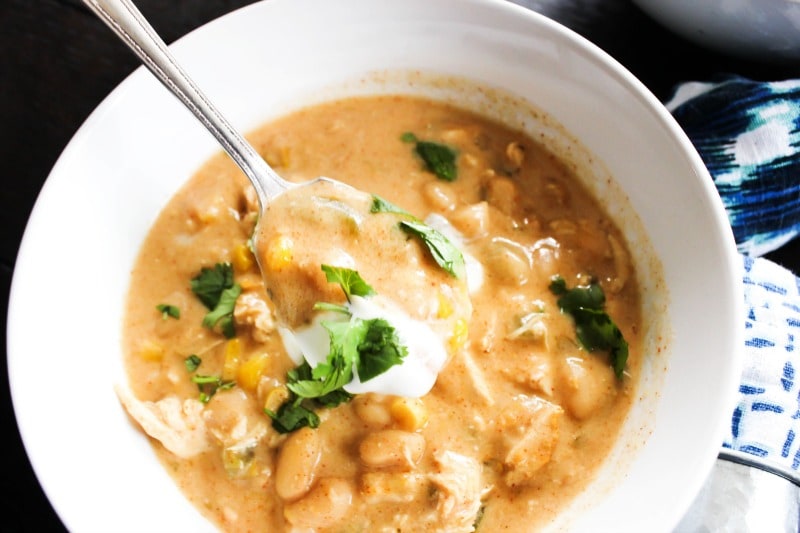 My husband on the other hand isn't too fond of the tradition because of his "allergy" to any legume. But he just stops by Five Guys and grabs a burger. So trust me he is just fine.
I made this a few weeks ago and thought I would be able to freeze half of it because I thought that it was more than enough for two meals. Well, I was so wrong. We ate every last bite. Nothing left. I was so happy because I love recipes that my kids gobble up. I have to say thanks to my sister, Nicole for hounding me to make this recipe. I was skeptical but she swore up and down her family loved it and she was spot on.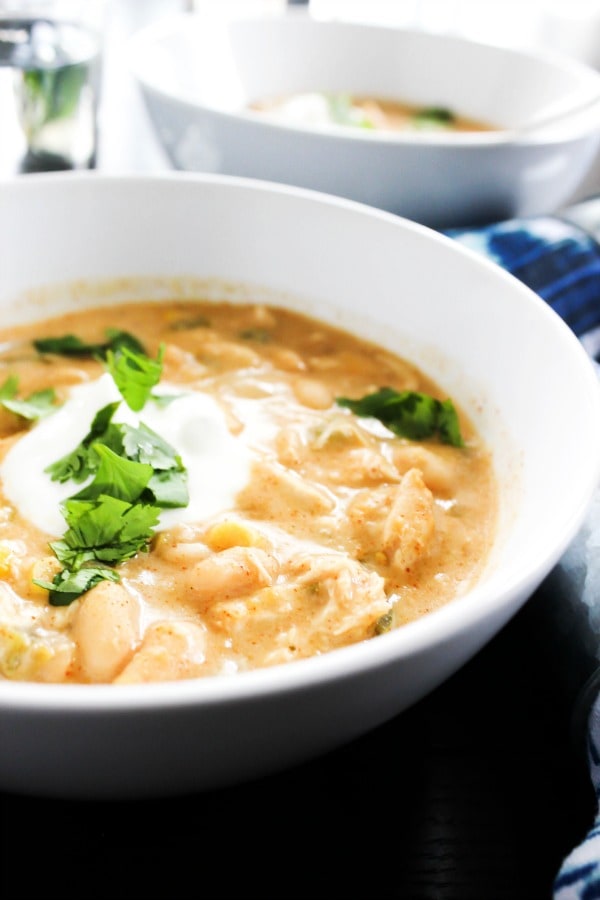 Want some extra heat, like me? Top with freshly chopped jalapenos and this chili will be over the top amazing. Enjoy! XOXO San
What else can you make in a slow cooker/crock pot?
Anything you want!
Dinners, drinks, soups, dips… even desserts!
Check out all Dash of Sanity crock pot recipes below!
https://www.dashofsanity.com/category/recipes/slow-cooker/
Slow Cooker White Chicken Chili
Ingredients
3-4 boneless skinless chicken breasts, uncooked
1 1/2 teaspoons chili powder
1 teaspoon ground cumin
1/2 teaspoon onion powder
1/2 teaspoon garlic powder
dash of cayenne pepper
14.5 ounce can chicken broth
4.5 ounce can chopped green chiles
3 tablespoons green chile salsa
1 cup frozen corn
2 15.5 ounce cans white beans, I used Great Northern

White Sauce

3 tablespoons butter
3 tablespoons flour
1 cup milk
1 teaspoon Better Than Bullion chicken base
1/4 teaspoon white pepper
1/2 teaspoon seasoned salt
1/2 cup sour cream
Directions
At the bottom of your slow cooker add chicken and season with salt and pepper. Add chili powder, cumin, onion powder, garlic powder, cayenne pepper, green chile salsa, chicken broth, green chiles, corn and beans.
Top with lid and cook in low for 5-7 hours or high for 2-3 hours.
Once slow cooker has cooked for the time above in a small saucepan melt butter over medium high heat. Once completely melted whisk in flour and continually stir until mixture is bubbly and cook for 2-3 minutes. Slowly whisk in the milk and chicken base.
Allow the sauce to simmer for 4-5 minutes while constantly whisking. Cook until sauce is slightly thickened. Season with salt and pepper to taste.
Remove chicken and shred. Place chicken back in slow cooker and pour sauce and sour cream then stir to combine. Season with more salt and pepper if desired.
Cook on low for 1 more hour.
Notes
https://www.dashofsanity.com/slow-cooker-white-chicken-chili/
Pin this to your favorite Pinterest board for later.

Save