This recipe was first published on Real Housemoms where I am a contributor.
SLOW COOKER TOMATO SOUP – a vibrant classic made easy in the slow cooker.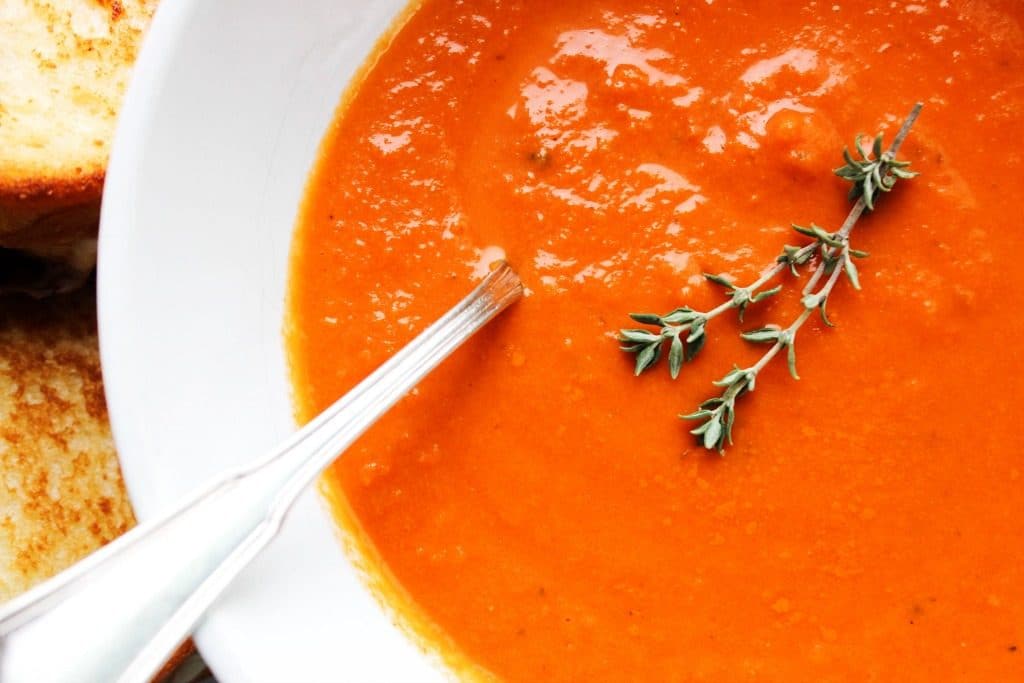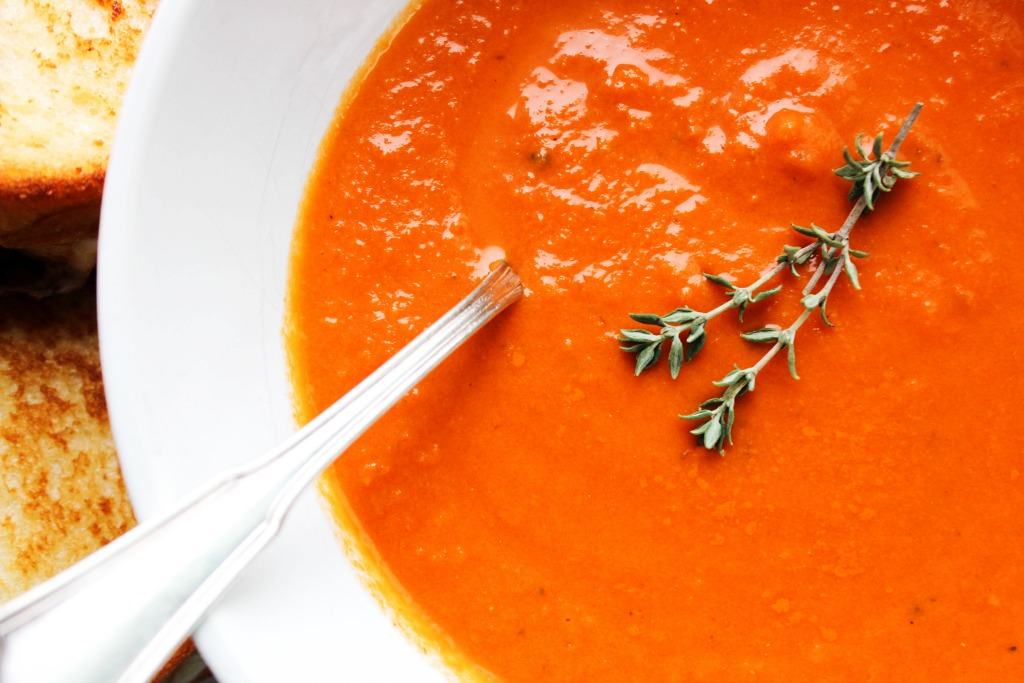 You seriously can't beat a traditional tomato soup especially when it is served with grilled cheese. It is one of my favorite fall time meals. My kids love it too. My hubby on the other hand prefers Chicken Noodle Soup with his grilled cheese, don't ask me why, as I don't get that either.
I love that this recipe is made in the slow cooker. The first time I made this was when a bunch of friends and I got together for a soup and salad night. Of course there were all the classics like Chicken Tortilla Soup and then someone also brought my Tuscan Tortellini Soup (which I was happy about) but nothing beat this SLOW COOKER TOMATO SOUP. I mean tomato soup is gorgeous to begin with, right? And you can add a gorgeous topping or two and have it be stunning. I love adding a drop of two of heavy cream right before I am about to serve, so that it has a nice white stroke in it – and then even a sprig of rosemary. Stunning.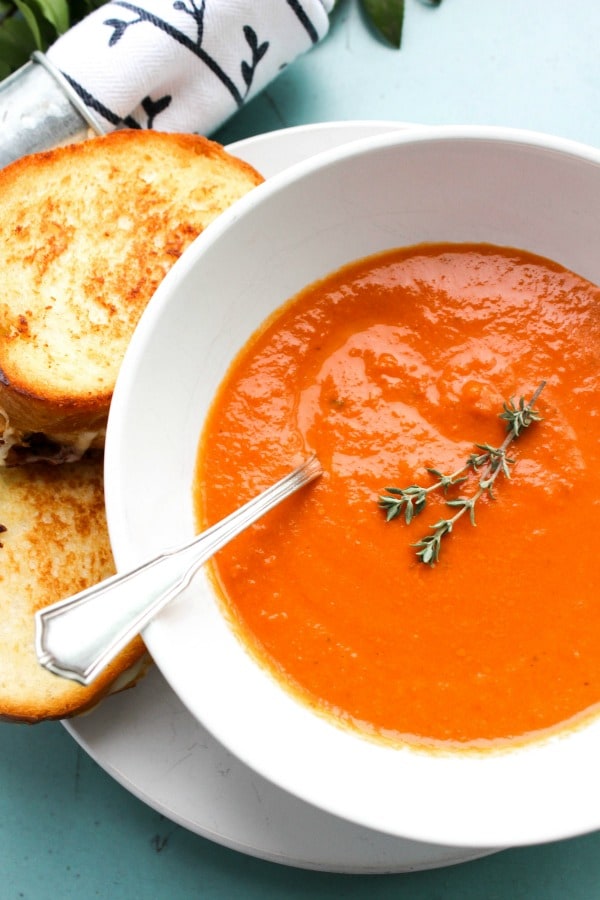 Soups can be a meal, I think too often we make them a side but they can shine as the star. You don't need it to be snowing or rainy out to have soup for dinner, this is a great summer meal and I love that you can start it in the morning and then let it cook all day while you are out enjoying the sunshine. Come back to a delicious soup and a salad on the side and you are set.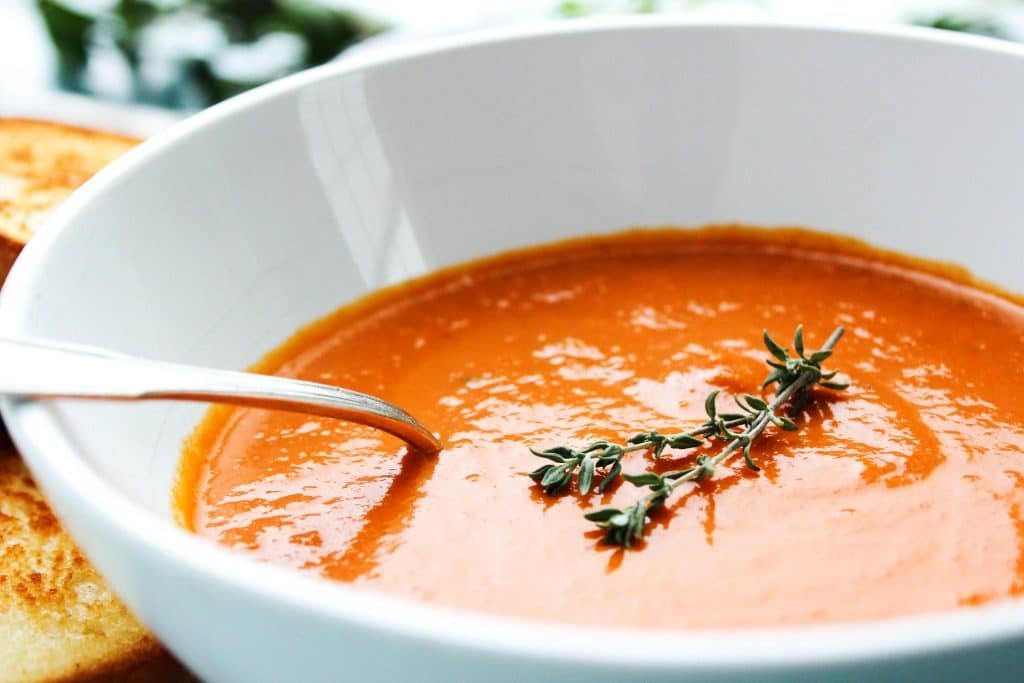 Enjoy this traditional favorite from my slow cooker to yours. XOXO San
Don't forget to pin these SLOW COOKER TOMATO SOUP to your favorite Pinterest board for later.
Ingredients
56 ounces Diced Tomatoes, Canned
2 cups Vegetable Broth/Stock
1/2 yellow onion, minced
1 cup diced carrots
1 teaspoon dried thyme
1 teaspoon oregano
½ teaspoon garlic Powder
½ teaspoon salt
¼ teaspoon black pepper
1 whole Bay Leaf
4 tablespoons butter
1 cup half & half or whole milk
Directions
Add all ingredients in slow cooker in the order listed.
Turn on slow cooker to high and cook for 3-4 hours. If you are cooking on low cook 6-8 hours.
Pour 1/2 of the slow cooker into a blender and blend until smooth, repeat with the remaining 1/2 of the soup. Pour all of the soup back into the slow cooker and serve immediately or keep warm until ready to serve.
Notes
https://www.dashofsanity.com/slow-cooker-tomato-soup/
Save