This is a sponsored post written by me on behalf of ConAgra.
This Slow Cooker Lasagna paired with a Marie Callender's Chocolate Satin Pie creates the perfect stress-free holiday meal.
Tis' the season to be jolly
Fa la la la la la la la la.
Well, at least it's the season to try to be jolly. Buts let's be honest here, hitting up the grocery stores, waiting in lines, getting the last available parking spot, and then having to go home and wrap all of the presents, may make it a little hard to be jolly all the time.
In my house, I usually do all the wrapping, so I didn't mind it when my sister Nicole suggested that all the ladies, meaning my mom and sisters, get together to wrap presents and have a little party while doing so. I was game.
I knew there would be good conversation, Christmas music, and I would get all my wrapping done in just a few hours. How could it get any better?
Oh, well it can. Food!
We love to get together and eat, for tis the season for eating too! However, not one of us wanted to spend the day cooking because we wouldn't get all of the wrapping done. You see, with five kids, my wrapping takes a while.
This is when we decided a slow cooker meal would be perfect for a day like this.
Nicole has a Slow Cooker Lasagna meal that she just loves from her favorite Martha Stewart magazine. I decided this would be perfect and made a few changes to fit all of our tastes.
But here was the dilemma – I am known for desserts, and I couldn't bear to show up to my sister's house with just a main course. A dessert was a must. But since the day before I would be shopping, you know, the whole Black Friday ordeal, (oh yes, I am a sucker) there was just not going to be enough time to prepare a delicious homemade dessert.
This is when Marie Callender's delicious Chocolate Satin Pie came to mind. This would be perfect. It's easy to pick up from any local store, beautiful to look at, and tastes just like a homemade pie.
I really could have selected any of Marie Callender's pies because they all taste so good, and the crust is amazing! But chocolate is a staple in any sister gathering.
So while I know the holidays are busy with parties, shopping, wrapping, caroling, and of course seeing Santa, there is always time to have a great meal.
Try this Slow Cooker Lasagna paired with any Marie Callender's dessert, and your holiday will become easier, so you can focus on the more important things around your family and friends.
Enjoy!
Sandra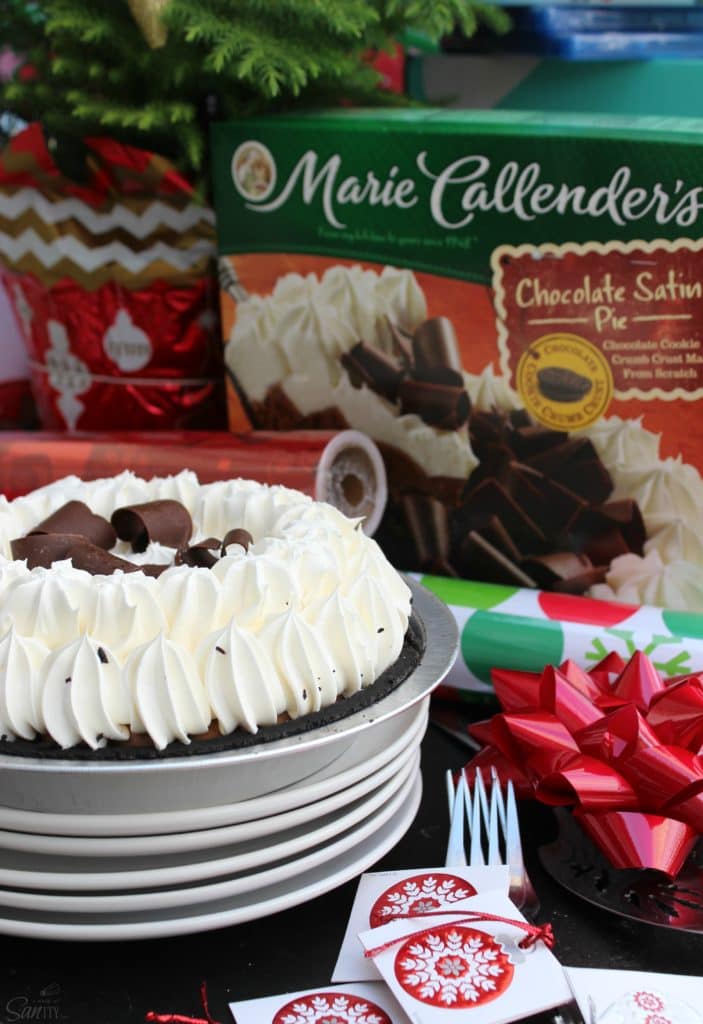 "Disclosure: Compensation was provided by Marie Callender's via ConAgra. The opinions expressed herein are those of the author and are not indicative of the opinions or positions of ConAgra."
Slow Cooker Lasagna & Marie Callender's Chocolate Satin Pie
This Slow Cooker Lasagna is so easy to prepare and delicious. Loaded with meat, cheese and homemade sauce, your entire family will love this.
Ingredients
1 lb Italian sausage
1 lb ground beef
1 purple onion diced
1 red pepper, diced
2 cloves garlic, minced
1 - 6ounce canned tomato paste
1 – 28 ounce canned crushed tomatoes
1 tablespoon Italian seasoning
9 lasagna noodles, uncooked
2 cups skim mozzarella cheese, shredded
Salt and pepper to taste
Directions
In a skillet, cook sausage and beef over medium-high heat, breaking up the meat as it cooks. Cook the meat until all pieces are no longer pink.
Add in onion, red pepper, and garlic, season with salt and pepper to taste. Allow the vegetables to cook for 3-5 minutes until onion is soft and translucent.
Stir in tomato paste, tomatoes and Italian seasoning; bring to a boil, then remove from heat.
Using a measuring cup add 2 cups meat mixture into bottom of slow cooker. Layer 3 lasagna noodles (uncooked), top with 2 cups of meat mixture and then 1/2 cup of cheese.
Repeat noodles and meat for two more layers.
Set slow cooker on low, cover and cook for 4-6 hours. Once done cooking sprinkle lasagna with cheese, return the lid and cover until cheese has melted.
As for dessert, Marie Callender's takes special care to make each pie look and taste homemade. By using fresh ingredients like hand-picked blackberries and tried and true recipes, each pie will taste like you made it from scratch.
https://www.dashofsanity.com/slow-cooker-lasagna-marie-callenders-chocolate-satin-pie/
Save