Easy & delicious, this SLOW COOKER POTATO & CORN CHOWDER is the ultimate comfort food. The secret to this chowder recipe is cheese, lots of cheese.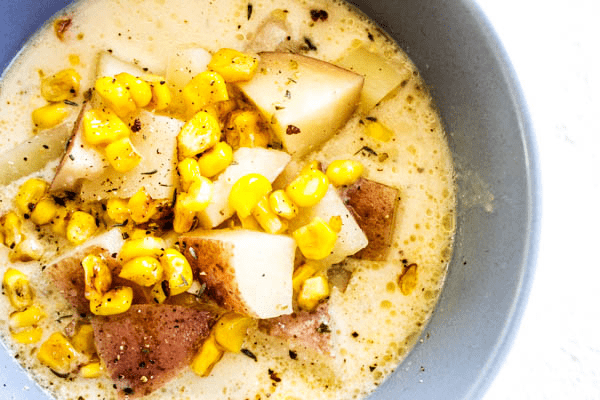 Today, I am sharing this recipe for SLOW COOKER POTATO & CORN CHOWDER because this past month I was in Iowa and inspired by everything corn.
You know that scene in Forrest Gump where Bubba lists all the way you can eat shrimp? Right now, that's how I feel about corn. Creamed corn, corn on the cob, scalloped corn, corn cakes, corn chowder, corn ice cream….okay maybe I took it a little too far, but you know what I mean.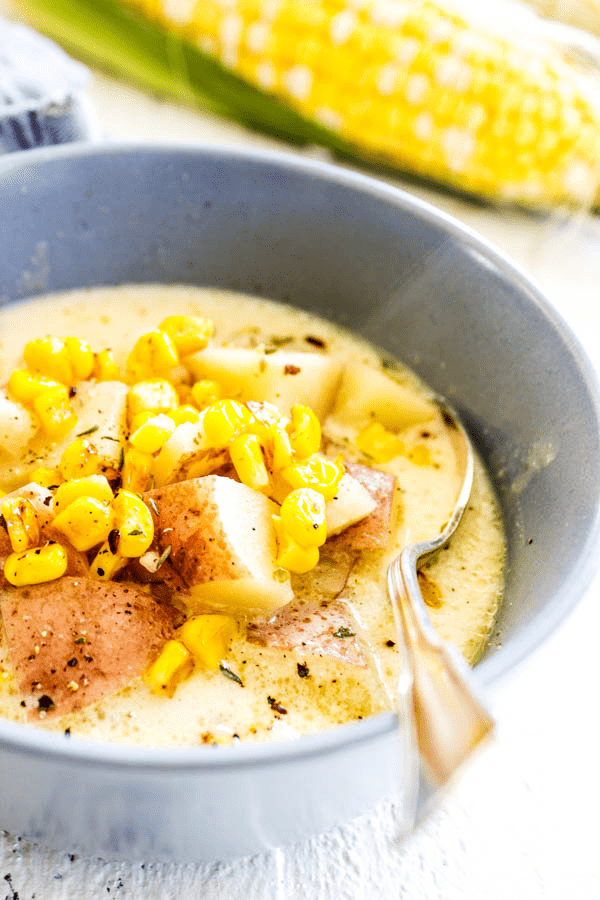 I just got back from my second trip with Iowa Corn on an #IACornQuest trip.  And like my trip before, I came back inspired and passionate about farming, corn and our country. Seriously, there is a feeling in corn country that exudes American pride, and I am always so touched by it. An added perk on this year's trip was that I was with all my friends. I was asked to host this year's #IACornQuest trip, and I was honored. We had the most amazing group of ladies, and as we left, one of my favorite people on earth cried because she was going to miss us all being together. That's what the blogging community is like to me – close knit, supportive, loving and inspiring. And you know what? That is what the Iowa corn farmers are like too.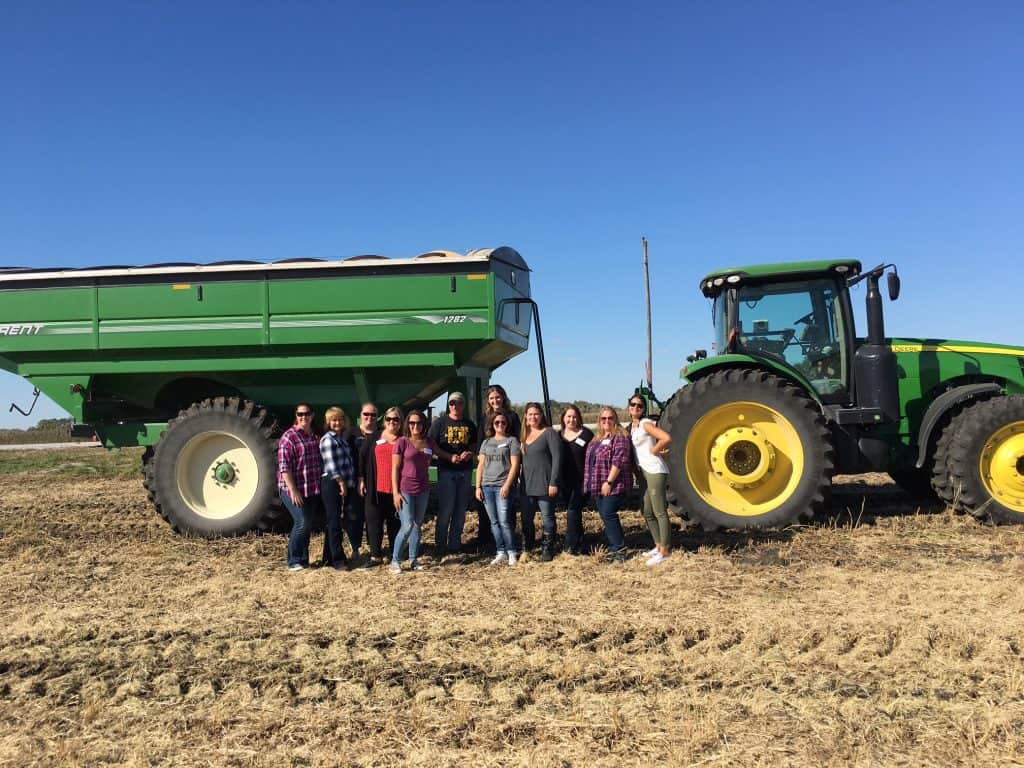 This trip was different from my last one because we visited different farms, took a tour at Meredith Corporation and had a cook off at the cutest little community center (and yes, my team won!). More details on that later. Today, we're going to talk corn. 
Let me hit on a few key words that summarize my trip. 
PASSION. Much like last year, #IACornQuest lit a fire in me to help sustain our earth and the farming culture and community. The passion from Iowa Corn and its farmers has rubbed off on us all. These farms look beyond their yard, their farm, and even Iowa. They are looking at our country and our world, helping everyone be more sustainable, innovative and embrace the idea that farmers are looking out for you and your family's best interest. Iowa corn farmers inspired me to look beyond myself – to have a greater sense of togetherness.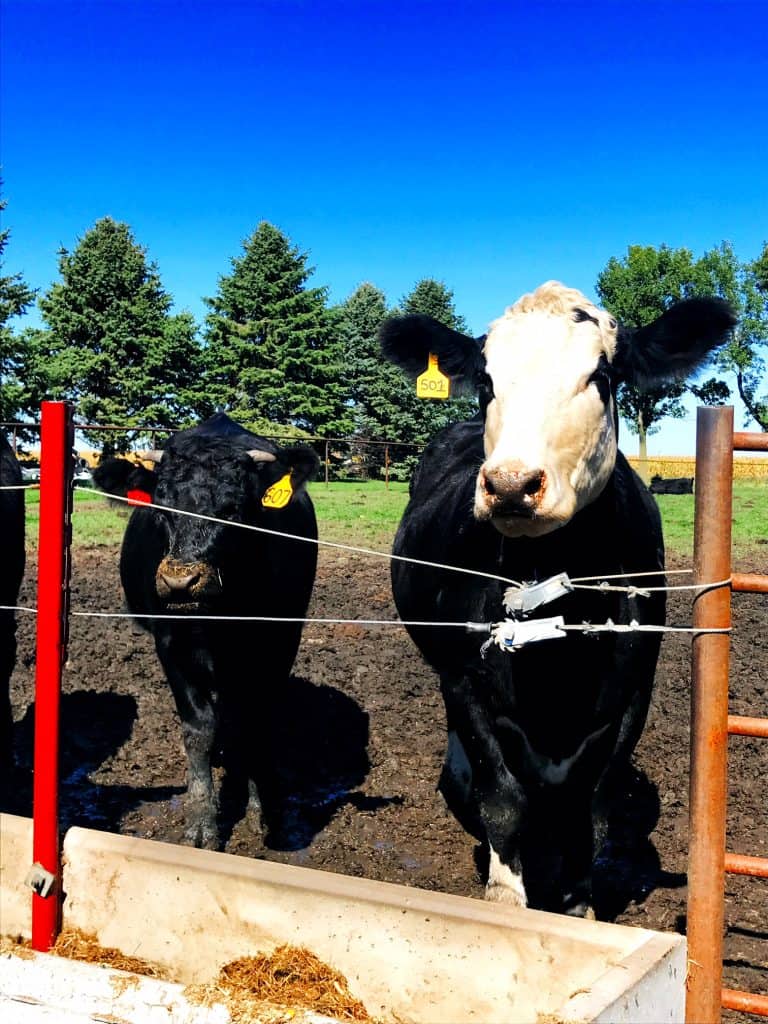 INNOVATION. Corn is beyond what we eat at our dinner table. Corn fuels our livestock, cars, homes and is in much of what we use and eat every day. Farmers are endlessly working on ways to utilize every part of corn – not only after it leaves their farm, but while it is still on their farm. Using every piece of the corn helps not only reduce costs for the farmer, but they also know the positive impact this leaves on our environment. Corn feeds our livestock, cars, and homes – and it will continue to grow in its value as a tangible source of energy. Out at the Blair family farm, we got to see how they use corn in various ways, including when it leaves their farm and they sell it to an ethanol processing plant, they will then turn around and buy back the parts of the corn the plants don't use, and use it as feed for their animals. So one ear of corn can literally go full cycle.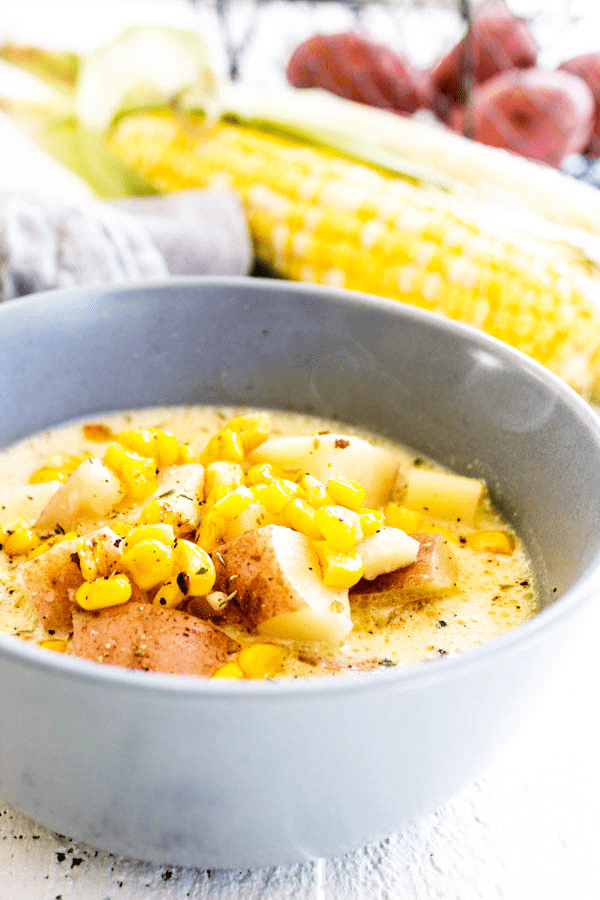 Farmers are constantly striving to better their systems, utilizing every resource they can to produce the best product efficiently. On both of the family farms we visited, we got to hear the farms' and families' histories. We got to hear how their practices have improved. It was mind blowing to me how much goes into the entire process of farming. There are so many misconceptions on corn farming practices and why & how they do things. 
After learning the difference between all types of corn – from popcorn corn, sweet corn, feed corn and even Indian corn – I learned it's all about the type of seed. GMO-seeded corn has been a big hot topic, and it wasn't until I spoke to the farmers about their practices and processes that I really understood why GMO corn is not only innovative, but necessary.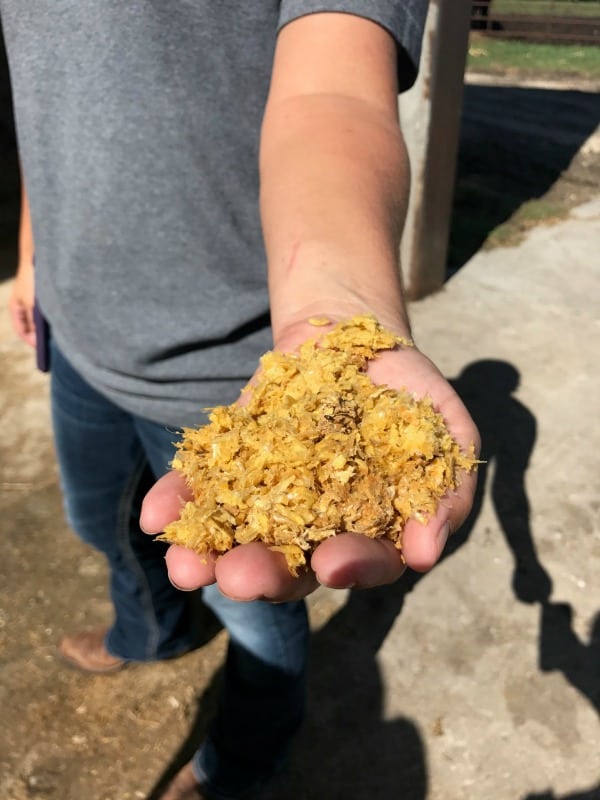 PRIDE. Iowa Corn's president, Mark Recker, put it best: "It's not just a job; it's a lifestyle."
Corn farming in Iowa is a community thing. From it's distilleries, factories, corporations, farms, families and school, Iowa is proud of its farming industry. Farmers are proud of their heritage. Corporations are proud of their innovation. People are proud of their work ethic. The sense of belonging to something greater than yourself describes Iowa Corn farmers and the community around them. And all of it is inspiring. 
The type of pride I am referring to is a humble one. It's a sense of looking beyond oneself and thinking of the greater good. It's about knowing, loving and supporting the people and the world around you. It's the type of pride that gives me faith in our future.
I am excited to see where corn takes us. I am excited for the expansion of ethanol fuel and even more excited to teach you the different uses of corn, including its starches (sugar) and the impact it really has on our bodies. I can't share everything today, but I'm more than excited to share the rest of the information with you next week and continue to talk all about corn. And of course, another fantastic recipe wille featured.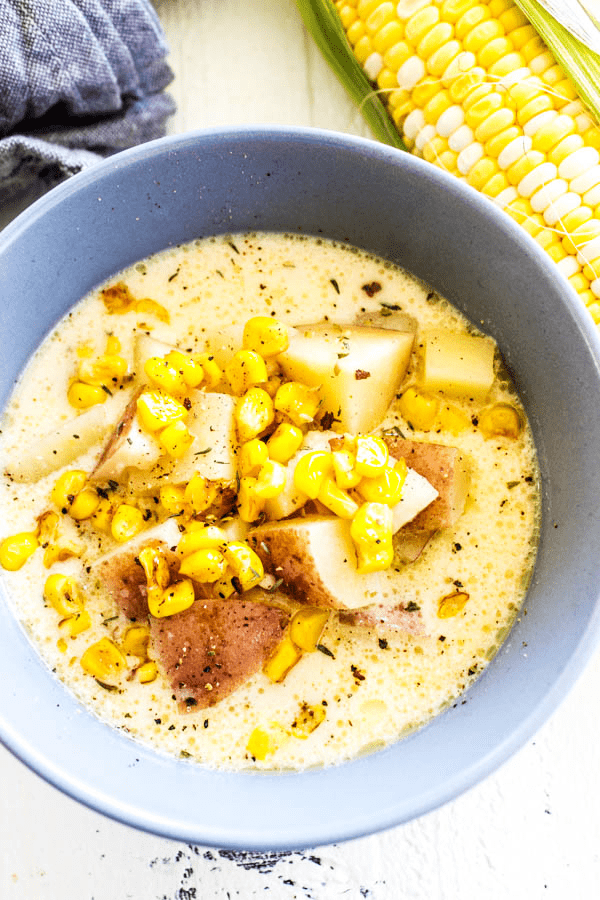 Until then friends, enjoy this SLOW COOKER POTATO & CORN CHOWDER. Enjoy! XOXO San
My favorite kitchen items to make this SLOW COOKER POTATO & CORN CHOWDER are below, you will want of few of these just for your everyday cooking.
SLOW COOKER: I prefer one my slow cooker to have a timer. This is because I always some how forget about it. So having a timer and a lid that locks are two essential things for me when purchasing a slow cooker.
MEASURING CUPS: Nothing beats a good set of measuring cups that last a long time. I love metal measuring cups because of their durability.
MEASURING SPOONS: I have to have a metal set of measuring spoons on hand. The plastic ones just don't last long in our house partly due to the garbage disposal.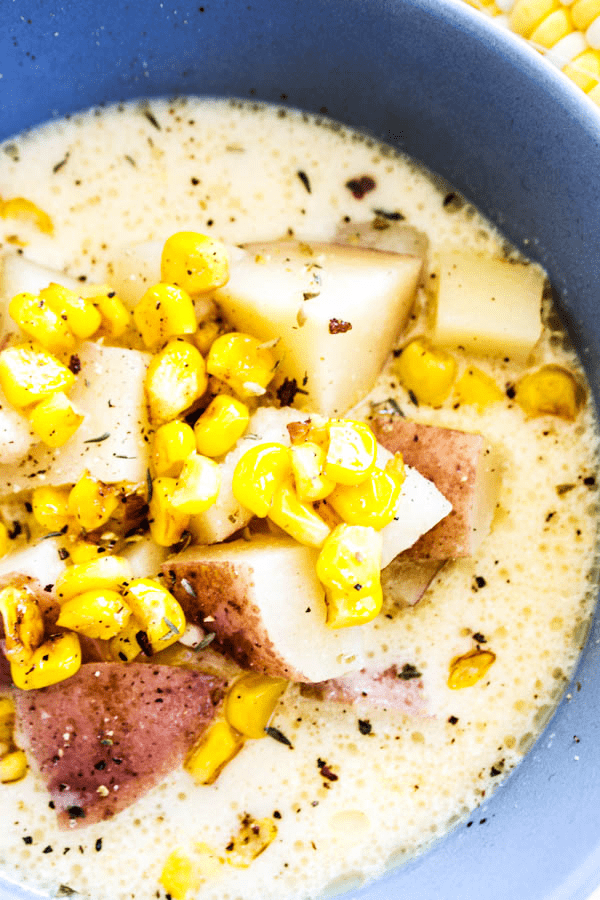 Don't forget to pin this recipe for SLOW COOKER POTATO & CORN CHOWDER to your favorite Pinterest board for later.

It was a pleasure working with Iowa Corn. All opinions expressed in this post are my own.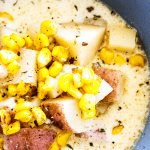 SLOW COOKER POTATO & CORN CHOWDER
Easy & delicious this SLOW COOKER POTATO & CORN CHOWDER is the ultimate comfort food. The secret to this chowder recipe is cheese, lots of cheese.
Ingredients
4

large

red potatoes

diced

16

ounces

frozen corn

1/2

cup

flour

6

cups

chicken broth

1

teaspoon

dried thyme

1

teaspoon

Montreal steak seasoning

1

teaspoon

dried oregano

1/2

teaspoon

garlic powder

1/2

teaspoon

onion powder

2

tablespoons

butter

1

cup

cheddar cheese

shredded

1

cup

white cheddar cheese

shredded

1

cup

heavy cream

or half-n-half

salt and pepper

to taste
Instructions
In a slow cooker add potatoes and corn.

Add flour over the corn and potatoes and stir to combine.




Add seasonings: thyme, Montreal steak seasoning, oregano, garlic and onion powder, salt and pepper. Stir to coat corn and potatoes with seasoning.

Add chicken broth. Cover slow cooker and cook on high for 3-4 hours, or low for 6-8 hours or until potatoes are cooked and tender.

Once potatoes are cooked, add sharp cheddar and white cheddar cheese. Add in butter and heavy cream. Stir together to combine.

Return lid and cover slow cooker, cook for another 30-60 minutes.

Right before serving, remove lid and stir together. Serve with garnishes including corn, bacon, cheese or anything else you would like to add. Spoon and devour!
Save