Slow Cooker Butter Chicken a mildly spiced curry dish that is so easy to prepare that you won't need to order take-out from your favorite Indian restaurant.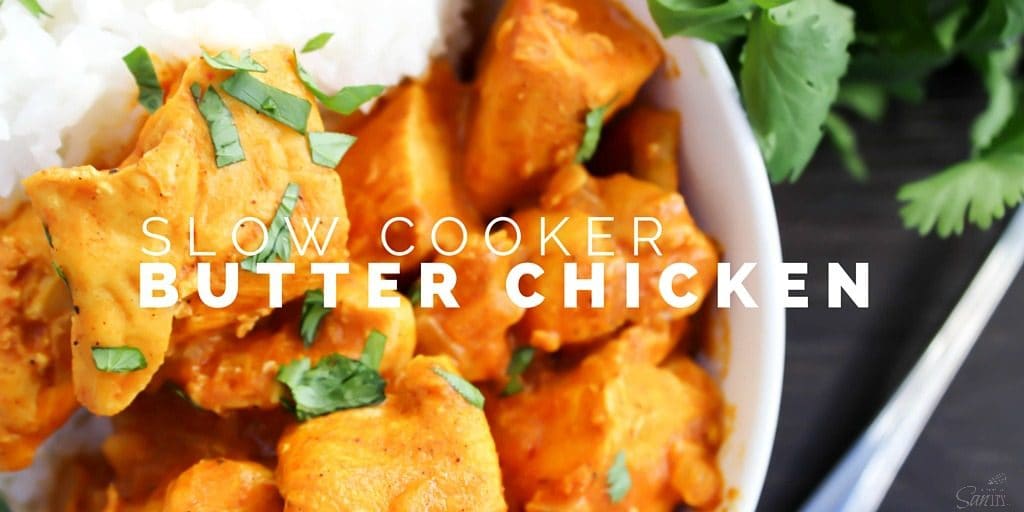 So what do you all think when you hear Butter Chicken? Did Indian food come to mind? Not for me. And maybe that it is that I order the same dish and two sides of Naan everywhere I go, but I would not have thought Butter Chicken would at all come from Indian cuisine.
I have been wanted to make this recipe for a long time, literally over two years. But I thought it would be just chicken, butter and some sort of cheese…a little bland. So I was hesitant. I should have known I was wrong after I saw a dear friend post that it is one her favorite things to eat, after all she has great taste.
So while I was out wanting to try a new slow cooker recipe for my family, I came across this Easy Slow Cooker Butter Chicken recipe (and it was light) I thought oh, I need to try this. I could tell from the picture it was not what I would expect and I was right.
And the best part of this recipe, everyone in my family LOVED it. No kidding! All 7 of us, even my picky eater Madden, who tried and it said he loved the sauce. So I put the mac & cheese I had made just in case away for the next day's lunch and we all enjoy this new favorite of Slow Cooker Butter Chicken.
Enjoy!
XOXO San
Slow Cooker Butter Chicken
Ingredients
1 1/2 pounds boneless skinless chicken breast, about 3 chicken breast, cut into bite size chunks
1/2 onion, finely minced
3 tablespoons butter
4 cloves garlic, minced or grated
1 tablespoon freshly grated ginger
2 teaspoons curry powder
2 teaspoons red curry paste
2 tablespoons garam masala
½ teaspoon turmeric
½ teaspoon cayenne pepper
¼ teaspoon salt
1 (6 ounce) can tomato paste
1 (14 ounce) can coconut milk
½ cup Greek yogurt
¼ cup half and half or heavy cream
White rice for serving
Directions
Prepare chicken by cutting into bite sized chunks. In mixing bowl whisk together coconut milk, Greek yogurt, cream, tomato paste, garlic, ginger and all the spices. Make sure it is mixed very well and there are no chunks.
Lightly spray the inside of your slow cooker with cooking spray. Add the diced onion to the bottom of the slow cooker and top with cut up chicken. Pour the tomato/coconut milk over the chicken to make sure the chicken is completely covered. Top the liquid with butter. Top slow cooker with lid and cook on high for 4 hours or on low for 6 to 8 hours. I stir mine ½ way through cooking time if I remember.
Season with salt and pepper, serve over rice topped with chopped cilantro.
Great side to go with this is Naan. There is a great recipe over at Gimme Some Oven
Notes
Recipe from [Easy Slow Cooker Chickenhttp://www.halfbakedharvest.com/easy-healthier-crockpot-butter-chicken/]
https://www.dashofsanity.com/slow-cooker-butter-chicken/
Save