These Slow Cooker Buffalo Chicken Taquitos are an easy meal to throw together. Let the slow cooker do all the work and enjoy all of the classic flavors from Buffalo Chicken Wings rolled up into a baked taquito.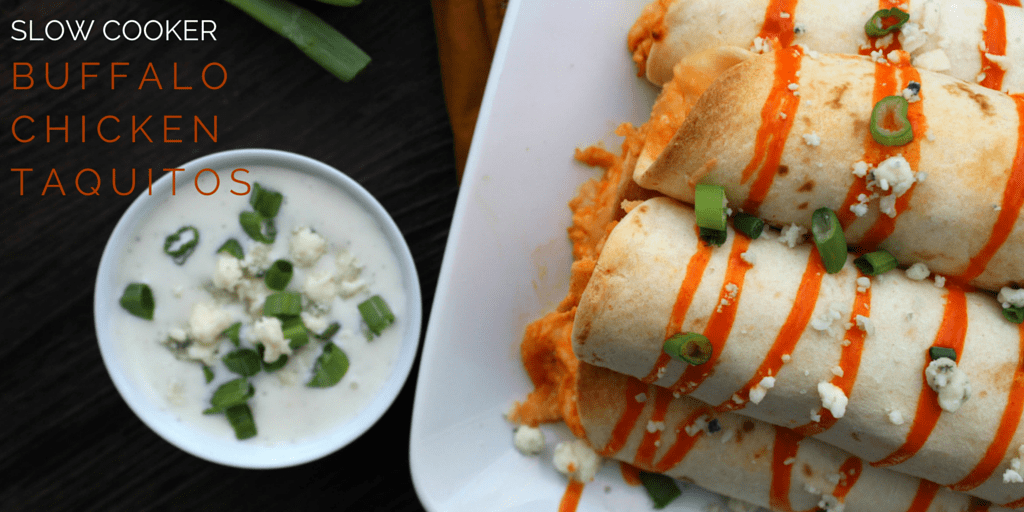 I love slow cooker meals, I mean who doesn't? Throw all the ingredients into the slow cooker in the morning, then that night you get to enjoy!
Sunday is the day I always use my slow cooker and with spring coming along we are moving out the soup season and onto recipes we can enjoy outside or while watching March Madness.
These Slow Cooker Buffalo Chicken Taquitos are so full of flavor and the Blue Cheese Dip on side is a perfect pairing.
My kids and husband are HUGE Buffalo Wild Wings fans, and if you have followed my blog for a while you will know I am not…and not because of the flavor but because of the mess! I hate the cleanup and I am not talking about the dishes, but children! Their faces are full of the sauce and then like all kids, they use their shirts as napkins, and trust me this sauce ain't easy to get out.
So these Slow Cooker Buffalo Chicken Taquitos satisfies us all AND a bonus, it is easy. You can't get much better than that!
Enjoy!
XOXO San
Slow Cooker Buffalo Chicken Taquitos
Ingredients
2 boneless skinless chicken breasts
1/3 to 2/3 cup Franks Wild Buffalo Sauce, we use mild
1 teaspoon garlic powder
8 ounces cream cheese
Salt & pepper, to taste
1 cup shredded Fontina cheese, shredded or Mexican blend cheese
12 flour tortillas
Optional toppings:
Green onion, chopped
Bleu Cheese, crumbled
Wild Buffalo Sauce, drizzled

Blue Cheese Dip

1 Ranch packet, Hidden Valley
½ cup sour cream
½ mayo
1 cup milk
½ crumbled blue cheese
Optional:
Fresh parsley, chopped
Green onions, chopped
Directions
In a slow cooker combine chicken, 1/3 to 2/3 cup Buffalo sauce, depending how saucy you like it we like it saucy. Add garlic powder, cream cheese, salt and pepper to taste. Cover and cook on low 6-8 hours or on high 3-4 hours. While it is cooking prepare the Bleu Cheese Dip.
Right before serving, remove chicken from crock pot, shred using two forks, return to slow cooker and mix the chicken into the sauce.
Preheat oven to 400. Spray baking sheet with cooking oil, set aside. Add ¼ cup of the Buffalo chicken mixture onto the middle of each tortilla. Top Fontina shredded cheese, then tightly roll up the tortilla. Place on prepared baking sheet, repeat with remaining tortillas and chicken, placing in a single layer about a 1-inch apart; make sure they aren't touching.
Spray the rolled up tortillas with cooking oil, so get an overall crispier taquito (optional).
Bake 10-12 minutes, or until tortillas are golden. Serve Bleu Cheese Dip & garnishes.
Notes
Cook time will vary on the temperature you cook at high or low and also on the slow cooker.
https://www.dashofsanity.com/slow-cooker-buffalo-chicken-taquitos/
Save