Slow Cooker Barbecue Chicken Taquitos a sweet barbecue chicken rolled up in a baked taquito, then topped with classic barbecue sides. So take a break from the heat of the grill and let the slow cooker do all the work, while still enjoying classic barbecue chicken.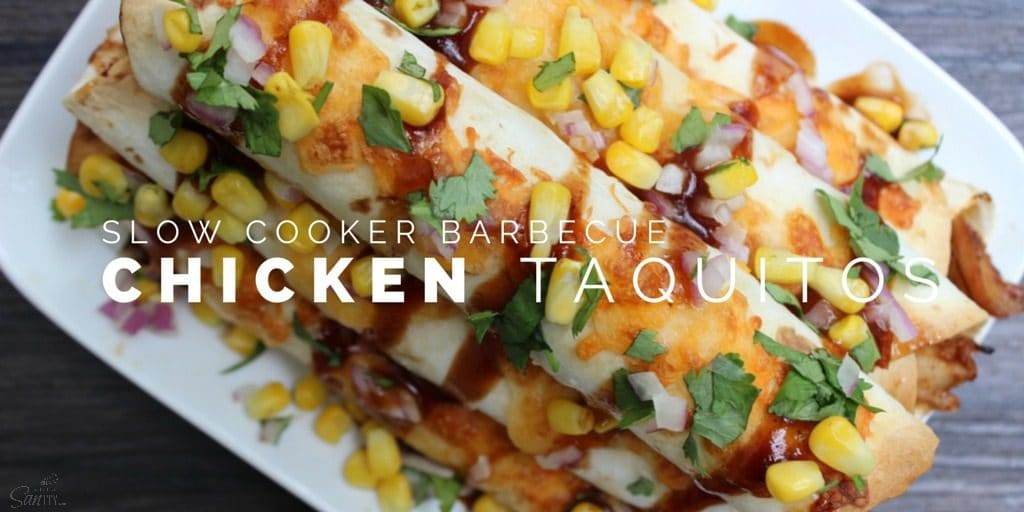 I love barbecue chicken. Anyway it can be served, seriously.
In a salad, sandwich, drumstick, shredded over rice (my favorite way to eat it) and then in a taquito.
I was inspired to make this after eating at one of my favorite local restaurants in town, Austin's American Grill. They have this Chipotle Chicken Salad that is to die for. And it is because of the sweet barbecue chicken served on top! Okay, my mouth is watering just thinking about it.
You see 3 out 5 of my children and my husband who would rather not eat really any greens, like ever.
So to make my favorite salad is just well something I would do for me. I was trying to come up with something that they could enjoy while I enjoyed my salad. That is when I came up with these Slow Cooker Barbecue Chicken Taquitos. Using the chicken for my salad and roll it up into a baked taquito.
This would make it a win, win for all.
This meal is so easy, delicious it will easily become a regular on your menu. You can also make these as an appetizer for any get together or party.
Enjoy!
XOXO San
Slow Cooker Barbecue Chicken Taquitos
Ingredients
1 3/4 lbs. chicken tenders, thighs or breast
½ cup barbecue sauce
¼ cup honey
¼ cup soy sauce
3 garlic cloves, minced
1 teaspoon paprika
½ teaspoon salt
¼ teaspoon pepper
1 cup sharp cheddar cheese, grated
Directions
In a slow cooker combine chicken tenders, barbecue sauce, honey, soy sauce, minced garlic, paprika, salt and pepper. Cover and cook on high 1 ½ - 2 hours or until chicken is cooked and falling apart.
Right before serving, remove chicken from crock pot, shred using two forks, return to slow cooker and mix the chicken into the barbecue sauce.
Preheat oven to 400. Spray baking sheet with cooking oil or line with parchment paper, set aside. Add barbecue chicken mixture onto the middle of each tortilla, then tightly roll up the tortilla. Place on prepared baking sheet, repeat with remaining tortillas and chicken, placing in a single layer about a 1-inch apart; make sure they aren't touching.
Bake for 5 minutes, then top with shredded cheddar cheese and cook for another 5-6 minutes or until cheese has melted and taquitos are a nice golden brown.
Optional toppings: corn, cilantro and diced purple onion. Serve with additional barbecue sauce for dipping.
https://www.dashofsanity.com/slow-cooker-barbecue-chicken-taquitos/
Save