SHEET PAN CAJUN SHRIMP – simple, wholesome and full of classic Cajun flavors, the best part of this recipe is that it is ready 

in 20 minutes

.

Our family just got back from an epic 2-week summer vacation – one that will go down in the memory books for us all, resulting in the telling and retelling of stories for years (hopefully generations) to come.
It was a pleasure working with Universal Studios in which inspired this post. All opinions expressed are my own.
This post may contain affiliate links. See my Full Disclosure for further details.
I'll be sharing more of our vacation and tips for travelling to Florida later on this week, but today, we are highlighting one of our most memorable dinners. We spent 5 amazing days at Universal Parks, staying at Universal's Cabana Bay Beach Resort. Staying on property and so close to the parks made us want to try all the restaurants on City Walk and in the parks. Unfortunately, due to time, we could only select a few. And, since my husband spent some of his childhood in Louisiana, he naturally wanted to hit up Bubba Gump Shrimp Co. My kids were excited about this as well because they love shrimp – I mean they're seriously obsessed. It doesn't matter how it's prepared – barbecued, boiled, baked, sautéed, shrimp-kabobs, shrimp creole, shrimp gumbo, pan fried, deep fried, stir-fried – my kids will devour it.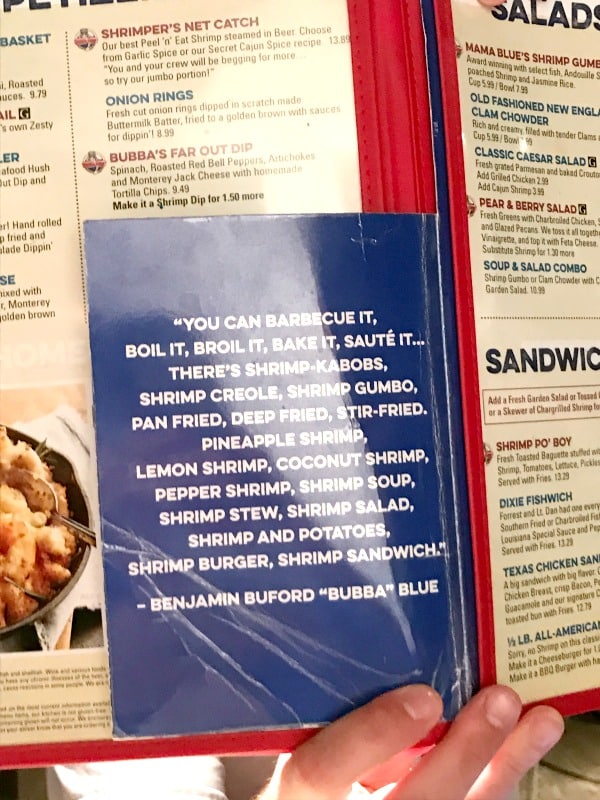 Our family loved Bubba Gump Shrimp Co. with the kids mostly excited about the popcorn shrimp. Our waitress also stopped by the table to quiz us on Gump trivia, making us realize our kids hadn't yet watched Forrest Gump, a classic. In fact, once we got home, we watched it as a family (fast-forwarding through a few parts for the kiddos). But overall, they loved it, wanting to watch it again the following day.
I loved that it didn't matter where we were, Universal always tied in all of the themes into the decor, characters, and even music. My favorite thematic part of Bubba Gump Shrimp Co. was the different colored Forest Gump license plates on the table that you'd flip to depending on the service you needed. Red meant come and help us out, and blue meant we're good to go.
The staff as unbelievable and all worked together to serve us. That meant my husband's water glass was always full, something he appreciated. One of my tips for you is the kids meals are fantastic. It was the perfect amount of food, and the presentation for their meal was in a shrimp boat, something the kids wanted to bring back with them. But sadly (wink, wink), they didn't make it. However, my husband succeeded in bringing back his collector watermelon lemonade cup.
While I love shrimp, typically drenching it in butter and garlic, I wanted to make a slightly healthier version, adding more veggies and using olive oil. So for my sake, I threw in some of my personal favorites, including red peppers and onions. I added broccoli for the kids.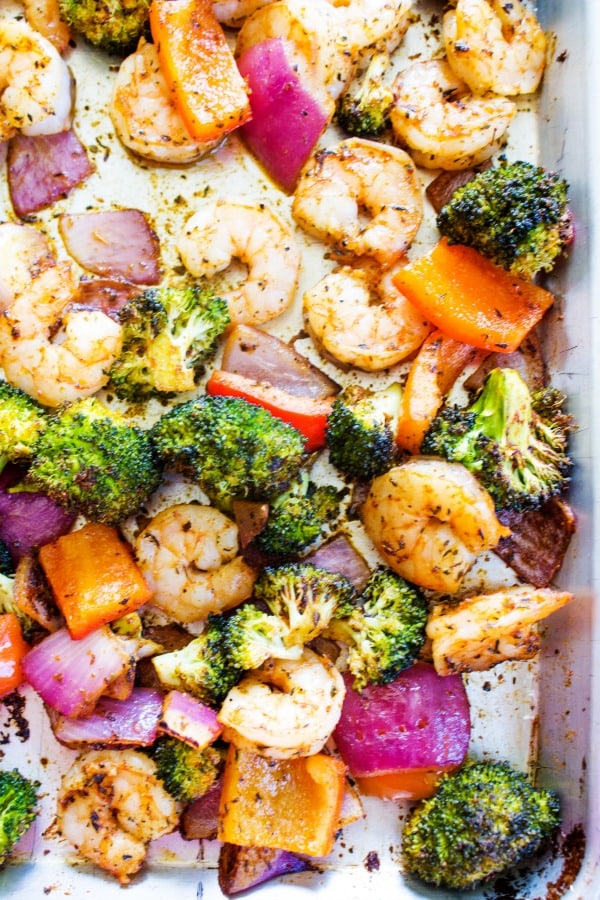 So this SHEET PAN CAJUN SHRIMP came to fruition because of our great experience at Bubba Gump Shrimp Co. and my husband's bayou heart.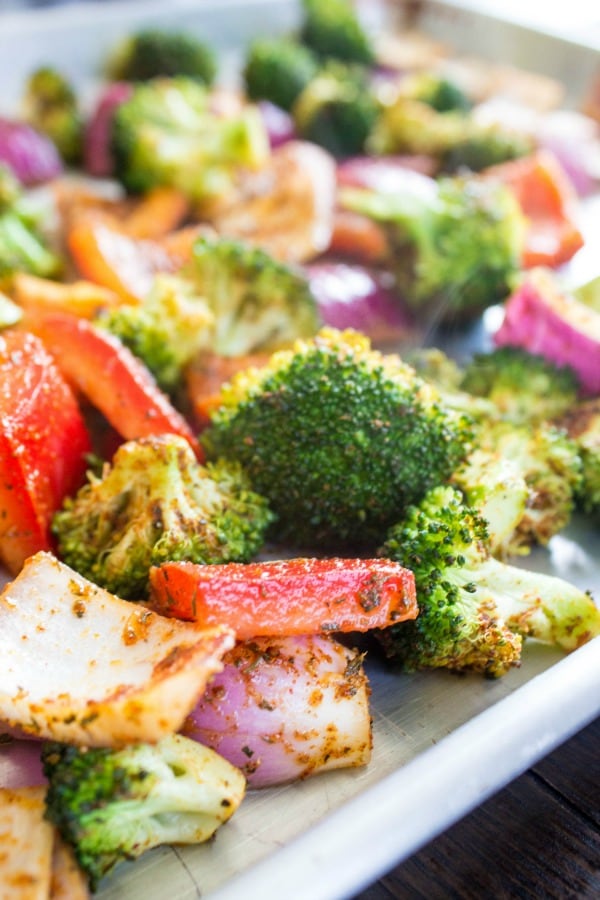 I love the hot, smoky hit of the Cajun seasoning and the olive oil made a great cooking base. But my favorite part of the entire recipe is that it only took 20 minutes to bake. Easy, healthy and an inspired dinner from our travels made it a delicious meal. And one that we'll be repeating in the near future. XOXO San
Looking for some other sheet pan meals? These are some of our favorites: Sheet Pan Pizza, One Pan Southwestern Pork Tenderloin, One Pan Healthy Sausage and Veggies, Pesto Bratwurst Sheet Pan Dinner and Sheet Pan Korean Chicken and Vegetables.
Don't forget to pin this recipe for SHEET PAN CAJUN SHRIMP to your favorite Pinterest board for later!

My favorite kitchen items I used to make this SHEET PAN CAJUN SHRIMP.
Sheet Pan: I love using a larger sheet pan while cooking because I am feeding my family of seven. I love aluminium for when I do sheet pan meals. I would start with this 13 by 18 half sheet pan. I love these pans so much that I have 9!
Knives: A good set of kitchen knives is essential for preparing any meal. I just recently invested in some Cutco knives and I have not regretted it one bit. These are hands down my favorite knives I have owned.
Cutting Board: For me this is a kitchen must-have and kitchen counter saver. While we have counter tops you can cut on, I find that this extra step will preserve my counter. I also find that using a cut board makes for less clean up afterwards. I love this cutting board because it has a groove all the way around the board preventing any juices that might run off and create a mess.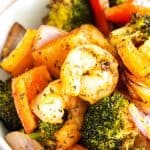 SHEET PAN CAJUN SHRIMP RECIPE
Ingredients
1 1/2

tablespoons

paprika

1

tablespoon

garlic powder

1

tablespoon

onion powder

1

tablespoon

ground dried thyme

1

teaspoon

ground black pepper

1

teaspoon

cayenne pepper

1

teaspoon

dried basil

1

lb.

large shrimp

raw

1

large red pepper

cut into squares

2

heads broccoli

stems removed and chopped

1/2

large red onion

cut into squares

1

tablespoon

+ 4 teaspoons olive oil
Instructions
Preheat oven to 450 degrees.

Prepare vegetables by removing the stems from the broccoli and chopping the red pepper and onion.

To get the perfect squares for the pepper, I cut it in half and remove the core.

Cut the two halves, into thirds and then each thirds I cut into thirds as well.

As for the onion, I follow the same step as I do for the peppers.

In a large bowl, add the broccoli and toss with 2 teaspoons of olive oil. Add 1-2 teaspoons of Cajun seasoning and toss to coat.

Add to a large baking sheet, add to preheated oven and bake for 7 minutes.

Using the same bowl that you tossed the broccoli in, add the peppers & onion. Toss to coat with 2 teaspoons olive oil and 1-2 teaspoons of Cajun seasoning.

Once the broccoli has cooked for 8 minutes remove pan from the oven, add the peppers and onion. Stir the broccoli and peppers around the pan and intermix the vegetables. Place back in the oven and bake for another 6 minutes.

Meanwhile remove the shell and devein the shrimp.

Using the same bowl that you tossed the vegetables in, add the shrimp. Toss to coat with 1 tablespoon of oil and 2-3 teaspoons of Cajun seasoning.

Once the vegetables have cooked for 6 minutes remove pan from the oven, add the shrimp and stir the shrimp in with the broccoli, peppers and onion. Place back in the oven and bake for 4-6 minutes or until shrimp are cooked all the way through and a nice light pink color.

Remove pan from oven and serve immediately. I love serving this with squeeze of lemon juice and rice.
Recipe Notes
Cajun Seasoning recipe from Allrecipes
Nutrition Facts
SHEET PAN CAJUN SHRIMP RECIPE
Amount Per Serving
Calories 192
Calories from Fat 36
% Daily Value*
Total Fat 4g 6%
Cholesterol 190mg 63%
Sodium 658mg 27%
Potassium 830mg 24%
Total Carbohydrates 19g 6%
Protein 22g 44%
* Percent Daily Values are based on a 2000 calorie diet.
Save