Compensation was provided by ConAgra PAM via Mode Media. The opinions expressed herein are those of the author and are not indicative of the opinions or positions of the sponsor. #PamInThePan #ad
These Santa Fe Breakfast Taquitos are loaded with eggs, breakfast sausage, fresh peppers, tomatoes, cilantro & jalapeno for those who like a little heat. Serve this with my homemade Colorado Chile Sauce, and you have the best breakfast on hand. Easy to prepare in just 20 minutes, this meal won't leave your family disappointed.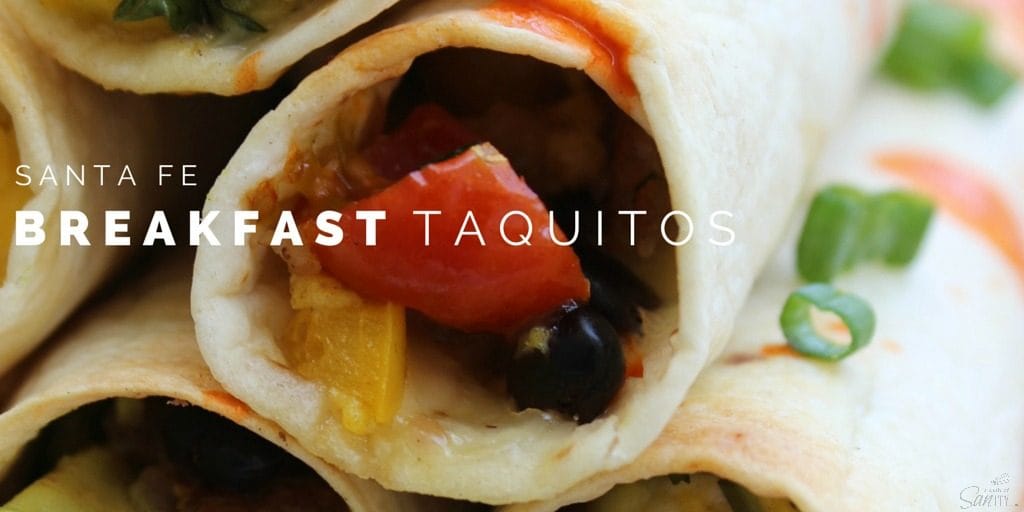 Finding a breakfast 12 kids all like is unbelievable. Finding a meal I can prepare in less than 20 minutes is a rarity. Combining the two is out of this world. And that's what these Breakfast Taquitos are – a miracle.
They're perfect for those mornings I need to get the kids out of the door and off to school. Easy to assemble, just throw them in the oven to bake; they come out goldenliciously good. Do you know the secret to that classic crispy outer shell? Use PAM Olive Oil Non-Stick Cooking Spray. I lightly spray the taquitos right before placing them in the oven, resulting in a delicious breakfast taquito cooked to perfection.
What's fun about these Breakfast Taquitos is you can vary the ingredients to your taste. So play around, and make it your own. Your family will love to start their day this way, and you'll love how easy it is.
Share your twist in the comments below. What would you add to your Breakfast Taquitos? I can't wait to hear.
XOXO San
Santa Fe Breakfast Taquitos
Ingredients
8-10 small flour tortillas
7 ounces breakfast sausage cooked & crumbled
4 eggs, scrambled
¼ cup cilantro
½ cup black beans, rinse and drained
1/3 cup yellow or red pepper, diced
1 avocado, diced
½ jalapeno, finely chopped, optional
1 cup shredded Fontina Cheese
PAM Olive Oil Non-Stick Cooking Spray
Optional Topping:
Colorado Chile Sauce or salsa
Green onions, chopped
Jalapenos, thinly sliced
Directions
Preheat oven to 425 degrees.
Spray a baking sheet with Pam cooking spray and set aside.
In a medium bowl combine breakfast sausage, eggs, blacks beans, cilantro, red pepper, avocado, jalapeno. Lightly toss the ingredients together.
Working one tortilla at a time, add egg mixture and top with cheese in the center of each tortilla. Roll up the tortilla tightly over the filling, by rolling from the bottom to the top, until the whole tortilla is rolled up.
Place on prepare baking sheet, make sure you place seam side down. Repeat with remaining tortillas and filling.
Once all of the tortillas are rolled up and placed on the pan, spray tortillas with Pam Olive Oil Cooking Spray, this allows them to get that nice golden color.
Place the pan in the oven and bake for 12-15 minutes or until cheese has melted.
Serve immediately. Drizzle with salsa or our favorite Colorado Chile Sauce.
https://www.dashofsanity.com/santa-fe-breakfast-taquitos/
PAM Olive Oil: This tasty and low-fat alternative to traditional olive oil adds a touch of flavor to your dishes. So you can show your family your heart's in the right place—by caring for theirs. Leaving up to *99% less residue, PAM is your ally in the kitchen and allows you to save time during prep and clean up.
* vs. leading cooking sprays (except olive oil), after spraying on glass bake ware, baking at 400°F for 30 min, cooling, and then washing in standard home dishwasher with detergent and repeating 4 times.
Save