It was a pleasure collaborating with Walmart to bring you this post. While this post is sponsored all opinions & thoughts are my own.
Rich dark chocolate Raspberry Truffles are an easy & elegant dessert that takes only 5 simple ingredients.
This holiday season we have been packed with concerts, ballets, basketball games, on top of all the Christmas parties. From friends to neighbors to work, we are busy attending and hosting one event after another.
With parties to attend, gifts to wrap and trying to about life as "usual" – I know that making dishes that are simple and easy are a must. Not only for dinner but as well for the dishes that I bring or serve at all of the holiday parties.
One of my favorite get togethers any time of the year is with my friends! Close friends, the ladies I work and travel with and collaborate in the on-line blogging world. Today, I am working with my friend Erin and we are so excited to share some insider secrets to making your holiday entertaining easier and less stressful.
TIP #1 – Entertain with a friend or partner. Plan, coordinate and collaborate with one other person on all of your holiday get togethers. One it makes it easier dividing up tasks, but also you have some one to rely and lean on. Taking some weight off your shoulders.
Erin and I recently hosted a small holiday party. And of course being the foodies we are – we were both looking forward to the menu!
So we sat down and both shared some of our holiday favorites to feature at this holiday party. Of course I added these truffle Raspberry Truffles!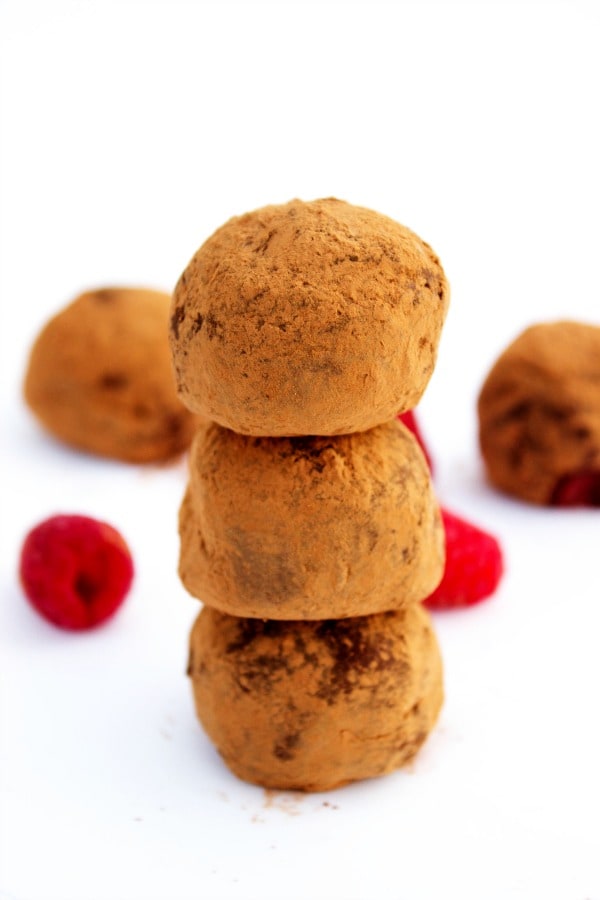 TIP #2 Keep the menu simple.
Erin and I debated about a full dinner with all the sides and everything. But in the end decided a few appetizers and desserts was all we needed. That way the guests could mingle and enjoy the party. We had Hot Crab Dip, a veggie tray, and my Classic Cheese Fondue. We cubed some bread for the fondue dippers, and then made some of Erin's Garlic Bread.
As for dessert, my favorite part we had these Raspberry Truffles, a holiday favorite in our home Amazing Soft Sugar Cookies  and both were a hit. And well Erin's  Grasshopper Cupcakes became a topic of conversation that night at dinner.
TIP #3 Have a variety of bite sized desserts. That way you can enjoy more than one!
For the drinks we decided on one with alcohol (for Erin) and one without (for me). Erin's  Cranberry Vodka Cocktail and my  Cherry Berry Spritzer were just gorgeous on the table.
TIP #4 Shop and order your menu items on line.
Erin and I tried something and we used the Walmart Online Grocery service. And it was amazing! So quick and easy! Litrerally we planned out menu, entered in our grocery items online, added them to our cart, selected a time we could pick it up and viola the groceries were literally walked out to our car after we arrived.
This not only saved me time, but I am sure a little money as well. We made our grocery list, added all of the items to our online cart, and then just had to go to the store to pick them up. Best part of this online service is that it is free! No extra fees or anything. And you get the same low prices that are in the store. Worried about what they have in stalk? You can check the availability online, or you can download the app on iTunes or Google Play and get all of the information there.
To show you how easy it is Erin and I made a brief video to show just how easy online shopping is.
TIP #5 Enjoy and sit down and visit with every guest.
Sounds silly that I even mention that right? But seriously taking the time to engage with those we love and care about is the reason for the season. Find joy in your blessing, in the people around you. And simplify everything else so that you can have the time to do that.
Our party was a hit and I love that we used every TIP that we gave you. Thank you to Walmart Online Grocery service for help making this party a breeze to put together. The food was delicious and the company left merry. I am just loving this holiday season already. XOXO San
Be sure to check out just how easy these truffles are!
Ingredients
2 1/4 cups dark chocolate chips
1 cup heavy cream
1/2 teaspoon raspberry flavoring
1/4 cup raspberry preserves or jam, melted
Optional: roll in cocoa powder or chocolate sprinkles
20-24 raspberries
Directions
In a microwave-safe mixing bowl add chocolate chips & heavy cream. Heat in the microwave until the cream is very hot. I heat in 1-minute increments and check in between (do not stir). It takes between 3-5 minutes.
Once hot stir until the chocolate and cream are smooth and well combined. Add raspberry flavoring & preserves and stir until well-combined.
Pour chocolate into a 9x13 pan. Cover with plastic wrap and set in the fridge for 1-2 hours.
Remove from the refrigerator.
Using a cookie dough scooper, fill half of the scooper with chocolate - add a raspberry in the center and the fill the remaining of the scooper with chocolate.
Place truffle on a plate lined with parchment paper. Repeat with remaining chocolate and raspberries.
Chill in the refrigerator for 1-hour if the truffles have softened. If they are still chilled, quickly roll each one between the palms of your hands. Coat with unsweetened cocoa powder or sprinkles.
Place back in the refrigerator until ready to serve.
Notes
https://www.dashofsanity.com/raspberry-truffles/
Don't forget to pin this to your favorite Pinterest board for later.
Save