Pumpkin Spice Sugar Cookies – fall seems to be the season of pumpkin, spice and everything nice. From football games, holiday parties, generous amounts of sweets and time together as a family, I just love this time of year.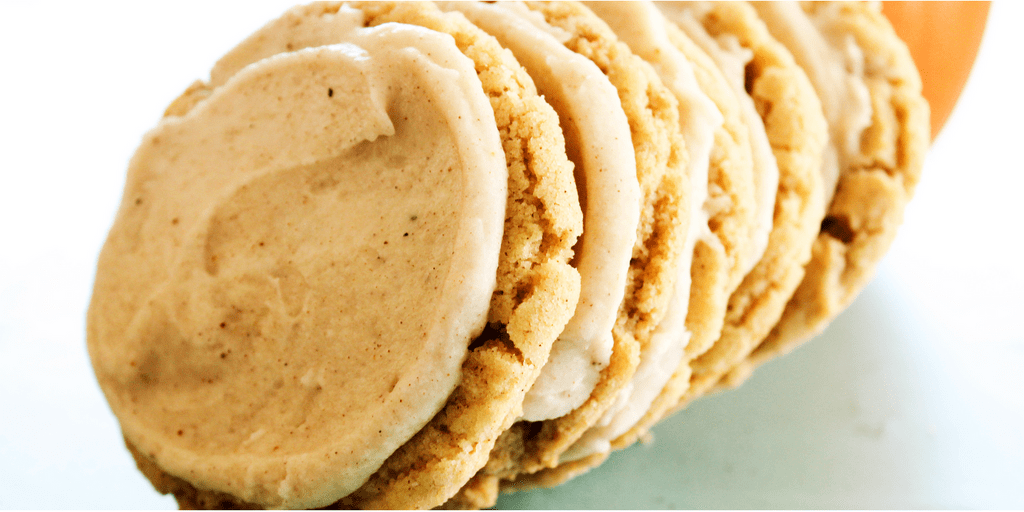 For the next month, I will be traveling a ton for my blog, literally cruising to some amazing destinations and being able to share my adventures and foodie experiences with you all. All that will happen while my family stays at home and carries on with the normal school, football, flag football and volleyball practices and games. And while it breaks my heart to leave them all behind, I am still planning ahead and making sure the freezer is stocked with some awesomeness, including these amazing Pumpkin Spice Sugar Cookies.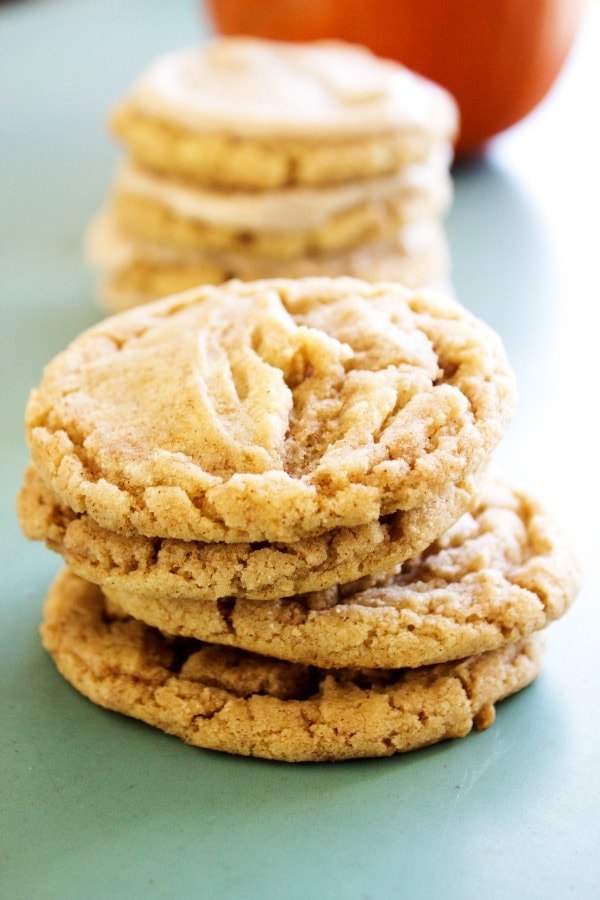 So here are a few of my tips to get your freezer ready for the busy holiday months ahead.
Plan ahead. Make a meal plan. You don't need to plan every night. I typically plan for five nights out of the week: Monday, Tuesday, Wednesday, Thursday and Sunday, leaving two nights for pizza, tacos or a night out. Plan a dessert or two as well (cookies easily freeze).
Double the amount. Make meals that you can easily double. That way, you are getting two meals from one prep time.
Buy some of your favorites and have them on hand. I buy our family's favorite lasagna, Michael Angelo's Lasagna with Meat Sauce (found in most grocers, including my local Kroger store in the freezer aisle). You may be gasping right now hearing that we will eat frozen food. But just because I am a food blogger, it doesn't mean I always have enough time on my hands to make every meal from scratch. But since I am a food blogger, my kids are foodies, and so they are picky if we do anything frozen. I love Michael Angelo's for the robust flavors, no artificial preservative or ingredients and it makes our house smell amazing. While frozen pizza isn't even an option, this lasagna is an easy fix in a snag, which probably will happen while I am gone too, right? 
Fresh is best. Have fresh fruits and veggies loaded in the fridge, so when the family is on the go, they'll have healthier, quick options. My kids love apples and bananas, and I have them out on the counter every day. I can't tell you how many they go through a week now.
It's okay to go paper! So for all of us, sometimes when in a rush – the thought of making dinner, doing dishes and cleaning up just isn't doable. We would rather be with our family or sleeping (my wish). Have a stack of paper goods in the pantry. Cups, plates, and napkins are easy, and you can even get eco-friendly ones.
The most important thing to me is knowing my family is all together feasting on a delicious meal – homemade or not. The fact they are all at the table, sharing their days and being together is what I want. So whether I'm there or not, I know my preparation will help my hubby still create these moments for our kids.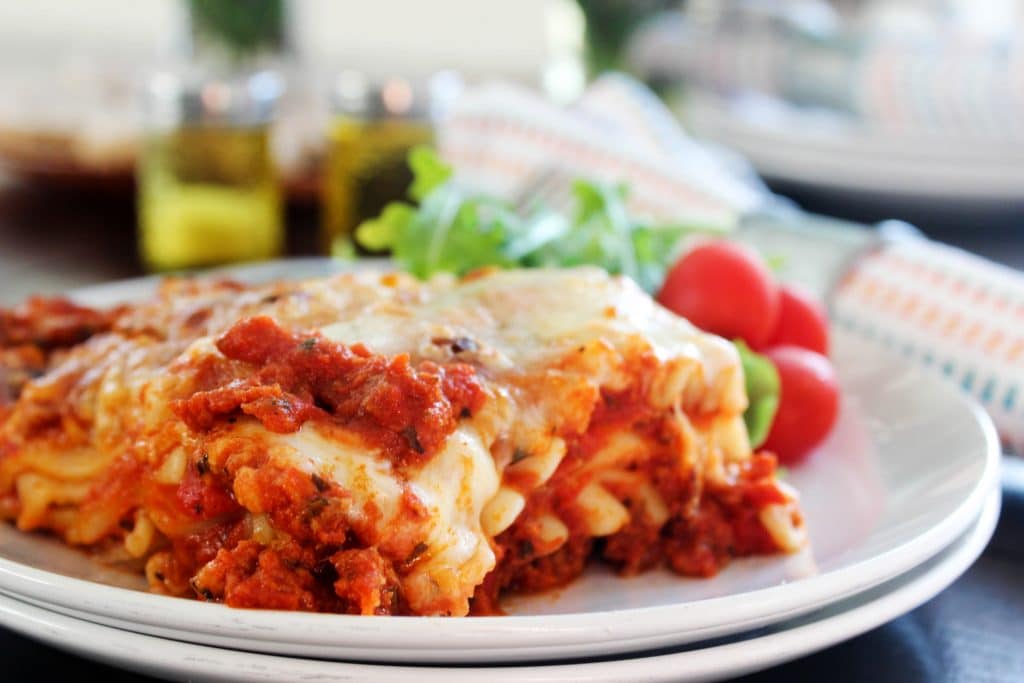 Happy fall friends. And I can't wait to share my future foodie adventures with you. Enjoy these Pumpkin Spice Sugar Cookies and be sure to pick up that amazing lasagna. XOXO San
Pumpkin Spice Sugar Cookies
Ingredients
1 1/4 cups white sugar
1 cup butter
3 egg yolks
1 teaspoon vanilla extract
2 1/2 cups all-purpose flour
1 teaspoon baking soda
1/2 teaspoon cream of tartar
1 tablespoon pumpkin pie spice
1 teaspoon cinnamon

Pumpkin Spice Buttercream

4 cups confectioners' sugar
1/2 cup butter, room temp
5 tablespoons milk
1 teaspoon pumpkin pie spice
1/4 teaspoon cinnamon
1 teaspoon vanilla extract
Directions
Sugar Cookies
Preheat oven to 350 degrees F (180 degrees C). Lightly grease 2 cookie sheets.
Cream together sugar and butter. Beat in egg yolks and vanilla extract.
Add flour, baking soda, pumpkin pie spice, cinnamon and cream of tartar. Stir. (Note: dough will be firm, not like your normal cookie dough. Don't worry it is supposed to be this way.)
Form dough into walnut size balls and place 2 inches apart on cookie sheet. Don't flatten. Bake 12 to 14 minutes, until tops are cracked and just turning color.
Remove from cookie sheets and completely cool.
At this point you can make the frosting if you are going to eat them right away or you can line them tightly in a Ziplock bag and seal them and stick them in the freezer. I tend to freeze a dozen at a time.
Pumpkin Spice Buttercream
In a large bowl, cream together the confectioners' sugar and butter until smooth. Gradually mix in the milk and almond or vanilla with an electric mixer until smooth and stiff, about 5 minutes. Color with food coloring if desired.
Notes
https://www.dashofsanity.com/pumpkin-spice-sugar-cookies-easy-dinner-tips/
Pin this to your favorite Pinterest board for later.

This is a sponsored conversation written by me on behalf of Michael Angelo's. The opinions and text are all mine.
Save