Pumpkin Pie Pull-Apart Bread layers pumpkin pie filling, pecans, biscuit dough and frosted with a cream cheese frosting making this fall & holiday must have.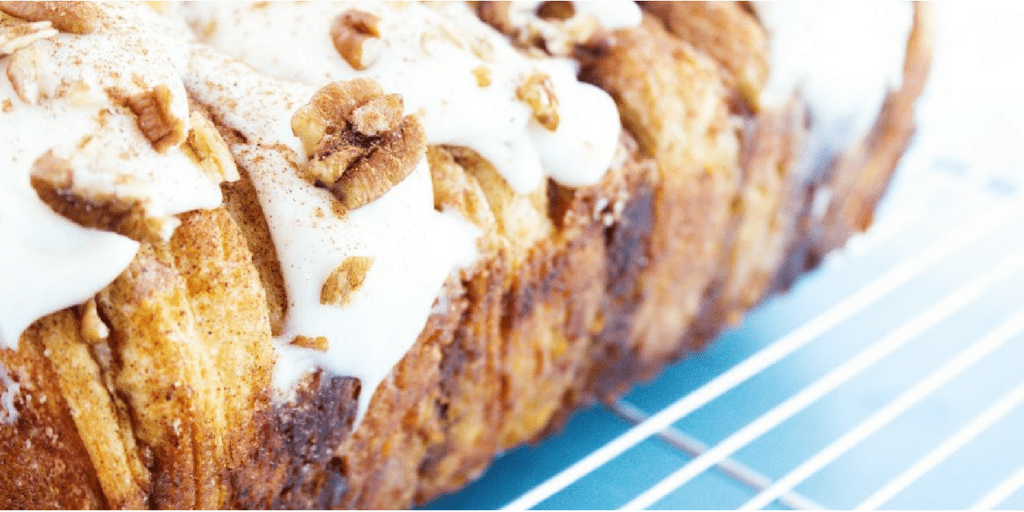 I thought that I had come up with an original idea of doing a delicious Pumpkin Pie Pull-Apart bread but I soon discovered after a Google search I wasn't as creative as I thought. Pillsbury was already on top of it. And then I found my friend Dorothy from Crazy for Crust had something similar and well, she is a pull-apart bread genius so that didn't surprise me much.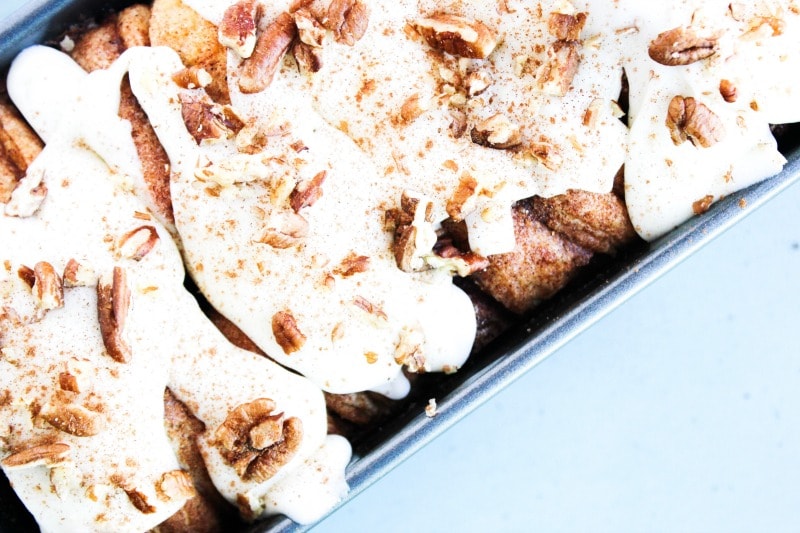 But with a few suggestions from my hubby and kids, I added pecans and our favorite cream cheese icing making this pull-apart bread a new fall breakfast favorite.
My kids were eager to dig into this pumpkin pie loaf and so was I.
I love the thin layers of the biscuits mixed with the pumpkin "pie" filling. The crunchiness of the pecans give it the touch that was needed. And you can never go wrong with cream cheese frosting on anything, right?
The holidays are full of fun, festive comfort foods but that doesn't mean that they need to be complicated. Taking on 15 minutes to put this Pumpkin Pie Pull-Apart Bread, then baking for another 30 minutes, you are looking at just under and hour to be able to dig into this twist on pumpkin pie. Yum!
Enjoy! XOXO San
Pumpkin Pie Pull-Apart Bread
Ingredients
3/4 cup pumpkin puree
1/4 cup brown sugar
1 teaspoons pumpkin pie spice
1/4 teaspoon cinnamon
1 large egg
1 can (8 count) Pillsbury Grands Biscuits, I used homestyle
1 cup chopped pecans
1/4 cup white granulated sugar
1 teaspoon cinnamon

Cream Cheese Frosting

2 ounce cream cheese, softened
1 tablespoon butter, softened
1 1/4 cup powdered sugar
1 tablespoon milk
1/2 teaspoon almond or clear vanilla extract, optional
Directions
Preheat oven to 350 degress and spray an 9x5 loaf pan with cooking spray.
In a small mixing bowl stir together Stir together the pumpkin puree, brown sugar, pumpkin pie spice, 14/ teaspoon cinnamon and egg until combined and smooth. Set aside.
In a small bowl sift together 1/4 cup white granulated sugar and cinnamon.
Pull apart the biscuits from the can, there are 8 biscuits, so pulling them apart in half, you will end up with 16 biscuits.
Coat each biscuit on each side with sugar/cinnamon mixture, by pressing each bsicuit into the mixture.
Start with one biscuit, coated in sugar and add 1 tablespoon of pumpkin mixture, sprinkle wtih leftover cinnamon and sugar and add pecans. Repeat 3 times, having a stack of 4 biscuits.
Repeat with remaining biscuits, pumpkin, pecans and sugar mixture.
You will have 4 stacks of 4 biscuits. Top 3 biscuits with pumpkin and pecans. Leave the 4th stack just ending with a biscuit.
Place stacks in pan, making sure that each end of the loaf pan has the biscuit up against it, not the pumpkin mixture. Place carefully into the pan.
Bake for about 25-30 minutes, or until the center is cooked through. If it starts to brown too quickly, just cover with a piece of foil and reduce oven tip to 325 degrees (a great Dorothy tip).
Make frosting.
Beat together cream cheese and melted butter until smooth and there are no cream cheese chunks. Add in powder sugar and cream together by beating on medium-high. Add in milk one teaspoon at a time, until you get your desired consistency.
Drizzle frosting over loaf, you can wait until it is cooled (like pictured) or while it is warm, my kids favorite way. Sprinkle with left over pecans and serve.
Notes
https://www.dashofsanity.com/pumpkin-pie-pull-apart-bread/
Pin this recipe for later to your favorite Pinterest board.
Save