Power Kale Salad is made with two different kinds of kale, blueberries, pears, goat cheese, and pecans; dressed with a sweet lemon dressing. Sweet and savory antioxidant salad that taste just as amazing as it looks.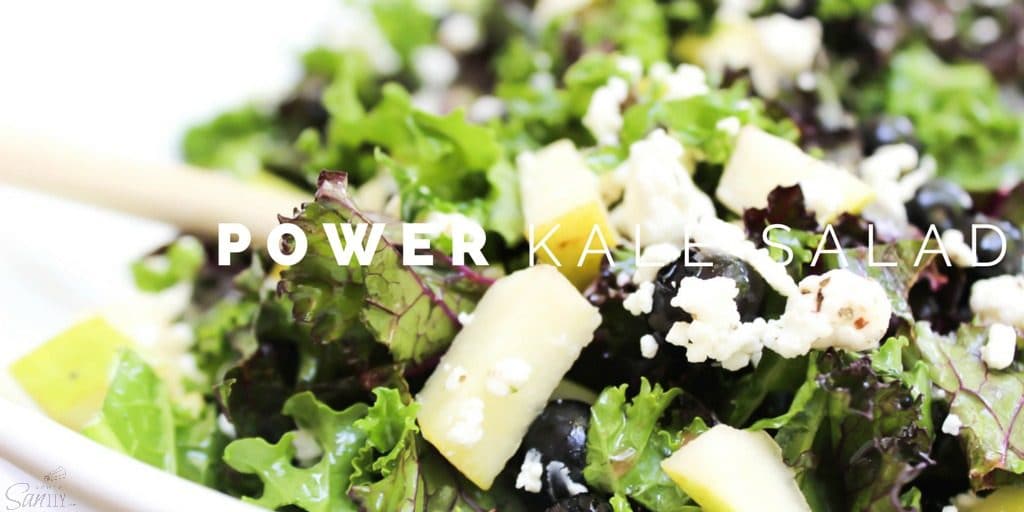 I am on a kale kick, if you couldn't tell. And honestly, I never thought I would say that. I thought of kale was a "fad". But it is oh, so good for you and delicious when prepared right. Kale is great in salads paired with the right toppings and dressings it can soon become a favorite for you as well, if it isn't already.
One of the things I love about kale are the dark, rich colors of green and purple. To me, while it can be bitter just tenderizing the kale a wee bit, helps it so much. You simply tenderize it by chopping it up, then squeezing it with your hands. Did you know the best tool in the kitchen is your hands?
I have a few favorite summer salads made with kale including my Kale Caesar Salad and Italian Kale Salad, which is hands down my favorite. But this Power Kale Salad has goat cheese. To. Die. For. I love goat cheese and paired with blueberries, pears and a sweet lemon dressing makes this salad out of this world. I added pecans to add some protein and for my hubby who loves anything with pecans.
So looking for a fresh, beautiful salad to make this summer? Look no further. This Power Kale Salad has everything you need.
Enjoy!
XOXO San
Ingredients
2/3 bunch of purple kale, stems removed & chopped
1 bunch of green kale, stems removed & chopped
8 ounces crumbled goat cheese, I used with basil
1 ½ cups blueberries
2 pears, core removed and chopped
1 cup pecans, chopped (optional, not pictured)
Lemon Dressing
2/3 fresh lemon juice
4 tablespoons olive oil
2 tablespoon honey
3 garlic cloves, minced
½ teaspoon salt
Season with pepper to taste, optional
Directions
Make the lemon dressing by mixing together lemon juice, olive oil, honey, garlic and salt in a small Mason jar or bowl. Set in the fridge to chill until ready to serve.
Prepare kale by roughly chopping. To take some of the bitterness from the kale, gently squeeze the kale once you have chopped it.
Mix both of the kales together in a large salad or serving bowl.
Add blueberries and chopped pears into a small mixing bowl. Add ½ of the lemon dressing to the blueberries and pears and toss. Pour the blueberries and pears over the salad. Top with goat cheese and chopped pecans. Gently toss salad and serve immediately or set in the fridge for 1 hour before serving.
Serve with remaining dressing on the side, so each person can dress their own salad with additional dressing if desired.
This salad is best served when having chilled in the fridge for 1 hour.
https://www.dashofsanity.com/power-kale-salad/
Save