Crispy Pork Tenderloin Sandwiches deliciously crispy on the outside, tender and juicy in the center, these Iowa-inspired sandwiches will become a favorite.
These Crispy Pork Tenderloin Sandwiches were inspired by a trip I went on about a month ago, my husband and I went out to dinner at our favorite Italian Place. I ordered my regular favorite, but my husband went out on a limb, getting the prosciutto wrapped tenderloin in a port wine fig sauce. To both of our surprise, the waitress asked how he wanted it cooked. That was the first time we had ever heard of cooking pork to order.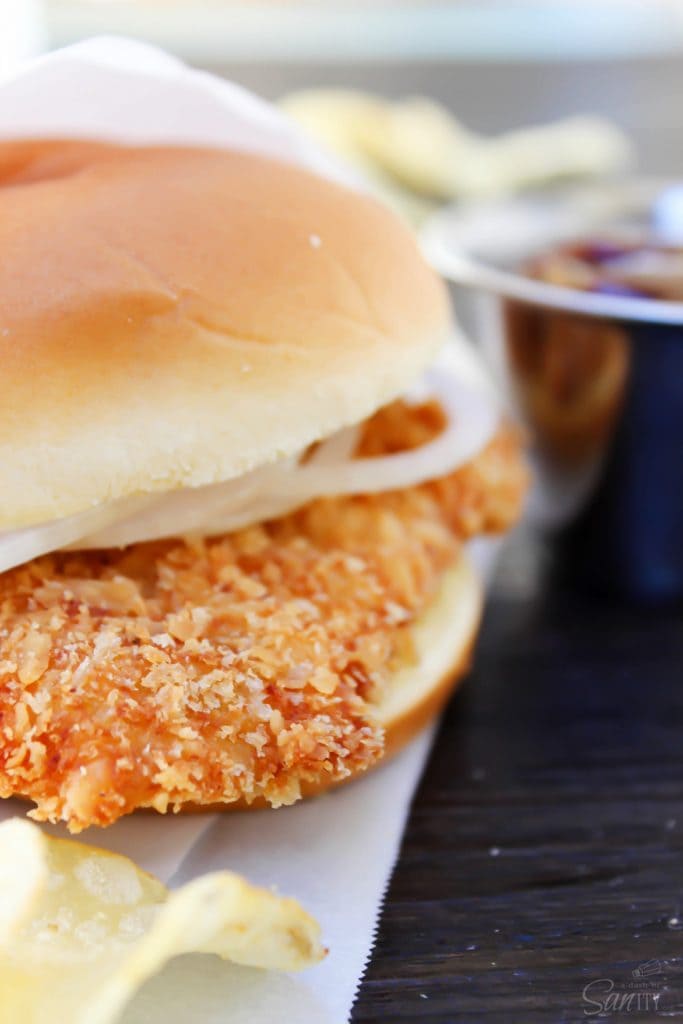 But after accepting an invitation from the National Pork Board to visit the Brenneman Pork farm, the largest family-owned U.S. farm in America, and seeing the pride, love and excellence that goes into raising their pigs, I understand now why the quality of pork is so high that it affords us the opportunity to order it however we want it.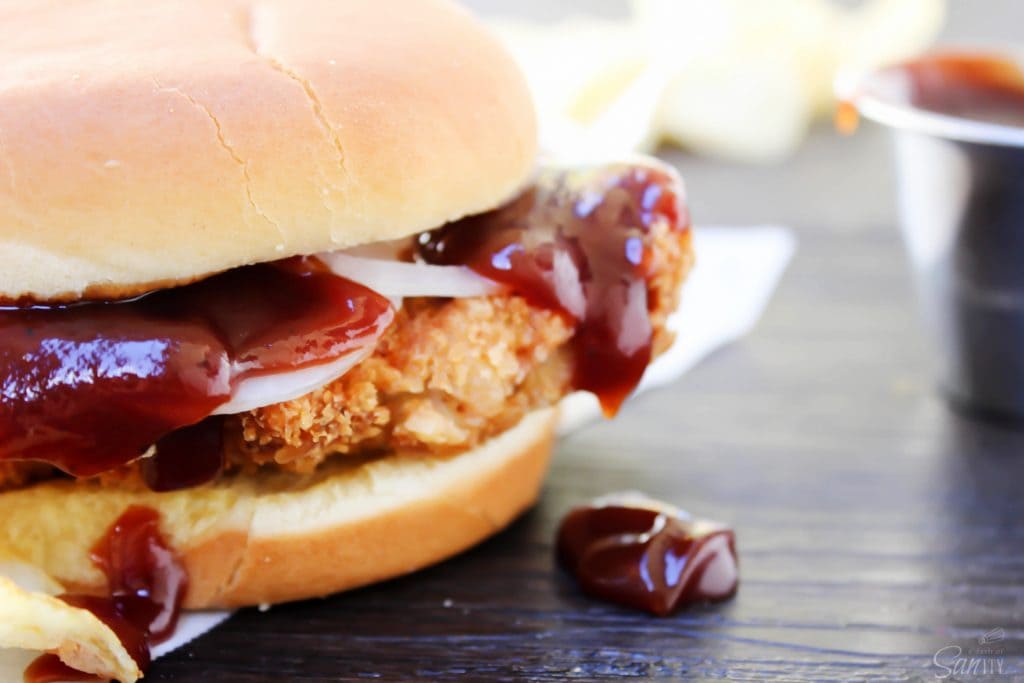 Hanging out with the Brennemans and their pigs not only introduced me to the world of pork, it opened my eyes to the rich traditions and generational meaningfulness of American farming. But before I go into the stories of me delivering my first piglet, meeting The Bachelor's Chris Saulis, and eating pork in everything (including caramel), let's go on a ride back to where it all starts… the farmer.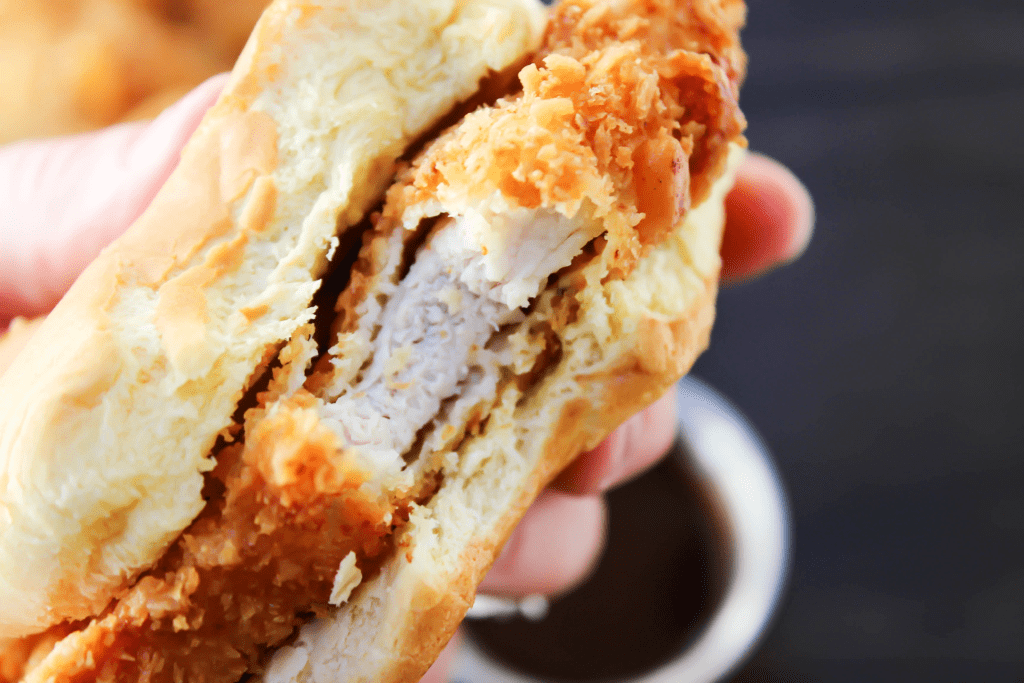 Farms in the Midwest are more than just an occupation aimed at making a living. There is a tangible immense pride present, with each farm representing a vital piece of a greater community. Many farms are generationally owned, including 96% of those found in Iowa. With over 93,000 farms in just that state, it's no wonder they treat everyone who comes through like relatives. And family is what farming is really all about. During harvest, it's not surprising to find the entire family out in the fields, each doing their part to help out.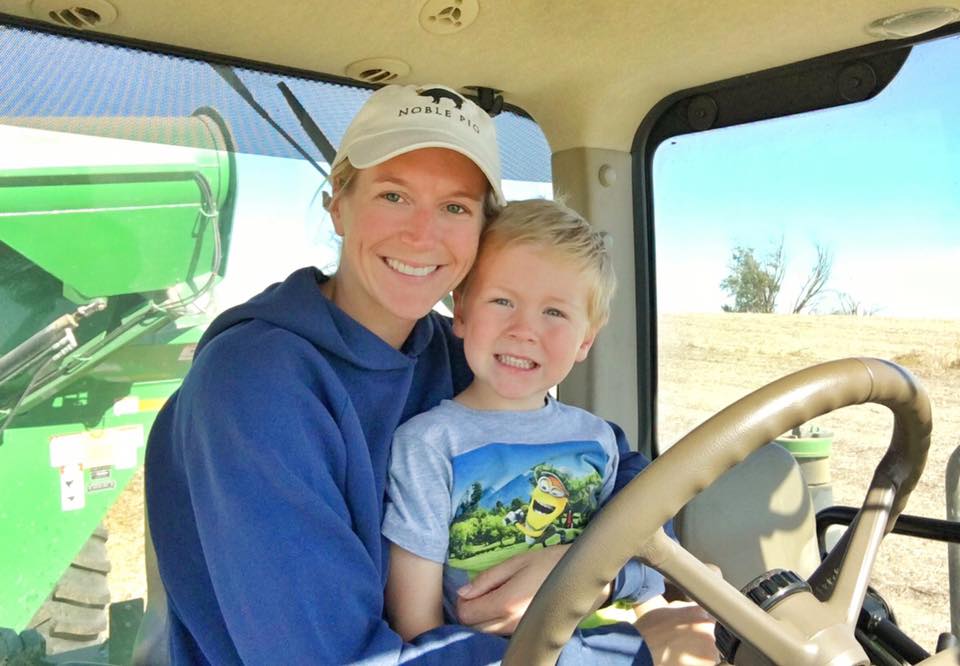 That tight-knit togetherness extends beyond their fences as well. Last year during harvest, a family in the community experienced a painful, unexpected tragedy. Neighbors and friends responded quickly, harvesting the family's fields so they could be together and heal. It's no wonder they treat each other like that.
Iowa's farms are our nation's leaders in the production of pork, corn and soybeans – each a vital commodity in a symbiotic relationship with the others. And it's not all just for production; you will not meet a farmer in Iowa that's doesn't eat what they raise.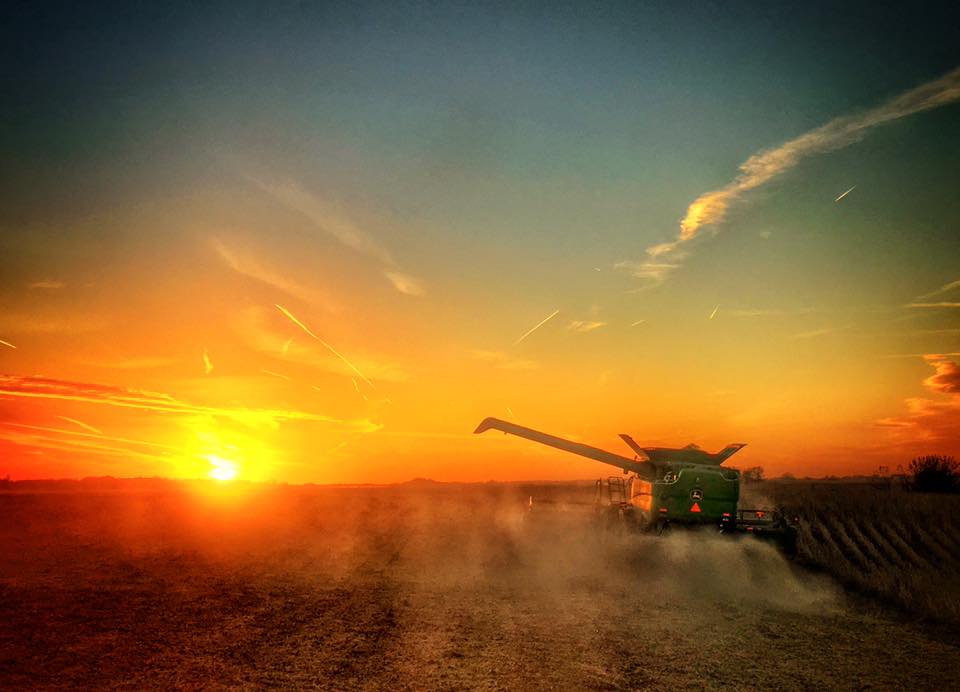 If 25% of the state is fueled by farming, the other 75% must come from a mixture of hard work, dedication, perseverance, calloused hands, and warm smiles.
And the Brennemans are the poster family for those qualities.
Mom and Dad, that's how I feel about Mr. & Mrs. Brenneman or Char and Rob might be the sweetest, most down-to-earth people you'll ever meet. The first night we met them, Char smiled the entire time. We heard how they met and how they started the farm while juggling family life. Rob came in casual for what one might expect from a very successful businessman. I anticipated something like fancy cowboy boots and a family belt, but he just had on his New Balance tennis shoes and khaki shorts. His laughter and loving glances told most of the story as he and his wife recalled their journey. I felt right at home.
Tim, the Brenneman's oldest, is married to Erin – city girl turned country. Move over Pioneer Woman, this girl is the real thing, able to drive a tractor better than the rest of them – seriously. Tim and Erin know the ins and outs of the farm with Erin leading the nursery.
Their two sons are future farmers in the making, expertly knowing their way around the farm. They all have a role: Bookkeeping, piglet watching, managing, feeding, and insemination. You name it; it's all in the family. Their workers are part of the family too. I didn't know who was the actual family until they all went around and said their names because that's how they treat everyone. And that includes the pigs – they're family too.
They welcome anyone and everyone to their farm. If you don't believe me – go. They'll give you a tour just like the one we got. They don't hide. They share their standards. They want to show what they have learned and what they're doing, giving guests a real insight into farming and the pork industry. It's nothing less than impressive to see the incredible attention to detail and the constant yearning to better their farm, farming methods in general, and the broader community. They want you apart of the farm – part of the family.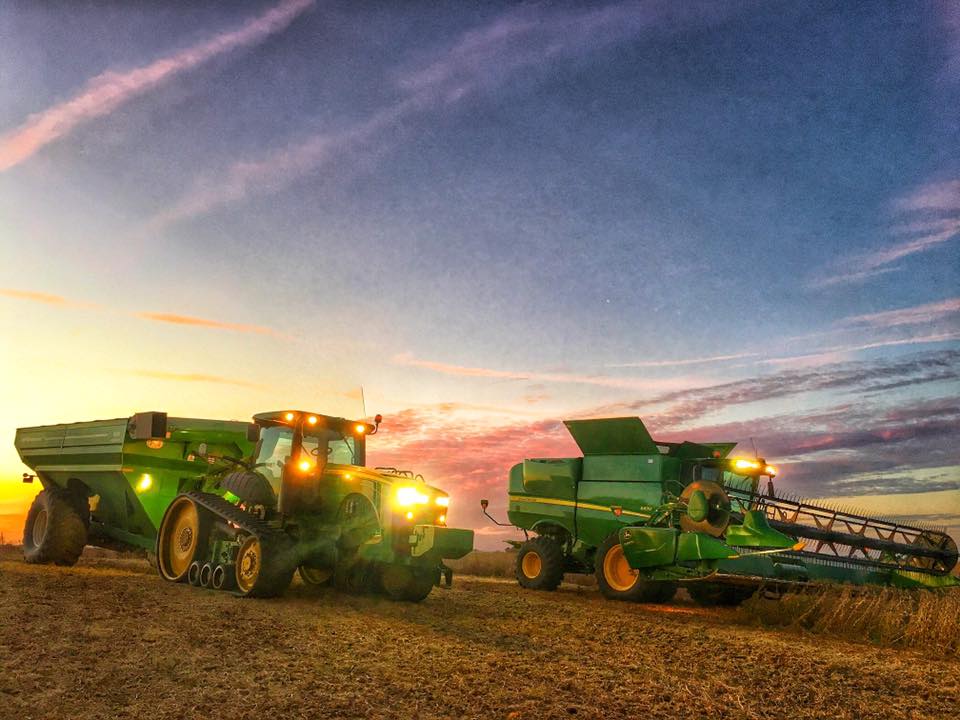 It's this feeling I had the entire time I was there that changed my perception of farming and allowed me to appreciate more what I used to take for granted each time I sat down to enjoy bacon in the morning or a nice prosciutto wrapped tenderloin, smothered in a port wine fig sauce. The Brennemans aren't just producing a quality product and raising the standard in farming, they're inspiring and allowing future farmers to join an industry that made America.
Enjoy these sandwiches friends, they take me back to this unbelievable experience and my entire family loves them, yes all 7 of us.
XOXO San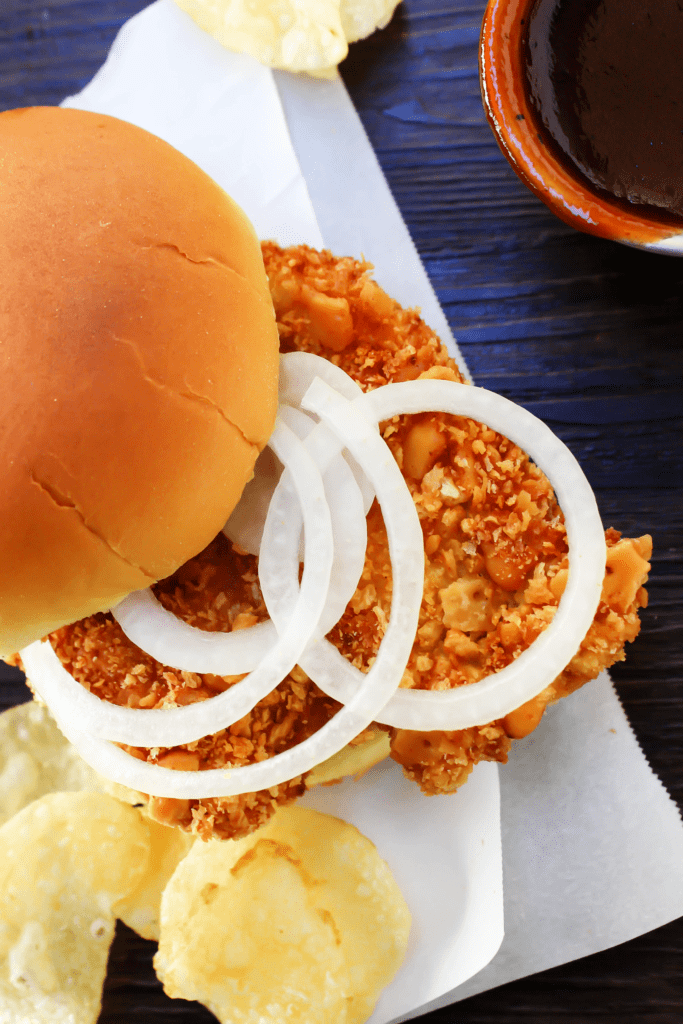 My favorite kitchen items to make this recipe for CRISPY PORK TENDERLOIN SANDWICHES are below, you will want of few of these just for your everyday cooking.
SHEET PAN: I love using a larger sheet pan while cooking because I am feeding my family of seven. I love aluminum for when I do sheet pan meals. I would start with this 13 by 18 half sheet pan. I love these pans so much that I have 9!
MIXING BOWLS: I love having a variety of sizes of mixing bowls. From small to large, I find that having at least 3 bowls of different sizes have been essential in my kitchen. I prefer Pyrex because of the durability
MEASURING CUPS: Nothing beats a good set of measuring cups that last a long time. I love metal measuring cups because of their durability.
MEASURING SPOONS: I have to have a metal set of measuring spoons on hand. The plastic ones just don't last long in our house thanks in large part to the garbage disposal.
Don't forget to pin this recipe for CRISPY PORK TENDERLOIN SANDWICHES to your favorite Pinterest board for later.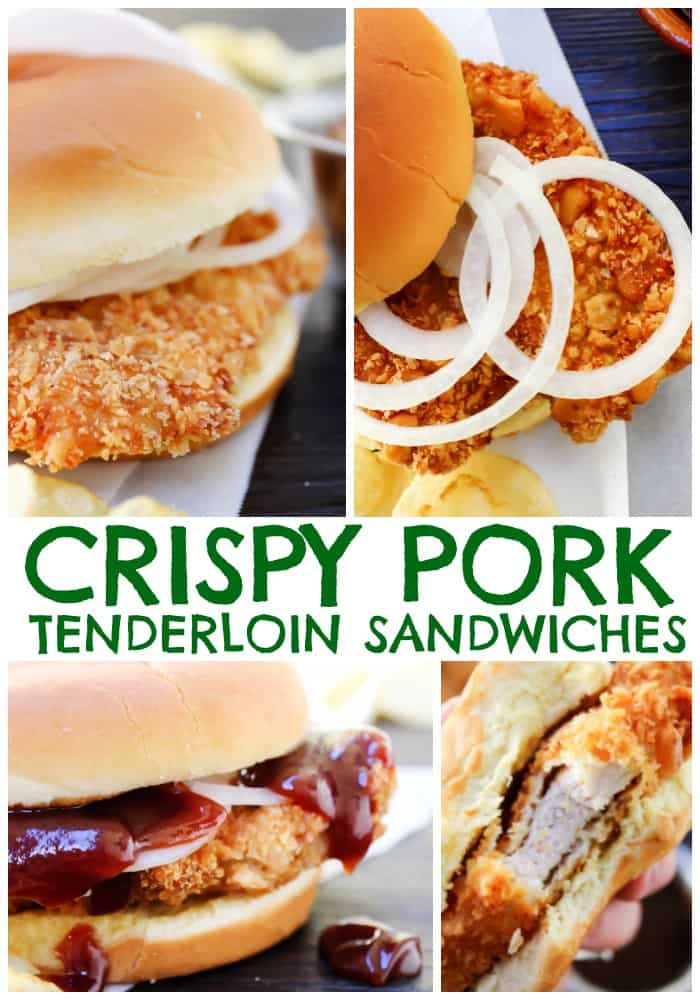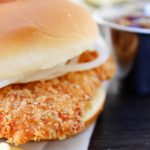 Pork Tenderloin Sandwiches
Crispy Pork Tenderloin Sandwiches deliciously crispy on the outside, tender and juicy in the center, these Iowa-inspired sandwiches will become a favorite.
Ingredients
1

quart

canola oil

1

cup

flour

1

cup

cornstarch

2

teaspoons

Lawry's Seasoned Salt

1

teaspoon

ground black pepper

2

eggs

well beaten

3

tablespoons

milk

1

cup

Chicken in a Biskit crackers

crushed

1

cup

panko bread crumbs

3

boneless pork loin chops

approximately 1.25 lbs.

Salt or Lawy's Seasoned Salt

6

large buns

buttered, toasted
Instructions
On a large plate add flour, cornstarch, Lawry's and pepper, if using and gently mix together. On a separate plate add crushed crackers and panko crumbs and gently mix together.

In a large mixing bowl add beaten eggs and milk and whisk together.

Butterfly each pork chop, this means cut them vertically. And pound each thin one thin, by placing them in a Ziploc bag and pound with a meat mallet or rolling pin until they are ¼ inch thick.

Coat each pork chop. Dredge in the seasoned flour on both sides and shake off excess.

Then dip into the egg mixture to coat both sides evenly. Transfer back to the flour, repeat and then add back into the egg mixture. After you have dipped into the egg mixture for the second time, dredge into the cracker/panko bread crumb mixture, press into the mixture to both sides to coat evenly.

In a large, heavy-bottomed skillet add oil and heat oil to 350 degrees.

Fry the breaded pork chops until a golden brown on both sides, about 3 minutes per side.

*Note: The pork is cooked once the internal temperature reaches 145 degrees on an instant-read thermometer. Transfer to a cooling rack or a paper towel lined plate and sprinkle with seasoned salt or salt, if desired. Repeat with remaining pork chops.

Butter and toast buns. Assemble sandwiches and serve.

Cristen Clark loves to make "Pig Twigs" for the kids versus sandwiches, just slice the fried pork tenderloin after it has rested into strips. Serve immediately.
Recipe Notes
Recipe adapted from Cristen Clark, Food & Swine. You can also find her recipe featured in Iowa Food & Family Cookbook, you need this book check out iowafoodandfamily.com for more info.
Nutrition Facts
Pork Tenderloin Sandwiches
Amount Per Serving
Calories 528
Calories from Fat 126
% Daily Value*
Total Fat 14g 22%
Cholesterol 100mg 33%
Sodium 435mg 18%
Potassium 388mg 11%
Total Carbohydrates 71g 24%
Protein 25g 50%
* Percent Daily Values are based on a 2000 calorie diet.
Thank you to the National Pork Board for sponsoring this post.

Save