Peanut Butter Oatmeal Bars – Chewy oatmeal bars with a white chocolate peanut butter topping, no one will be able to keep their hands off these.
These Peanut Butter Oatmeal Bars are a delicious treat inspired by one of my all-time favorite recipes Chocolate Oatmeal Peanut Butter Bars. You literally can't beat this soft and chewy bar base and the combination of white chocolate and peanut butter top them off to be insanely delicious.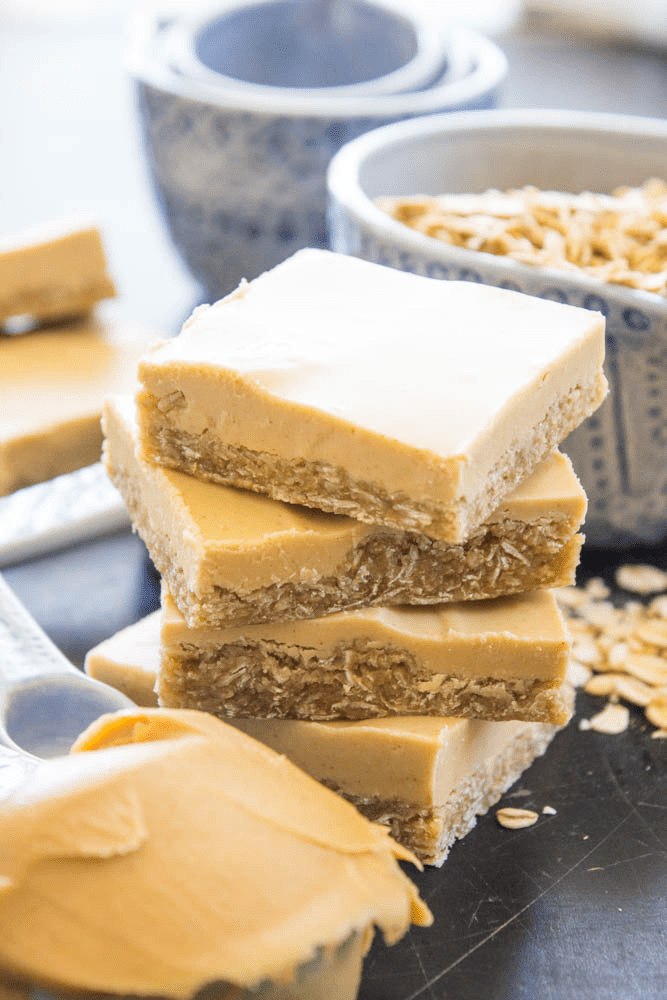 For spring and summer I love making recipes that make great and delicious afternoon or pool side snacks. What I love about these Peanut Butter Oatmeal Bars is that I can make 2 pans at the same time and then once they are chilled, slice them up and freeze. It's perfect for the cooler and then they defrost just in time for you to devour.
The combination of oats, chocolate and peanut butter is literal perfect in my foodie book. And I love these Peanut Butter Oatmeal Bars with milk, white, dark or semi-sweet chocolate. Although milk would probably be my favorite because that is what the original recipes calls for.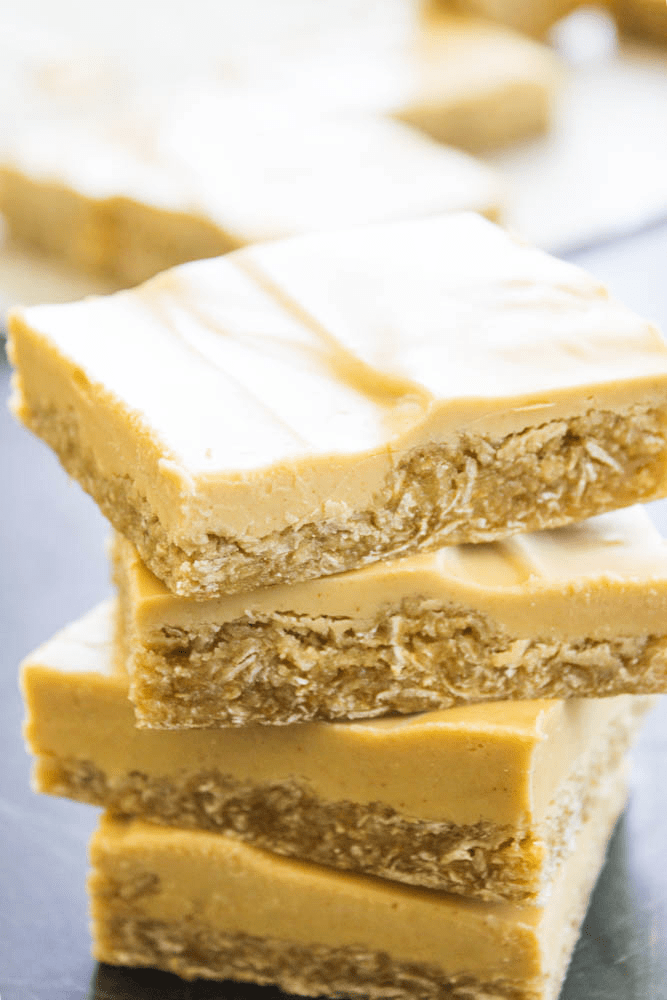 These Peanut Butter Oatmeal Bars are awesome for those backyard barbecues or potluck get togethers. And they are always the first treat to be gone from the table. I kind of pride myself on that. My husband hates having these bars around because he will literally make himself sick over eating on them.
What I love most about bars like these is that you can cut them into any size to serve. Bite sized to big ole slices, you can create as many or as little amount of bars as you like. I love cutting these into 24 bars, as it always makes the perfect amount. If I am serving these for my family only, we make about 20 bars.
My kids love No Bake Cookies and I think that this recipe is so similar and that's why we love them so much. Especially if you use milk chocolate instead of white, it tastes just like those cookies.
With only 25 minutes until these bars are ready to chill, they are an easy dessert or snack. Perfect for camping too – these oatmeal bars will become a hit regardless of where you eat them.
A few tips in making these Peanut Butter Oatmeal Bars.
Double check your oats if you are making this gluten free – that your oats are GF. Not all oat brands guarantee this! Be sure to read the label.
You can use either crunchy or creamy peanut butter. We prefer creamy as it tends to melt better with the chocolate and sometimes kids freek out at the peanut chunks.
Do not over bake these bars! You will be unsure that they are ready, trust me do not bake longer than the time listed. They will turn out just fine.
Make sure the butter is at room temperature, this will allow everything to combine easily. You do not want chunks of butter, as it may cause part of the bars to be more crispy.
I prefer to use Toll House or Ghirardelli chocolate chips, Kroger & Safeway brands work just as well. Cheap chocolate chips are too waxy and may not melt as they should, ruining the recipes.
I can't wait for you to try these Peanut Butter Oatmeal Bars. I am sure your family will love them just as much as mine. Enjoy friends! XOXO San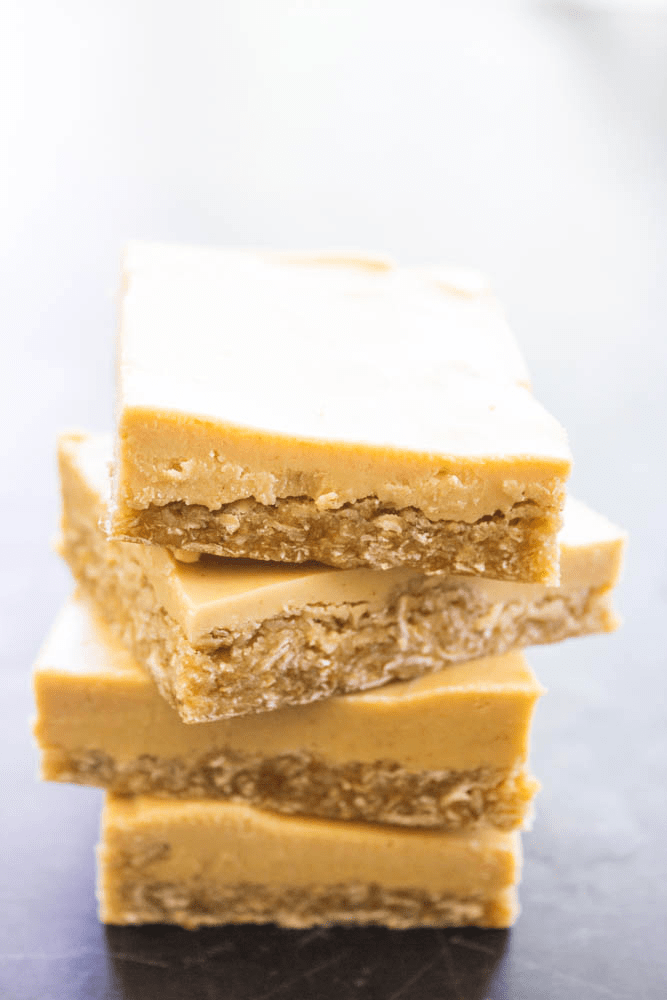 My favorite kitchen items I used to make this recipe for PEANUT BUTTER OATMEAL BARS.
This post may contain affiliate links. See my Full Disclosure for further details. 
9×13 BAKING PAN: I use my 9×13 baking pans all the time. Dinner, cakes and even for play dough fun, these are a kitchen must have in our home. I prefer the dark pans over glass pan – all because I feel like they cook more evenly, but this is just my own personal thoughts.
KITCHENAID MIXER: I love my Kitchenaid mixer and use it almost daily. For cookies, breads, sauces, frostings and dough – I find many recipes that I can use my KitchenAid to reduce prep time. I have two that I couldn't live without. I use this for my coffee cake because it takes 7 minutes to mix – and I can do other things, while my KitchenAid works it magic.
HAND MIXER: I love these for small batches or quick and easy recipes that don't require a lot of ingredients. I love that you can have so many color options now, I love personally love teal.
MIXING BOWLS:
 I love having a variety of sizes of mixing bowls. From small to large, I find that having at least 3 bowls of different sizes has been an essential in my kitchen. I prefer Pyrex because of the durability.
Don't forget to pin this recipe for PEANUT BUTTER OATMEAL BARS to your favorite Pinterest board for later.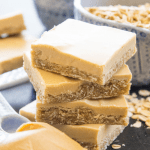 PEANUT BUTTER OATMEAL BARS
PEANUT BUTTER OATMEAL BARS chewy oatmeal bars with a white chocolate peanut butter topping, no one will be able to keep their hands off these.
Ingredients
OATMEAL BARS
1

cup

brown sugar

2/3

cup

butter

softened

1

teaspoon

vanilla extract

1

teaspoon

salt

1/2

cup

corn syrup

3

cups

instant oats

1

cup

rolled oats
PEANUT BUTTER TOPPING
2

cups

white chocolate chips

3/4

cup

peanut butter
Instructions
OATMEAL BARS
Preheat oven to 375 degrees.

Line a 9x13 metal pan with parchment paper or grease pan with cooking spray.

*I prefer the parchment paper as it allows for easy removal.

Mix all the ingredients and press into pan.

Bake at 375 for 10-12 minutes or until golden brown.
PEANUT BUTTER TOPPING
In a medium glass bowl melt chocolate and peanut butter in the microwave for one minute. Remove and quickly stir, return to microwave and heat for another 30 seconds then stir again.

Repeat until chocolate and peanut butter are well combined and melted. Spread on bars immediately after they get out of the oven. Chill in the refrigerator. Once cooled, cut into squares and serve.
Nutrition Facts
PEANUT BUTTER OATMEAL BARS
Amount Per Serving
Calories 278
Calories from Fat 126
% Daily Value*
Total Fat 14g 22%
Cholesterol 16mg 5%
Sodium 199mg 8%
Potassium 156mg 4%
Total Carbohydrates 34g 11%
Protein 4g 8%
* Percent Daily Values are based on a 2000 calorie diet.
Save