Peanut Butter Caramel Bacon Monkey Bread aka Elvis Monkey Bread – this bread was made for all you peanut butter and bacon lovers out there. Made like a traditional monkey bread with brown sugar, cinnamon and butter with crumbled bacon and peanut butter.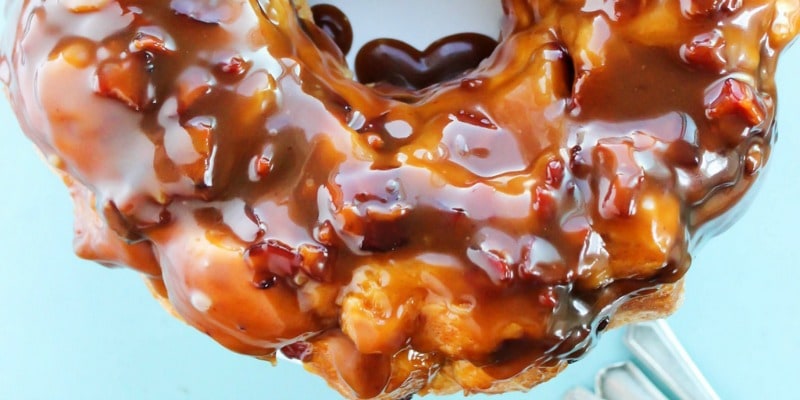 My family loves, loves, loves Monkey Bread. It is a school time staple in our home when we have eggs. It is actually how I get my kids to eat their eggs. You see my kids will eat my husbands eggs but when I make them, they are the grossest thing they have ever had, like ever! So to get them to power through I bribe them with Monkey Bread and it works every single time!
 When I was trying to come up with some recipes for Bacon Month, I thought oh I need to do a twist on that with bacon.Then when I was making the sauce with brown sugar, maple syrup and butter, I decided to throw in some peanut butter making the most delicious monkey bread sauce ever.
I can't wait for you to try this twist, that I know all Elvis fans would know how much he would have loved this. Time to get this "hunk of burning love" in the oven. Enjoy!
XOXO San
Peanut Butter Caramel Bacon Monkey Bread
Ingredients
2 cans (13 oz each) refrigerated biscuits
10 strips bacon, cooked & crumbled
1/2 cup maple syrup
2 teaspoons ground cinnamon
6 tablespoons butter, melted
1/4 cup creamy peanut butter
3/4 cup packed brown sugar
3/4 cup granulated sugar
Directions
Prepare bacon.
Preheat oven to 350 degrees F (175 degrees C). Spray the inside of a 9-inch Bundt pan with cooking oil.
Melt butter in a small saucepan over medium heat; add and stir in brown sugar and maple syrup. Bring mixture to a low boil; let it boil for 1 minute. Then immediately remove from heat and stir in peanut butter, return to low heat until completely combined, remove from heat and set aside..
In a large Ziploc bag add white sugar and cinnamon and mix together.
Add biscuit doing in about 8-10 pieces at a time and shake until all the biscuits pieces are heavily coated with sugar and cinnamon.
Add any remaining sugar-cinnamon mixture into brown sugar mixture. Place back over heat and cook 2 to 3 minutes.
Assemble Monkey Bread:
Sprinkle 1/4 the bacon pieces in the bottom of the tube pan; pour in about 1/3 cups of the brown sugar mixture. Add a layer of biscuit pieces in the tube pan; sprinkle in 1/4 the bacon pieces. Drizzle about 1/3 cups of the brown sugar mixture over the biscuit pieces. Continue to layer the bacon, biscuits and brown sugar until all the ingredients are used; ending with a drizzle of brown sugar mixture.
Bake in the preheated oven until biscuits are cooked through, about 30-35 minutes.
Remove from oven and cool pan for 10-20 minutes.
Then invert pan onto serving plate or cake stand.
Serve and enjoy!
https://www.dashofsanity.com/peanut-butter-caramel-bacon-monkey-bread/
Don't forget to pin this Peanut Butter Caramel Bacon Monkey Bread to your favorite Pinterest board to make for later.
Are you a bacon lover too? Check out these amazing recipes that will help you celebrate Bacon Month properly.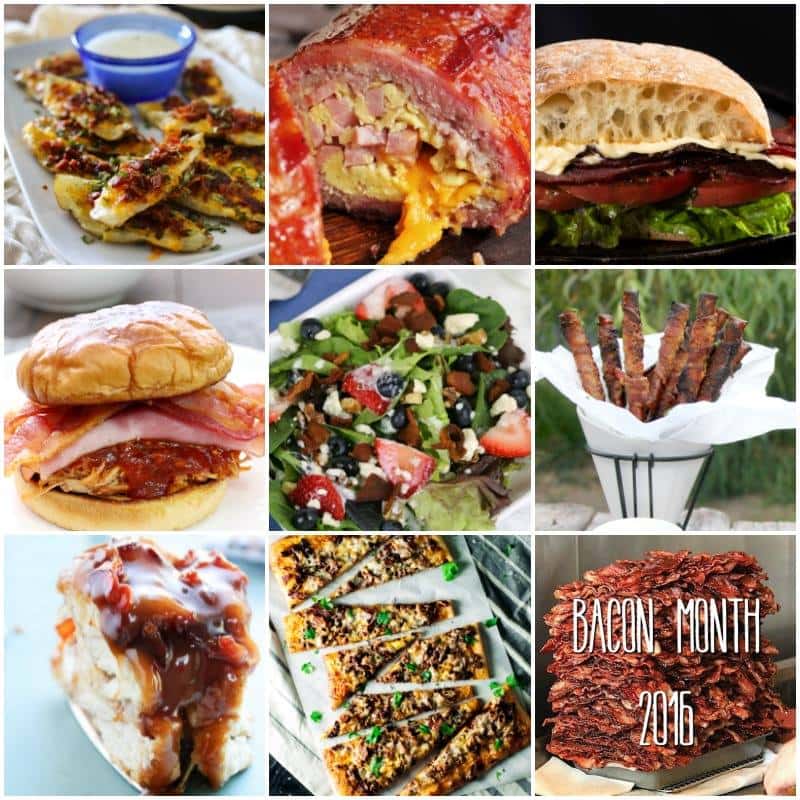 20 Minute Potato Wedges from Kleinworth & Co.
Triple Pork Breakfast Fatty from Hey Grill, Hey
Duck Bacon Lettuce And Tomato from Nomageddon
Bacon-Wrapped Ranch Pretzels from Around My Family Table
Bacon Berry Salad with Mojito Dressing from It Is A Keeper
Hog Wild Sammich from Love Bakes Good Cakes
Caramel Bacon Pull Apart Bread from A Dash of Sanity
Southwestern Bacon BBQ Pizza from A Simple Pantry
Save