Mouthwatering and insanely delicious and easy, this PAN SEARED STEAK WITH ROSEMARY AND GARLIC BUTTER can make your kitchen the best steakhouse around.
It was a pleasure collaborating with Kansas City Steaks who sponsored this post. All opinions expressed are of my own.
Friends, wipe that drool off your chin and head to the kitchen and make this PAN SEARED STEAK WITH ROSEMARY AND GARLIC BUTTER right now, or at least get it added to your weekly or holiday dinner menu. This recipe and my tips for making the perfect steak right at home in your own kitchen will come with so much ease and simplicity, that you'll feel like you have become a steak "master chef".
For all of you those know our family well, you already know I have 5 little and 1 big meat eaters, specifically steak lovers. Everytime we have a special occasion dinner, whether it's a night out at a restaurant or an at-home celebration, the favorite request is steak. And then you have me, the outnumbered family member who would rather just stick to a baked potato and salad. While I like meat, I feel like I never get it the way I want it – medium – or the way I want it seasoned – with a hint of garlic and shallots. And I don't need a sauce, but that can be a bonus too.
My husband is the grill master at our house, but I wanted to make him a meal that was fit for a king, one that maybe he couldn't stop talking about for months. Since the grill and I aren't really good friends and as we rarely get along (often resulting in "slightly" charred meat), I decided I would pan sear some steaks for him.
Another quality I lack is how to pick out the perfect piece of steak. My husband loves ribeyes, and my kids are more strip steak fans. And while I know I can ask the butcher, rarely does one really take the extra time to really help me out with my questions and needs.
However, I recently came upon Kansas City Steaks and decided to partner up with them. I was beyond excited because the packages they offer are exactly what my family is looking for. With a great variety and having everyone's choice of meat, we were set with one simple order. Now I'll be honest, I was a little weary because I am ordering meat, right? But Kansas City Steak Company has been providing gourmet steaks and other top-of-the-line beef cuts since 1932.  Their reputation and reviews were outstanding, and so I ordered the Gift Boxed Kansas City Signature Steak Combo, including Super Trimmed Filet Mignon, Boneless Ribeye Steaks and Kansas City Strip Steaks. In addition, it came with helpful an Original Steak Seasoning packet and Kansas City Gourmet Guide.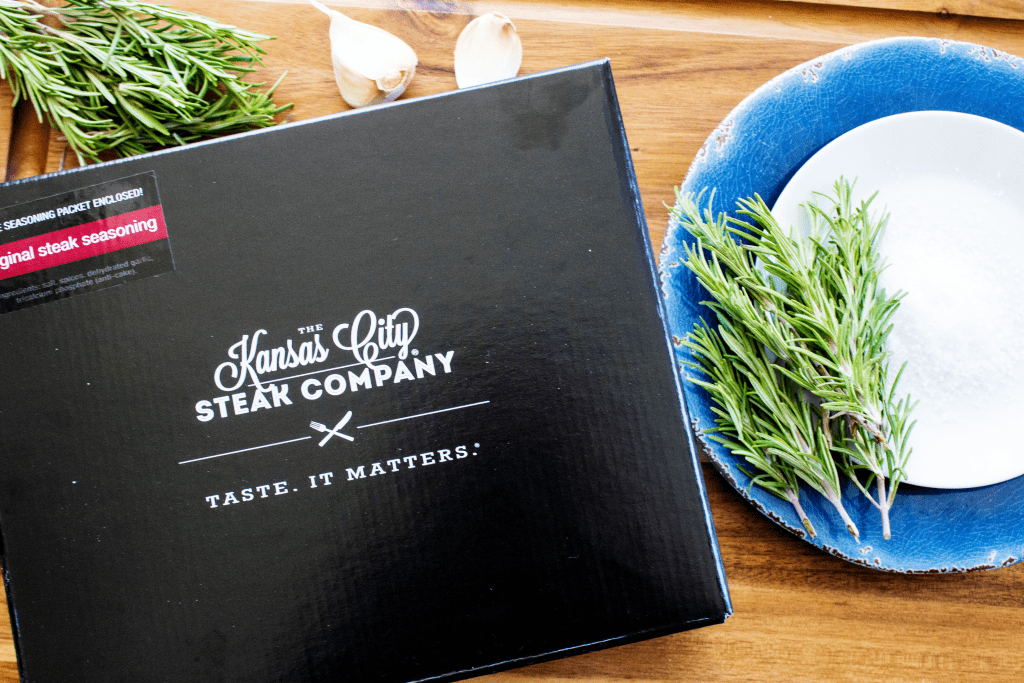 Upon arrival of our package from Kansas City Steak Company,  I was immediately impressed. Then came time for cooking, and I defrosted my steaks (check out my tips below) and got them ready with my seasoning; The steaks were stunning. Not only were they the best steak to every come out of my kitchen, they rivaled our local restaurants – and that's a fact.
When Kansas City Steaks say they offer high quality Filet Mignon, Ribeye, Top Sirloin, T-bone, Porterhouse and signature Kansas City Strip Steaks, as well as other fine foods, they are right. In fact, this is where we will be getting our meat from now on. And not only that, I'll be making a few orders for Christmas, not kidding. My dad, husband and a few other important people in my life will be getting a package from them. Take the frustration out of shopping for someone who is hard to shop for. This could be your gift-giving solution, whether you're celebrating a special day or reconnecting with the grill, Kansas City Steak delivers only the very best, and this I know to be true.
So this year, forget the normal holiday dinner or entertaining centerpiece, try this recipe for PAN SEARED STEAK WITH ROSEMARY AND GARLIC BUTTER with Kansas City Steaks. This drool-worthy meal will have guests oohing and aahing well into the New Year.
Looking for some sides to go with this steak try out my Best Mashed Potatoes, Winter Kale Super Salad and of course dessert of German Chocolate Cake to finish off the meal. The holidays to me, bring people together, and that's usually done through food and gifts. Savor the day together and add some pizazz to your traditional menu with Kansas City Steaks.
Now that I've shared this recipe for PAN SEARED STEAK WITH ROSEMARY AND GARLIC BUTTER, I need to go and start defrosting my steaks because we are making this again. And friends, considering this girl right here was once not a big steak fan, it speaks volumes to how much I love this recipe for PAN SEARED STEAK WITH ROSEMARY AND GARLIC BUTTER – and of course, my new favorite butcher, Kansas City Steaks.
Try out Kansas City Steaks with my promotional Holiday Discount code of 15% off using DASHFL17! And while you're looking, be sure to check out my favorite deal: Gift Boxed Kansas City Signature Steak Combo! Enjoy friends and happy holidays. XOXO San

Tips on how to cook steak to perfection.
Room Temperature meat. Setting meat out for a bit to bring it to room temperature will allow it to be more tender. I defrosted my steaks by setting them in the fridge 1 1/2 days before. You could even do this overnight.
Make sure to preheat the skillet; this is very important to get a good sear without having to overcook your meat.
Season the meat before you cook it. Right before you put it in the pan, season your meat. I love adding salt and pepper. If you are adding a rub, do this and allow the meat to sit for 15-20 minutes.
After cooking, let the steak rest for 5 minutes after you remove it from the hot skillet. This makes for a juicy steak.
Please don't EVER cut a steak to check for doneness! One of the best ways to check if your meat is done is to lightly press the steak down with a fork, the more it gives, or the flabbier it feels, the more rare it still is. When it's very cooked, the meat will hardly yield when you press it. Don't cook it that long either, okay?
Don't forget to pin this recipe for PAN SEARED STEAK WITH ROSEMARY AND GARLIC BUTTER to your favorite Pinterest board for later.
 
PAN SEARED STEAK WITH ROSEMARY AND GARLIC BUTTER
Mouthwatering and insanely delicious and easy, this PAN SEARED STEAK WITH ROSEMARY AND GARLIC BUTTER can make your kitchen the best steakhouse around.
Ingredients
2-4

Ribeye (2) or Strip Steaks (4)

1 1/2 inches thick, I used Kansas City Steaks

3

cloves

garlic

finely diced

2

tablespoons

fresh rosemary

finely chopped

2

shallots

thinly sliced

3-4

tablespoons

butter

1

tablespoon

olive oil

optional

1

tablespoon

white wine

2

teaspoons

coarse sea salt

Salt and pepper

to taste
Instructions
Finely dice or mine rosemary and garlic.




On a cutting board add 2 teaspoons coarse sea salt, minced rosemary and garlic and mix together and roughly chop all together.

Rub the garlic and rosemary mixture all over your choice of steak, in this case I used ribeye. Allow to sit at room temperature for 20 minutes.




Over medium-high heat, heat up your skillet.

Once heated add butter and olive oil, if you are using.


Right before you add the steaks to the pan season with pepper and more salt if desired. Add steaks one at a time, I cook two at a time and cook about 1-2 minutes on one side then flip and cook for another 1-2 minutes.

Turn steaks again, add wine and shallots and cook 2 or 3 more minutes.

Depending how you want your steak cooked, turn your steak once more and cook for another 2-3 minutes.

Once cooked to desired temperature, remove skillet from the heat. Remove steaks and let rest for 5 minutes.

Right before serving, drizzle remaining liquids and shallots from pan over the steak.
Save