It was a pleasure working with General Mills on this post. All opinions expressed are my own.
One-Pot Creamy Chicken and Broccoli Alfredo is an easy 30-minute meal the entire family will love. Simple, easy & delicious, it's exactly what your dinner time called for.
 I know that house isn't the only one that struggles with dinner time, especially during the fall season when 4 out of 5 of our kids are in sports. And then we have school, work and every day madness to keep up with too.
So, I'm always on the look out for easy and quick 30-minute meals for my family to devour. And let's be honest, it isn't as easy as it sounds.
This dish answers all of my requirements. Delicious – check. Cheesy – check. Veggies – check. Ready to serve in 30-minutes  – check. Protein – check. Kids love it – check plus. Hubby loves it – huge check.
I love that the ease of this recipe is simplifying two ingredients. I used a rotisserie chicken, and for the broccoli, I used the frozen Cascadian Farms Broccoli Florets – this shortened the cook time of the recipe without taking away from the flavor. In addition, using the frozen Cascadian Farms Broccoli Florets allowed the sauce to have the right consistency.
And dinner isn't the only thing we struggle with; snack time can be hard too, right?! Something easy to grab that meets my expectations and powers my kiddos through their activities isn't always as easy as it seems.
We have a few favorites that the kids and I love, and I especially love that I can get them at our local Sprouts Market – I love shopping there. Great products and a beautiful store layout makes it easy for me to shop, which is a huge time saver. What mom doesn't need that? I love that their slogan fits their brand: "It's Healthy Living for less". It's so true. For the entire month of October,select items are an additional 35% off, including the Cascadian Farms frozen vegetables, our favorite Annie's Mac & Cheese, and the best Immaculate Gluten Free Fudge Brownie Cookie Dough (seriously, so dang chocolatey good).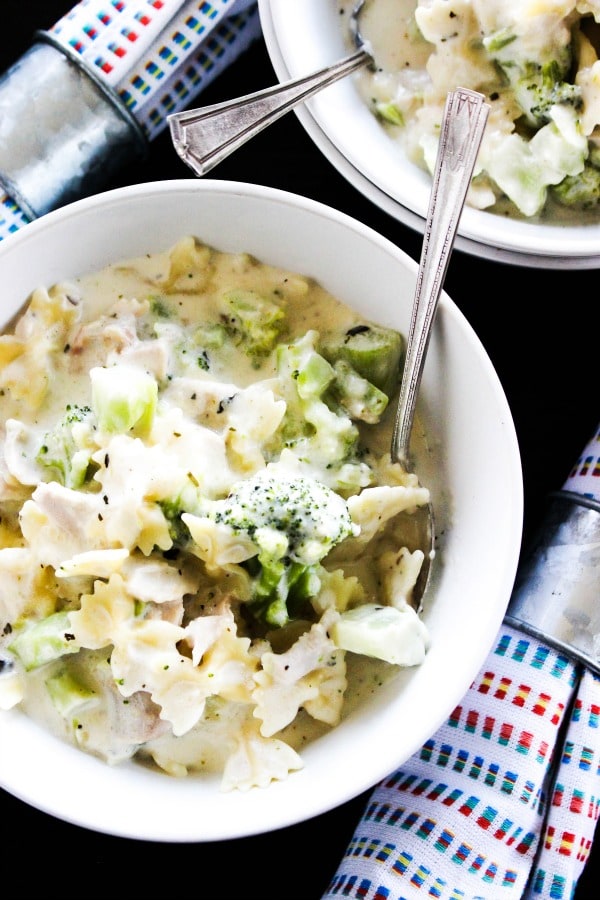 This makes it easy to keep my family happy, fed and energized with food that they love. And this mom is happy because this recipe for One-Pot Creamy Chicken & Broccoli Alfredo is simply delicious. Stock up on ingredients and pantry essentials with your family in mind.
I can't wait for you to share this recipe with your family. And I love sharing things that bring a "dash of sanity" into my life: delicious recipes and smart shopping tips. XOXO San
One Pot Creamy Chicken & Bacon Alfredo
Ingredients
2 cups bow tie pasta
1 1/2 cups half and half
1 can chicken broth
16 ounce package Cascadian Farm Broccoli Cuts
2 cups chopped cooked chicken
2 cups grated Parmesan cheese
1 cup mozzarella cheese
4 ounces cream cheese
1/2 teaspoon granulated garlic
1/2 teaspoon dried basil
1/2 teaspoon salt
1/2 teaspoon Italian seasoning
Directions
In a large pot cook pasta according to package directions, rinse with cool water, strain and set aside.
Using the same pot you used for the pasta add chicken broth, half and half, granulated garlic, basil, salt and Italian seasoning. Cook over medium-high heat and bring to a boil. Reduce heat to medium and add the package Cascadian Farm Broccoli Cuts. Cook for 5 minutes.
Add chicken, Parmesan cheese and cream cheese - stir to combine and cook for another 5 minutes, string occasionally.
Add mozzarella cheese and stir into the sauce until completely melted.
Remove from heat and stir in the noodles.
Sprinkle with more Parmesan cheese and garnish with parsley if you desire.
https://www.dashofsanity.com/one-pot-creamy-chicken-broccoli-alfredo/
Pin this to your favorite Pinterest board for later.

Save