This post was inspired & sponsored by Princess Cruises. All opinions expressed are my own.
NUTELLA DONUT RECIPE – simple 4 ingredient donuts filled with Nutella and topped off with chopped pistachios. These came straight from paradise and are headed right for your tummy, where they belong.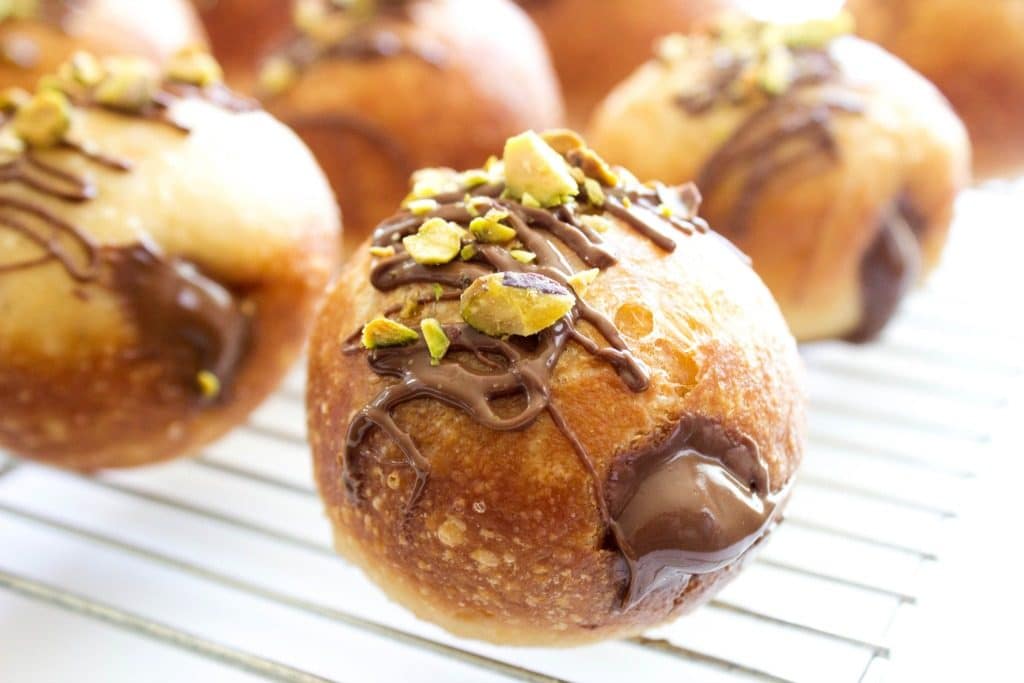 Okay friends, I have seriously never been so excited to share a recipe. There have been some close seconds, but this easy Nutella Donut Recipe takes the cake. I am giddy just thinking of how amazing these babies are, but even more with how easy they are. The hardest part of the whole recipe is waiting as the "donuts" rise. It felt like days, but really it was only a couple of hours… But still.
I recently returned from a magical bucket-list trip. A 10-night & 11-day Panama Canal Cruise with Princess Cruises. Not only did we get to go through the canal while aboard the ship, which was a once in a lifetime experience, but we also visited Colombia, Costa Rica, Aruba, Jamaica and had a day in Colon, Panama as well.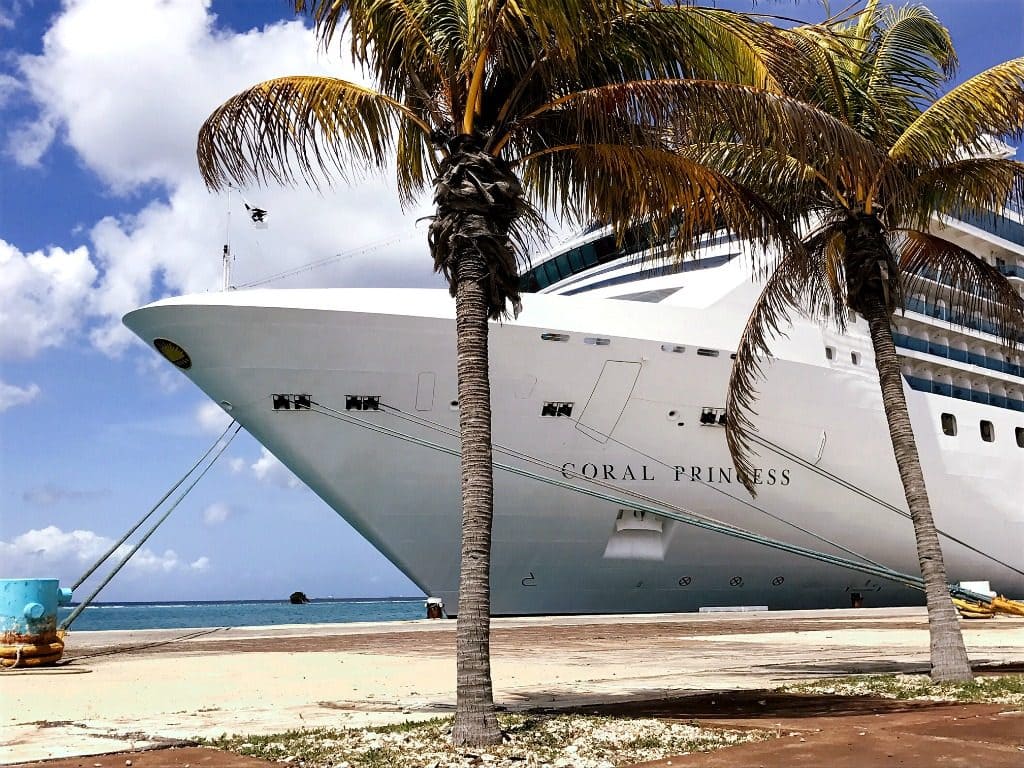 While I can't wait to share more about the trip in future posts (don't worry they're coming), the first thing I want to share is food… I mean come on, I am a foodie at heart, so it's just fitting, right?
One of my favorite things about Princess Cruises is the International Café. They have one aboard every ship, and they are my personal sanctuary – not to be confused with the actual Sanctuary aboard the ship. Every morning, I got up before most of the people aboard (besides staff) and went and enjoyed my favorite morning drink, ate a pastry, watched the sun come up and worked. Every morning started out perfect; while it was quiet, I watched the sea in all its glory and ate & drank my heart's content.
I discovered the International Café aboard my first Princess Cruise along the Mexican Riveria. Because I frequented the International Café so much, I came to know all the staff who worked there and the countries they came from.
Besides the tranquility the International Café brought into my morning routine, I loved all the pastries. My favorite pastry from the entire Panama Canal Cruise was this Nutella Donut. I may have had more than one or two… but who's counting on a vacation, right?
I knew my kids would love it as well, so that was the first thing I came back and made. My sister helped me make these, and my husband was lucky there were leftovers when he got home because they were so addicting. What I love most about this recipe is that it's so easy. I technically used a "cheater" way to make these: frozen rolls are the donut. I ended up using the Texas rolls because they're a bit sweeter.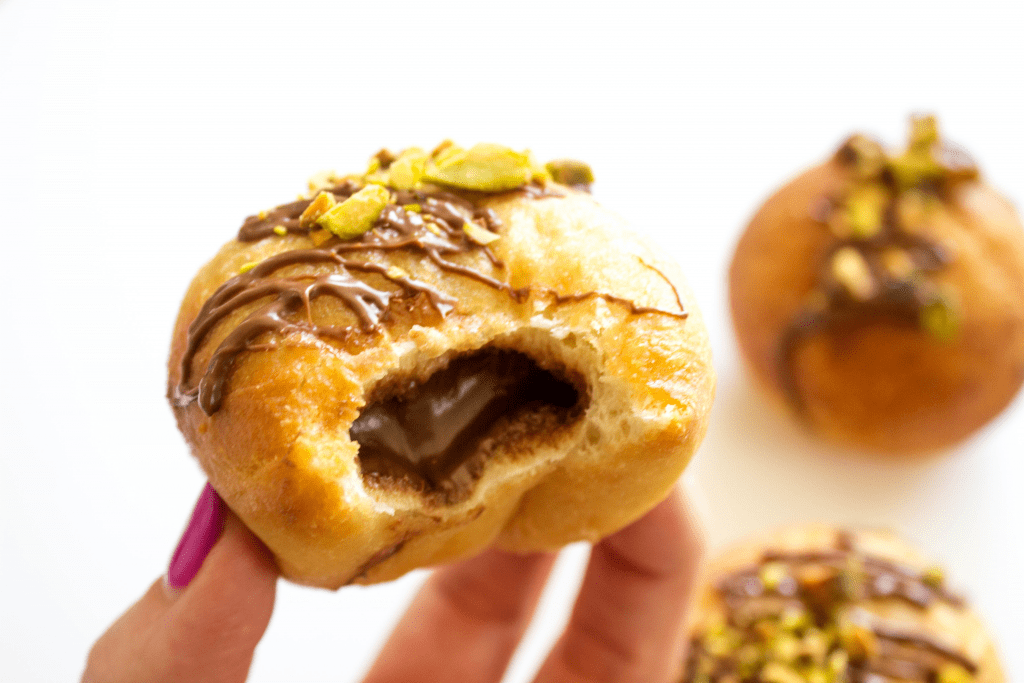 So while there were a plethora of sweet rolls and pastries, the Nutella Donut is the one that stole my heart. Luckily, I recreated it, and my kids are now thanking me – although my hips are not.
So while you check out which Princess Cruises best fits you and your travel desires, in the mean time, you can try this Nutella Donut Recipe and be content until you are sitting aboard a Princess ship enjoying the real International Café. Enjoy! XOXO San
Don't forget to pin this to your favorite Pinterest board for later.
Ingredients
12 frozen rolls, I used Rhodes Rolls Texas Dinner Rolls
Nutella
1/3 cup chopped pistachios
4-6 cups oil
Directions
Grease a 9x13 pan with cooking oil.
Place frozen rolls in the pan and cover with towel let them rise 3-4 hours or follow package directions.
Fill your pot on the stove with enough oil to coat what you're frying, about 4-6 cups.
Start with less and add more if you need to.
Heat until it reaches about 365 degrees, or if you don't have a thermometer (I don't), until a dribble of batter dropped on top sizzles and browns, I just pull off a tiny piece of the dough and try it out.
Fry for 3-4 minutes, while turning the dough every 30-seconds or so, to make sure to get a nice golden brown color evenly on both sides. I fry 6 at a time.
Remove donuts from the oil once completely cooked and let them cool and dry on a plate cover with paper towel.
Once cooled, using a sharp bread knife. Cut a small "X" into the side of the roll, to make it easier to pipe the Nutella into the roll.
Using a Ziplock or a piping bag, add a frosting tip to the tip of the bag with the tip cut off, I used tip #804. Push the tip through so just the first half is coming out of the bag. Then fill the bad with Nutella, I used about 1 1/2 cups.
Push the tip of the piping bag into the "x" of the donut and pipe the Nutella into the donut, until the donut starts to slightly expand in your hand, you can pipe as much or as little as you would like into the center of the donuts. We like a lot.
Repeat with remaining donuts.
Add 2 tablespoons of Nutella to a small bowl and heat in the microwave for 1 minute. Stir it and then drizzle over the filled donuts. Sprinkle the chopped pistachios over the Nutella drizzle.
Serve. Take a bite. And devour.
https://www.dashofsanity.com/nutella-donut-recipe/
Save