NO BAKE TURTLE CHEESECAKE DIP – Crunchy, creamy, and sweet. This dip has formidable confections that rival most any sweet delicacy.

This season, my sister, son, mom, husband, and I signed up for a "Maintain, Don't Gain" contest to encourage us to be more conscientious of what we intake and more mindful of how active we are. I may have just sabotaged us all.
I've been pretty good about controlling myself, however, I have fond memories, especially during the holidays of sneaking that extra turtle, even after my parents said I was done. It was these memories that inspired this Turtle Cheesecake Dip. And now with this recipe, my kids and husband are doing it too. It's good. Maybe a little too good.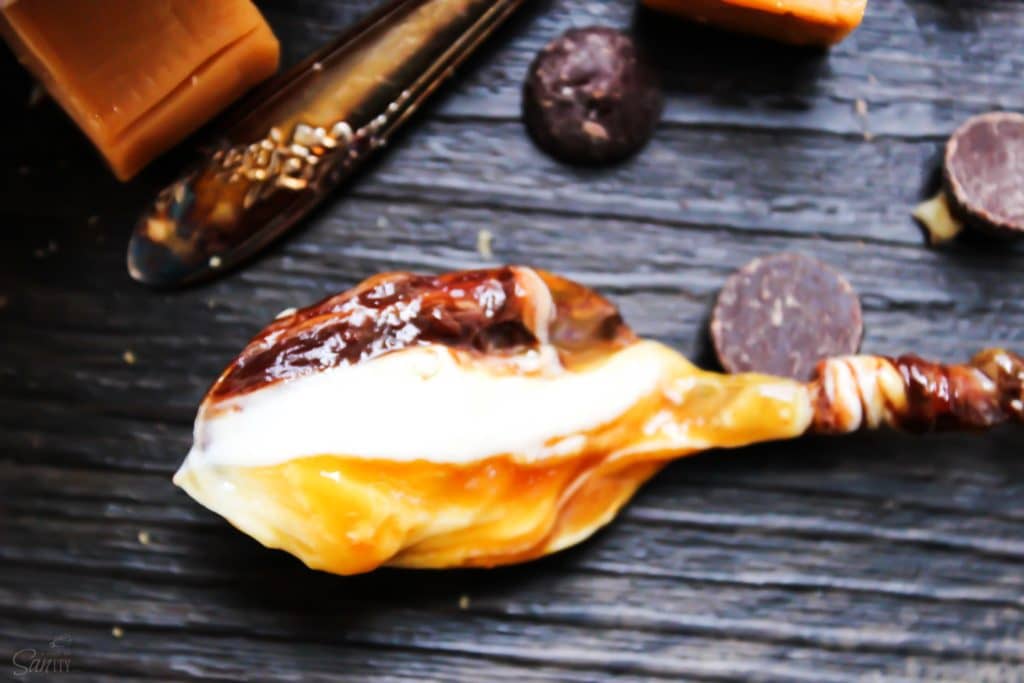 I left the bowl on the counter for less than 3 minutes and in half that time my husband polished off 3 quarters of it, resulting in a large smile, mild stomach ache, and forlorn sentiments that he'd be the cause of our contest demise. But it was worth it he said.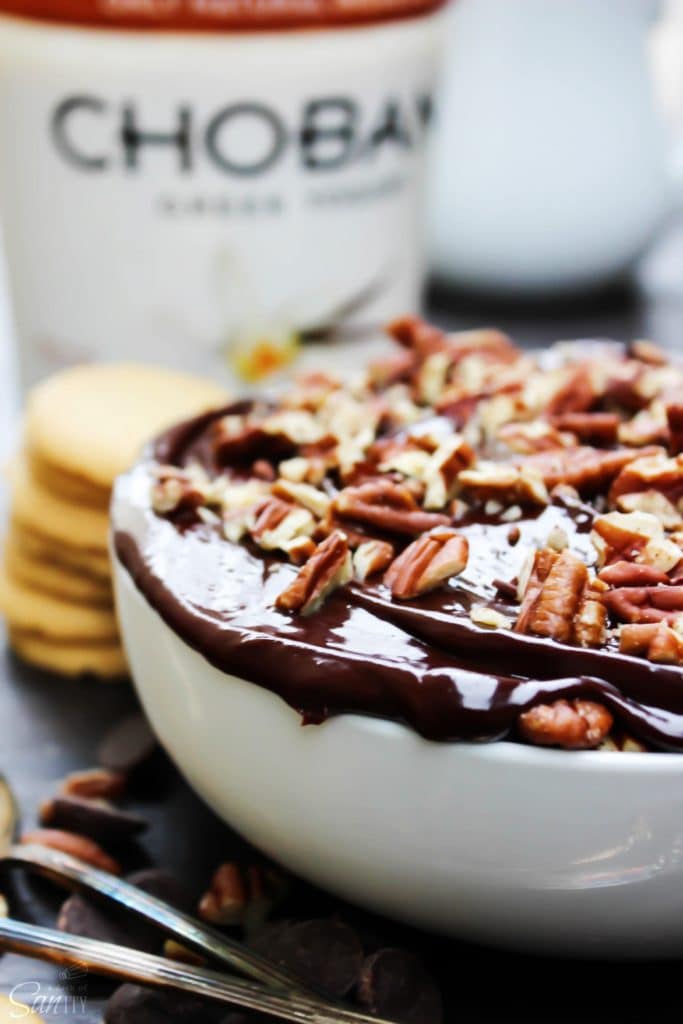 And not only will you be surprised how simple this recipe for No Bake Turtle Cheesecake Dip is as well as the star ingredient. Chobani® Vanilla Yogurt was a great way to give a hint of vanilla to this cheesecake dip. What I love about Chobani® Yogurt is how delicious it is a substitute for flavorings, sour cream, mayonnaise, or oi, giving it a healthier take on your favorite recipes. It is such a versatile ingredient. I picked it up in 32 ounce container because my kids love to snack on it. We add some fresh fruit and granola and everyone is happy, even this mom.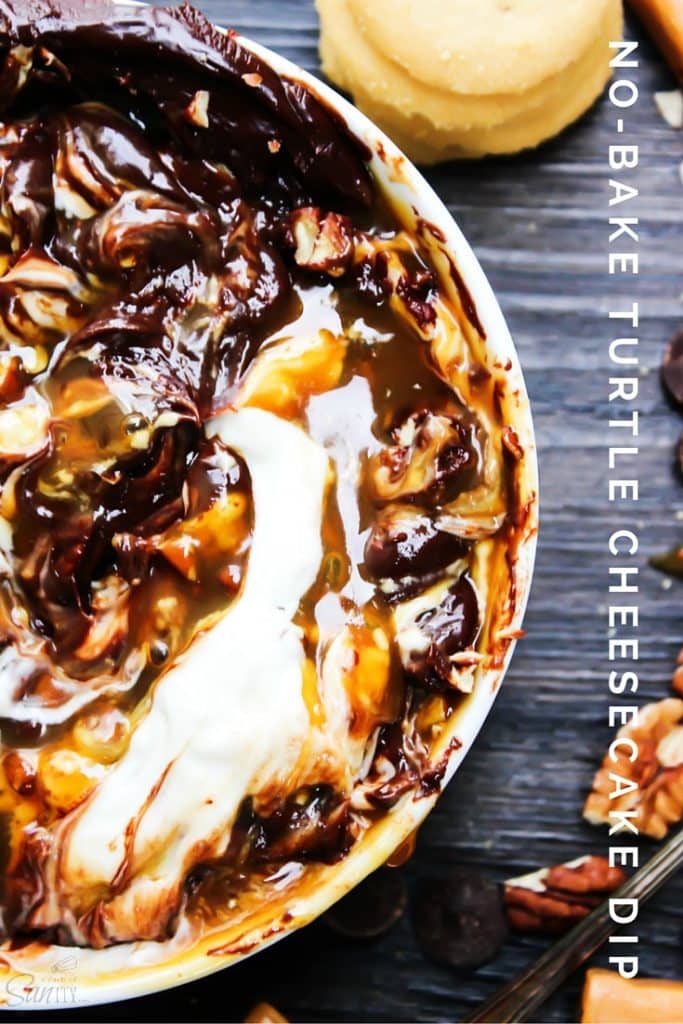 I can't wait for you to try this simply made No Bake Turtle Cheesecake Dip this holiday season. Although I know it is something you will eat all year long. Enjoy friends & Happy Holidays from our Turtle Cheesecake loving family to yours. XOXO San
Don't forget to pin these NO BAKE TURTLE CHEESECAKE DIP to your favorite Pinterest board for later.

No Bake Turtle Cheesecake Dip
Ingredients
1 (12oz) container regular cream cheese spread (not the 8oz brick, but the tub)
1 (7 oz) container marshmallow cream
¼ cup + 2 tablespoons cup Chobani® Vanilla Yogurt
Chopped pecans, to taste
Caramel sauce, to taste
Ganache (recipe below) or fudge sauce, to taste

Optional Ganache Topping

½ cup heavy whipping cream
1 cup dark chocolate chips

Optional Dippers

Pretzels
Cookies
Pita Chips
Directions
Make ganache.
In a small sauce pan add heavy whipping cream and place over medium high heat; bring to a boil. Once it is boiling remove from heat and add chocolate chips. Set aside. DO NOT STIR IN. Let it rest for 5 minutes, then stir until creamy and smooth.
In a large mixing bowl beat together cream cheese & marshmallow cream until smooth and there are no lumps. Stir in the Chobani® Vanilla Yogurt until well combined.
Place the cheesecake dip in a serving bowl with just a scoop at a time, choose any type of serving dish. Play around and make individual servings, in small cups, make a large platter with thin layers or add it into a bowl and let them dip in, either way you will enjoy it.
Add caramel sauce as much as you would like and to your taste. Next add chopped pecans, I like to add about 1 cup if serving on a plate or in a bowl. But you decide. %http://www.adashofsanity.com/wp-content/uploads/2015/12/No-Bake-Turtle-Cheesecake-Dip-Caramel-Pecans.jpg
Lastly top with homemade ganache or hot fudge sauce, again to your choosing. Know that the ganache topping hardens, so you will want a thin layer. Finish off dusted with a few chopped pecans.
Devour immediately or set in the fridge until ready to serve.
Dippers can include: cookies, pretzels (my favorite), crackers or pita chips.
Notes
https://www.dashofsanity.com/no-bake-turtle-cheesecake-dip/
This shop has been compensated by Collective Bias, Inc. and its advertiser. All opinions are mine alone. #HolidayWithChobani #CollectiveBias
This recipe was first post in December 2015.

Save