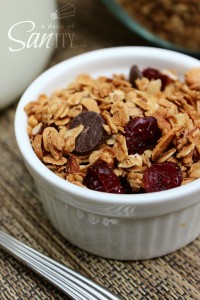 Cinnamon Maple Granola
At least one to two mornings a week I make the kids Greek yogurt parfaits. One, it's easy. Two, they love the presentation – with fresh fruit, granola or nuts in "fancy" class cups. And three it gives them some protein to make it through the day. I usually will serve this with either some whole wheat toast or even a sweet bread.
Dry Ingredients
2 cups old-fashioned oats
1/2 cup chopped raw almonds (I just smash raw almonds with a can or heavy pan)
1/2 cup slivered raw almonds
1/2 cup sweetened shredded coconut
1 teaspoon ground cinnamon
1/4 teaspoon salt
Wet Ingredients
1 1/2 tablespoons of unsalted butter
1 tablespoon of water
1 tablespoon of walnut oil (you can use any oil, I just like the walnut because it gives it a boost of nutty flavor)
2 tablespoons of real maple syrup
¼ cup of dark brown sugar, packed
1 teaspoon of vanilla extract
Add-ins
¼ – ½ cup dark chocolate chips
½ cups dried cherries or cranberries
Instructions
Preheat oven to 320 degrees F and place oven rack towards the top third of the oven
Line baking sheet with non-stick aluminum foil or parchment paper
Combine dry ingredients in a large bowl. Stir to make sure all ingredients are mixed well
Add Wet ingredients except vanilla to medium saucepan. Add in the order of the list so that the maple syrup is measured using the same tbsp. and added after the oil, so the maple syrup easily slides out of the tablespoon (because it is lubricated with the oil).
On low heat slowly melt the butter and sugar and stir/whisk (I use a fork) to incorporate all the ingredients.
Once the ingredients are melted and combined, remove from heat and stir in the vanilla.
Pour the warm mixture over the dry ingredients and stir together using a rubber spatula – till all the oats and almonds are covered by the sugar/oil/butter mixture
Spread granola out into a single layer on the prepared baking sheet
Bake at 320 F for 15 minutes. Remove and stir granola
Once granola is cool add dried cherries and dark chocolate
My review: I love this granola, even just plain. The flavors of the maple and cinnamon are subtle, it allows the chocolate and the dried fruit to blend perfectly. There is no strong after taste and nice crisp crunch.
Kid's reviews: The kids loved helping me make this, especially breaking up the almonds. Having them make it, made them want to eat it even more. Next time I will need to double the recipe.
Note: this will make a great Christmas treat for my gluten free friends. Put the granola in a cute little mason jar with some ribbon, great and thoughtful gift. You could really give this throughout the year.
Save