Little Hen Casserole aka Chicken & Gravy Casserole – a creamy casserole of chicken gravy, shredded chicken and mashed potatoes. 
This "Little Hen" Casserole is very nostalgic for me. Our best friends growing up Kat, Ingie and Beth all went to the same school and we spent most of our elementary childhood together. Kat and Ingie even attending family camp trips and vacations. Their mom Betsy has the biggest heart of anyone I know and she literally spoiled her girls. They are and were her everything. Even when asking her for this recipe, she told me that she prefers to use a rotisserie chicken vs boiled chicken breast, but since her girls hate dark meat, she always choose to boil chicken breast even though it took more time.
Being a mom myself, I am completely amazed by my parents (obviously) but also Betsy, see she was a single mom. I honestly don't know how she worked all day and make the most delicious meals. My sister Nicole remembers the "Little Hen" Casserole as her favorite and this past weekend wanted it so bad. So I called Betsy up and got the recipe. She joked with me and said you guys won't believe how easy it is, and friends this dish is SO EASY!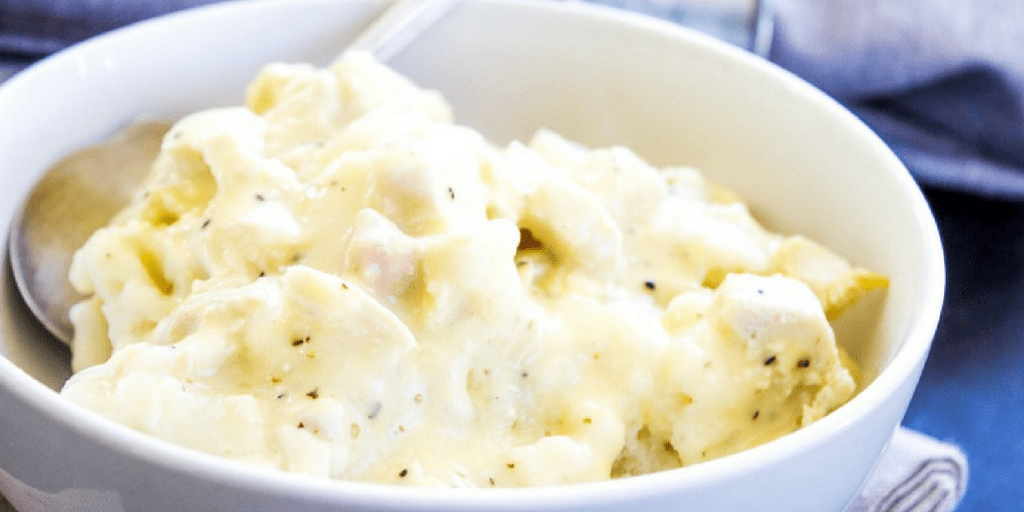 She told me that this recipe is actually called Chicken Little Casserole but that her girls called it "Little Hen" because Betsy made it in a white hen shaped casserole dish. So I had to keep the name we remember it by.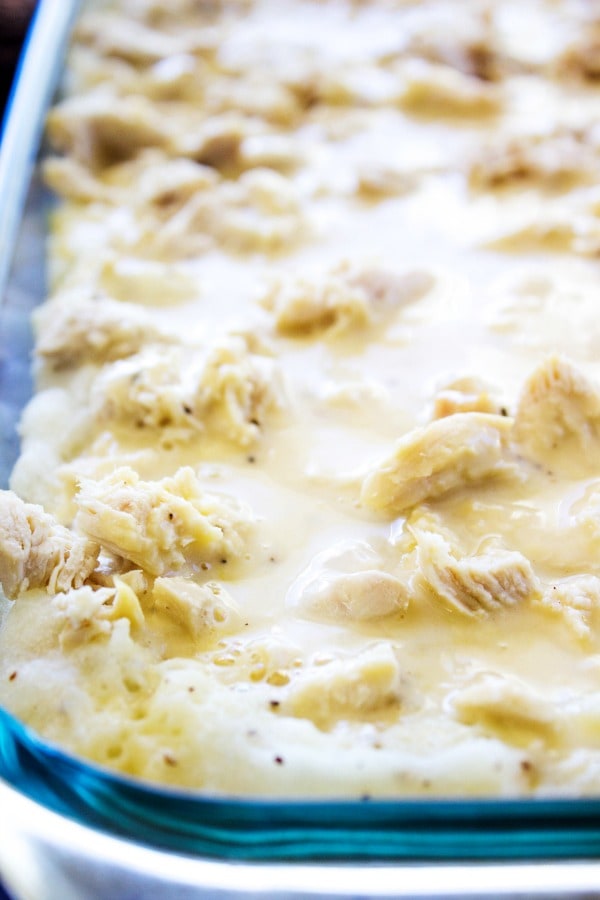 Since my family loves gravy and likes things a little saucier, I added an additional can of cream of chicken and some seasonings.
Betsy always made this for us and her girls when we were sick – because it is mild and comforting. Since my kids were sick this weekend, I made this and so happy I did. It pleased all and of course because we love cheese, we topped it with that, which made a great addition.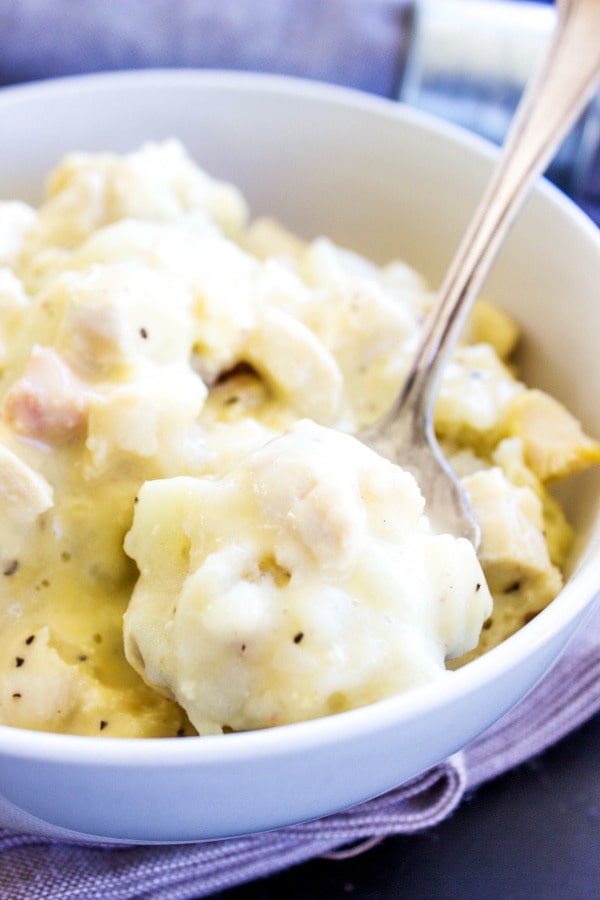 Enjoy one of my childhood favorites, I am sure it will become apart of your menu rotation, like it now has in our home. XOXO San
 Don't forget to pin this to your favorite Pinterest board for later.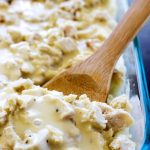 "Little Hen" Casserole
Little Hen Casserole aka Chicken & Gravy Casserole - a creamy casserole of chicken gravy, shredded chicken and mashed potatoes.
Ingredients
3

lbs

red potatoes

3-4

chicken breasts

boiled and shredded or large rotisserie chicken

2

cans cream of chicken

1 3/4

cup

milk

salt and pepper to taste

Optional Topping

grated cheddar cheese
Instructions
Preheat oven to 350 degrees.

Peel and diced red potatoes, meanwhile bring a large pot of water to a rapid boil.

Add potatoes and boil for 15-20 minutes or until potatoes are tender.

In a large mixing bowl add potatoes, 1/2 cup of milk and season with salt and pepper to your taste. Beat the potatoes, milk and seasonings until they become creamy and smooth. Add more or less milk, depending on the way you like.

There should be about 6 cups of mashed potatoes, place on the bottom of a 9x13 pan or casserole dish.

If you are using a rotisserie chicken then, shredded or coarsely chop all the meat from the chicken, removing skin and bones.

If you are boiling the chicken breast, bring a large pot of water to a boil. Once boiling add chicken breast and boil until chicken is cooked all the way through. 15-25 minutes, time varies depending on the size of the chicken breast.

Once cooked, remove from water and shredded or coarsely chop.

Top the mashed potatoes in the pan with the chicken.

In a large measuring cup (4 cups) or small mixing bowl add both can of cream of chicken. Add milk, pouring it to fill one can of the cream of chicken. Add milk to the bowl along with 1/2 teaspoon granulated garlic, 1/2 teaspoon pepper and 1/2 teaspoon salt.

Pour "gravy" evenly across over chicken. Cover pan with foil and place in the oven for 30-35 minutes, until mixture is hot and gravy is bubbling.

Remove from oven and serve immediately. Top with cheese if so desired, this is a family favorite in our home.
Nutrition Facts
"Little Hen" Casserole
Amount Per Serving
Calories 200
Calories from Fat 27
% Daily Value*
Total Fat 3g 5%
Cholesterol 32mg 11%
Sodium 104mg 4%
Potassium 1001mg 29%
Total Carbohydrates 29g 10%
Protein 13g 26%
* Percent Daily Values are based on a 2000 calorie diet.
Save