Delicious & refreshing this LEMON POPPY SEED FRUIT SALAD is garnished with a lemon poppy seed glaze making it a spring and summer must have.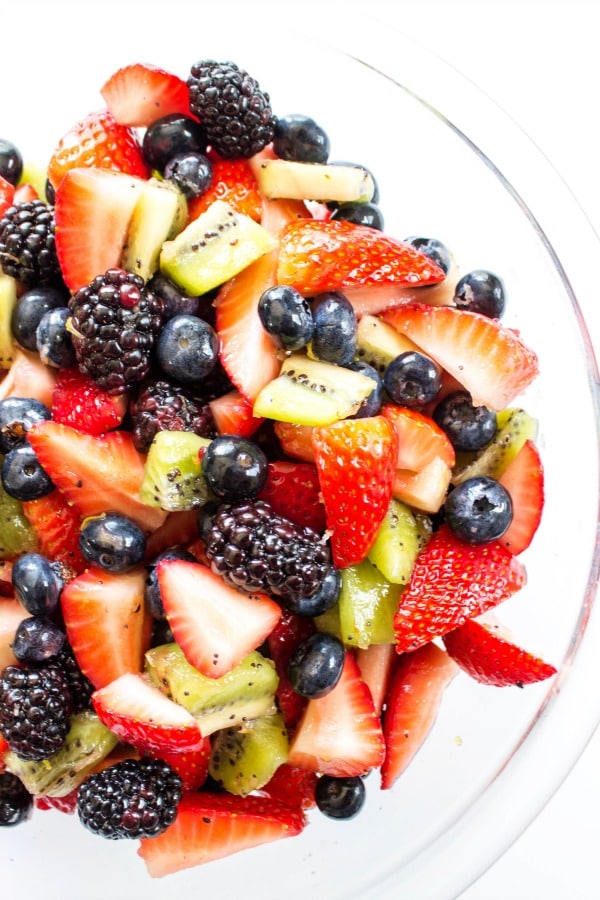 I love fruit salad. It is a spring and summer must have. Honestly, I wish I made fruit salad more often all year. But it really isn't until the warm weather rolls around that I get inspired to do so.
While there are all types of fruit salads like Pineapple Mojito Fruit Salad Recipe (who would have thought), Cheesecake Fruit Salad (so happy there is such a thing) or Frozen Fruit Salad (which is great to make ahead and pull it out 20-minutes before you serve, this way you can always have it on hand).
If you would love some more fruit salad recipe ideas, I did a round up of all my favorites, Best Fruit Salad Recipes and you can guarantee I am heading over to add this LEMON POPPY SEED FRUIT SALAD.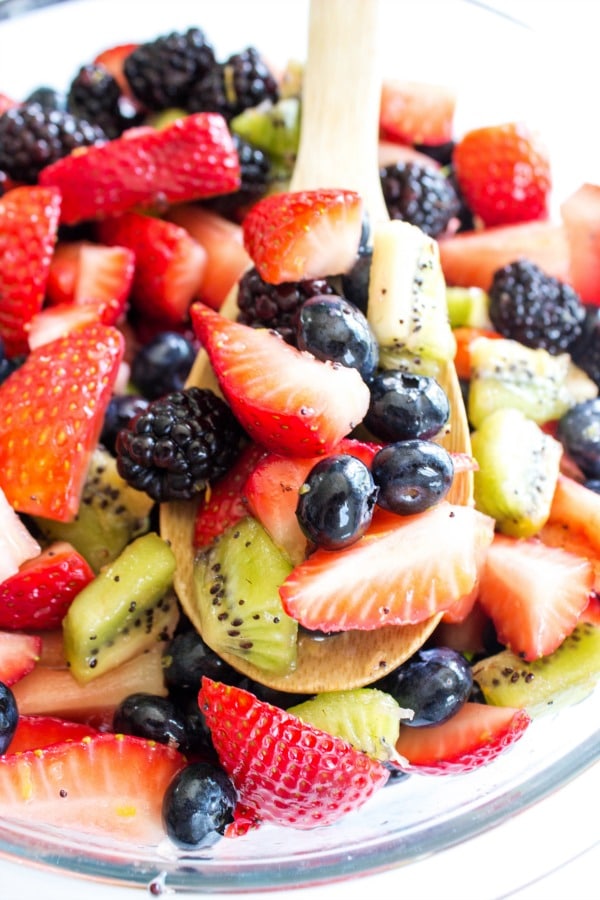 The hardest part about this salad is really just cutting up the fruit, but that doesn't take much time especially if you have some little helpers like me. I had made this salad for dinner but made it in the early afternoon and it didn't make it to the evening. Which is a good sign around here.
The glaze on this salad makes it unique with lemon juice & zest and of course poppy seeds. The glaze once it has sat on the fruit for a bit becomes a bit watery – so if you want just mix it up or you can even strain some of the juices out which is what I do right before serving. But these juices – oh, so good!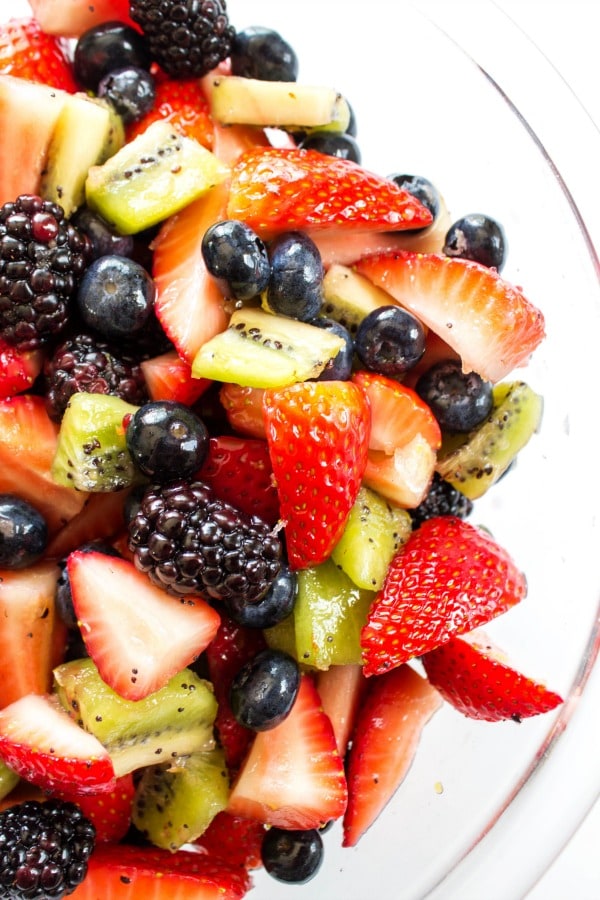 Fruit Salad Tips:
Now to keep your fruit salad from turning brown simply squeeze lemon or lime juice over the freshly cut fruit and toss to coat. This method works well for bananas, pears and apples. The lemon juice can be fresh or bottles, which I typically have on hand in my fridge. You can also use a product called Fruit Fresh, this works like lemon/lime juice.
Keep your fruit salad fresh by placing in airtight containers. When properly stored, fresh fruit salad can last for about 3 to 5 days in the refrigerator. Apples and bananas over all do not store well for a period of time.
If you fruit salad is sitting at room temperature do not let it sit out more than 2 hours. This is 2 hours today, from the minutes you cut and prepare the fruit, serving and eating your fruit salad should not be out more than this.
Have left over fruit salad and not sure what to do with it? Place 1 cup serving in individual Ziplock bags, zip shut and place bags in the freezer. These make great smoothies for later.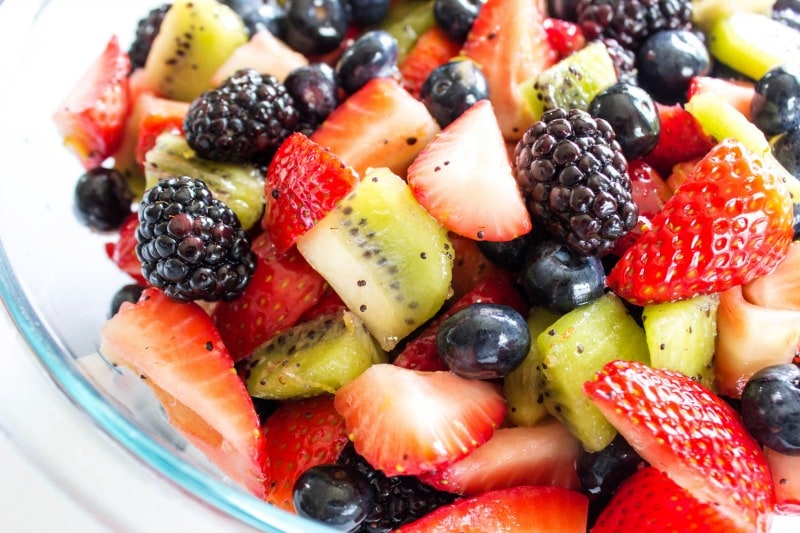 Do you have a fruit salad recipe that you love? Share it in the comments below, I would love some new ideas and inspirations. Enjoy this LEMON POPPY SEED FRUIT SALAD friends. XOXO San
Below are my favorite kitchen items that I consider are my essentials for making this LEMON POPPY SEED FRUIT SALAD.
This post may contain affiliate links. See my Full Disclosure for further details.
Knives: A good set of kitchen knives is essential for preparing any meal. I just recently invested in some Cutco knives and I have not regretted it one bit. These are hands down my favorite knives I have owned.
Cutting Board: For me this is a kitchen must-have and kitchen counter saver. While we have counter tops you can cut on, I find that this extra step will preserve my counter. I also find that using a cut board makes for less clean up afterwards. I love this cutting board because it has a groove all the way around the board prevent juices from running all of the counter.
Mixing Bowls: I love having a variety of sizes of mixing bowls. From small to large, I find that having at least 3 bowls of different sizes has been an essential in my kitchen. I prefer Pyrex because of the durability.
Serving Spoon: I love to have a gorgeous and generous in size spoon to serve fruit salads with. I prefer to not have slots in my spoon for fruit salad so that you can enjoy all the delicious juice.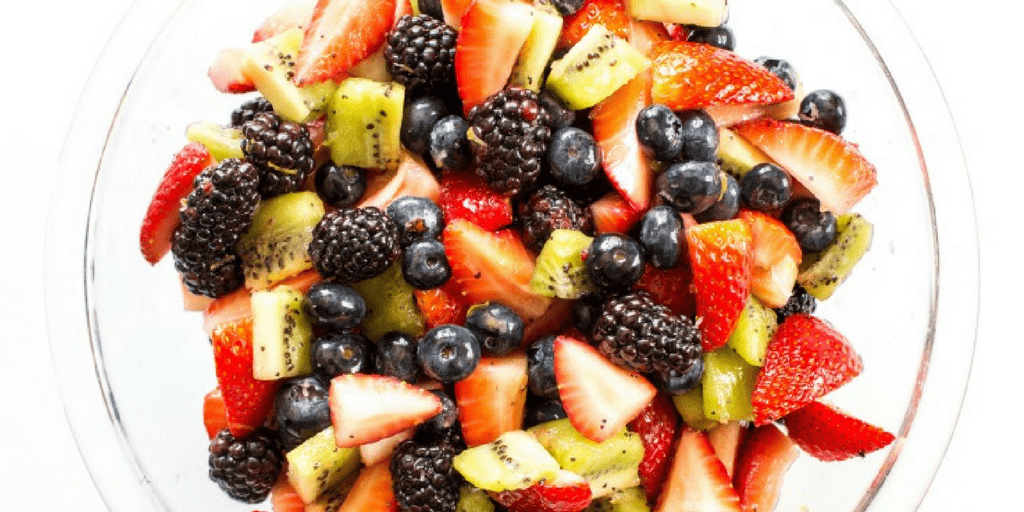 Don't forget to pin this recipe for LEMON POPPY SEED FRUIT SALAD to your favorite Pinterest board for later.

LEMON POPPY SEED FRUIT SALAD
Delicious & refreshing this LEMON POPPY SEED FRUIT SALAD is garnished with a lemon poppy seed glaze making it a spring and summer must have.
Ingredients
4

cups

quartered strawberries

3

cups

mixed berries

3

cups

quartered kiwi

1 1/2

cups

powdered sugar

2

teaspoons

lemon zest

1/4

cup

lemon juice

1

tablespoon

milk

I used coconut milk

1/2

teaspoon

poppy seeds
Instructions
Cut up the fruit as mention above. Add all of the fruit into a large mixing bowl.

Make glaze.

In a medium mixing bowl add powdered sugar, lemon zest and juice. Whisk together, then add the milk 1 teaspoon at time until you get the consistency you desire and there are no powdered sugar chunks.Stir in poppy seeds.

The pour over the fruit and toss to combine. Store in the refrigerator until you are ready to use. In addition, the glaze will become juicy. So toss the salad right before you serve. Or you could also strain the additional juice from the salad, if you desire. I do this.
Nutrition Facts
LEMON POPPY SEED FRUIT SALAD
Amount Per Serving
Calories 147
% Daily Value*
Sodium 3mg 0%
Potassium 285mg 8%
Total Carbohydrates 36g 12%
Protein 1g 2%
* Percent Daily Values are based on a 2000 calorie diet.
This post was recently updated since original post March 2017.

Save