This is a sponsored post written by me on behalf of Smithfield.
Time to fire up the grill friends with these mouthwatering KOREAN BARBECUE RIBS. Packed with flavor, they are the perfect combination of sweet, savory and spicy. These Smithfield Extra Tender Fresh Pork Spare Ribs are perfectly cooked and then caramelized after they hit the grill.
Let me get real with you; I have never been a big rib fan. To be honest, I really never had ribs that were perfectly cooked and always thought they were chewy and tough. That is until I met my husband. He is the sensei of ribs, a.k.a. "Mac the Grill Master".
He has a method to his rib mastery, and today, I want to share that with you.
First off, know your grill. For most of us, we have the traditional propane gas grill, but if you use charcoal or a smoker, it remains the same – know the hot spots and the cold spots. Watch Smithfield's video titled "Let The Cook Happen" if you need to know an easy way to determine this. Typically, you learn the hard way: experience. Once you know that, you're ready to go.
Before using a traditional gas grill, we like to bake our ribs in the oven first. Whether we're eating the ribs right away, taking them to the pool and using their grills or taking the ribs camping, cooking them first in the oven low and slow allows us a little more versatility. With the Smithfield Extra Tender Fresh Pork Spare Ribs, we baked them for 4 hours, tightly wrapped in tinfoil at 250 degrees (baby backs don't take as long). Also, using an oven at the beginning makes it easier to control the temperature. But they still need the grill for deeper barbecue flavor. We love the true flavor of ribs, so we cook them with just a little salt and pepper in the oven and wait for the sauce and other seasoning until it hits the grill.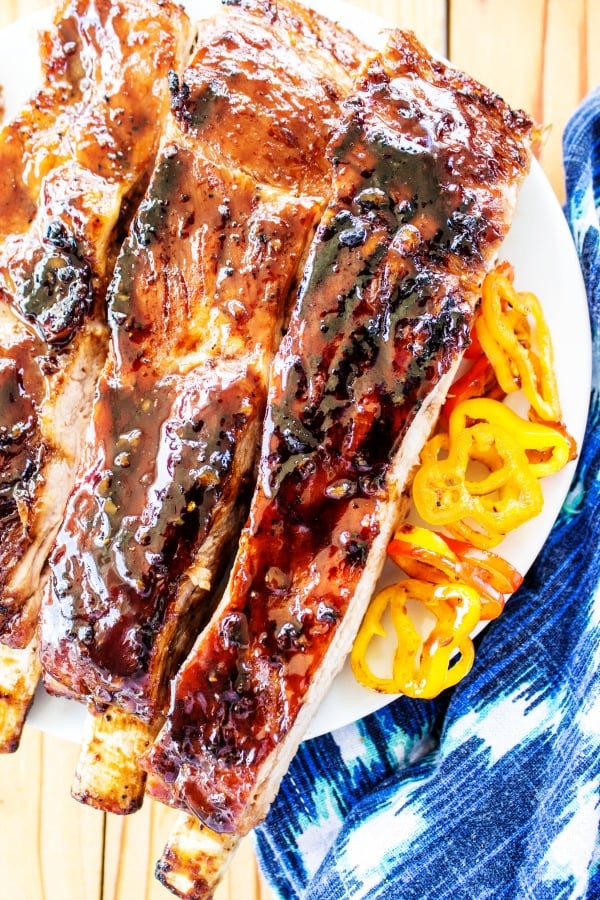 After much of the fat has rendered out in the tinfoil, we slather on the sauce and throw them top side down on a preheated grill (300-350 degrees), letting them caramelize and developing those tasty little charred tips and edges where additional flavor rests. As it cooks, we baste the back and turn once. Basting the top one more time, we shut the lid and let it cook until the bottom is at the desired doneness.
My kids love barbecue ribs, and we always lean toward pork over beef. Since we typically use more traditional barbecue sauces, I wanted to switch it up with a more sweet and spicy sauce. I decided to make Korean barbecue because it's one of my favorites and pretty easy to make as well. It also allows you to enjoy the integrity of the flavor of rib while enjoying just the right touch of Korean barbecue flavor.
Grilling tip: Know that your choice of meat and cut matter. When we make ribs we usually go with baby back and Smithfield Prime Fresh Pork. However, Smithfield offers a variety of other cuts, including: Tenderloins, Boneless Loins, Back Ribs, Spare ribs, Chops, Shoulders/Butts, and Roasts. This week, we wanted some extra meat on our ribs, so we went with Smithfield Extra TenderFresh Pork Spare Ribs from our local Walmart. These ribs are huge, and once my kids laid eyes on these babies, it was instant love and a little drooling.
As a mom, I appreciate that Smithfield Prime Fresh Pork has no added hormones, steroids, or artificial ingredients. And the kids love their messy rib smiles, like my son Madden has below. I don't mind the sticky fingers or messy smiles as long as they keep them at the table or outside.
Summertime is grill season in our home as I'm sure it is in many of yours, so I would love to hear some of your favorite grill recipes. In fact, so would Smithfield. "Get Grilling America" is Smithfield's summer grilling photo competition. This summer, Smithfield is setting out to find your fresh pork grill recipes, videos and tips. And you can win 100s of prizes, including $5,000 cash for the winner of the entire competition!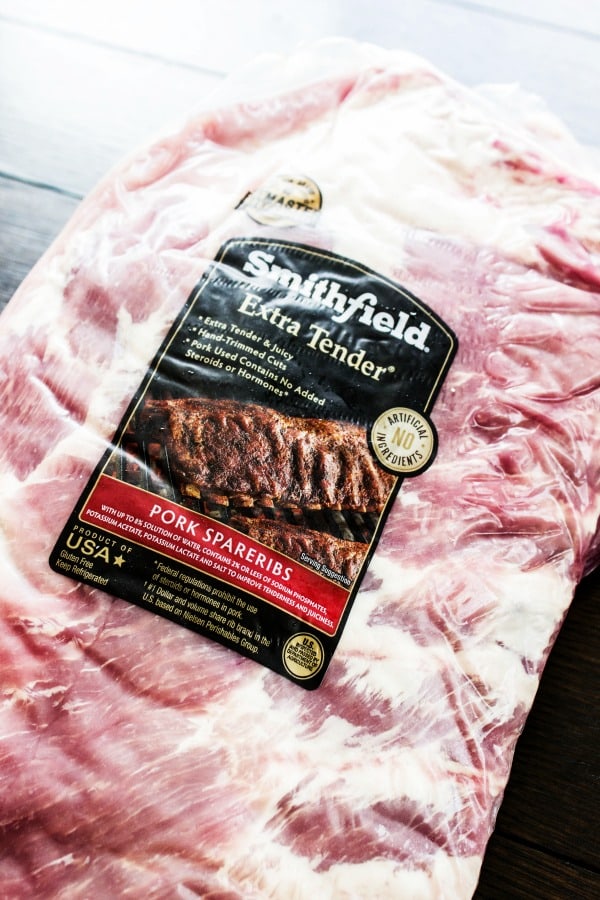 Grilling Tip: If you use a gas grill, keep two propane tanks on hand as there's nothing worse that running out gas midway through cooking. We usually refill ours at a local gas station too as it will save you some money compared to the swap stations. Looking for some more tips like these? Check out www.SmithfieldGetGrilling.com for fresh pork grilling tips, tricks, and recipes from Smithfield pitmasters as well as content from our partners: Weber, Kingsford, Budweiser, Bud Light, TABASCO, and the National Pork Board. Be sure to check out the video at the end of the post for some tips you'll want to use this summer!
I'm happy to say that in our 12 years of marriage, I have become a rib fan – in particular pork ribs! Using Smithfield Extra Tender Fresh Pork gives us great marbling & flavor every time. Slather on Korean Barbecue Sauce and you have a real winner in my book. Enjoy this recipe for KOREAN BARBECUE RIBS from our grill to yours. XOXO San
Don't forget to pin this recipe for KOREAN BARBECUE RIBS to your favorite Pinterest board for later!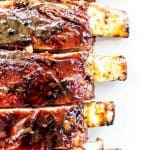 KOREAN BARBECUE RIBS
Ingredients
1

cup

soy sauce

3/4

cup

dark brown sugar

2

tablespoons

minced garlic

1

tablespoon

rice wine vinegar

1

tablespoon

Sriracha

1

teaspoon

grated fresh ginger

1

teaspoon

sesame oil

1

teaspoon

ground black pepper

1

tablespoon

sweet chile sauce

1

tablespoon

water

1

tablespoon

cornstarch

1

rack Smithfield Extra Tender Fresh Pork Spare Ribs

salt & pepper

to taste
Instructions
Preheat oven to 250 degrees.

Line a 13x18 baking sheet with tin foil.

Trim the rib rack if needed and peel off the membrane from the back of the ribs by sliding a butter knife in between the membrane and one of the bones, creating a gap large enough to get a hold of. I use a paper towel to grab a firm hold of the membrane and peel if off the back.

On a large piece of tin foil, lay down your ribs and season the entire rack with salt & pepper (or other desired seasoning). Once seasoned, wrap up the ribs in the tin foil so they are completely covered, this can take up to 2 sheets of tin foil depending on size.

Place on the prepared pan and stick in the oven. Bake for 4 hours or until desired doneness (about ¼ inch of the rib should be exposed and the rack should bend easily and some of the meat should separate from the bone instead of flexing.

Make Korean Barbecue Sauce

In a small sauce pan combine soy sauce, dark brown sugar, garlic, rice wine vinegar, Sriracha, ginger, sesame oil, black pepper and sweet chile sauce. Cook over medium-high heat until it starts to boil.

While the sauce is cooking, in small bowl whisk together water and cornstarch. Once the sauce is boiling reduce heat to medium and stir in the water & cornstarch.

Boil for 3-5 minutes over medium heat and continuously stir. Remove from heat and allow it to cool. Pour into a mason jar, cover and then set in the refrigerator until ready to use.

Once ribs are done in the oven, take them out and slather the top with Korean Barbecue Sauce. Put them top down on a preheated gas grill (350 degrees) for about 10 minutes with the lid down (check at 5 minutes) or until your desired doneness has been achieved. Slather the back of the ribs with sauce when you first put them on the grill. Look for caramelization of the sauce and the beginning of charring by gently lifting up the edge of the rack. Flip the ribs over to the back and add more sauce to the top. Cook for another 5-10 minutes. Remove and let rest for 5-10 minutes. Using tongs, grasp the rack firmly and cut in between each bone with a sharp knife. Serve and inhale.
This is a sponsored post written by me on behalf of Smithfield.
Save