Jalapeno Popper Breadsticks are perfect for the upcoming football season. How can combining carbs, bacon, cheese and jalapenos be bad. That's right… it can't. Ready in 20 minutes, score a touchdown with your family & friends with these irresistible flavors.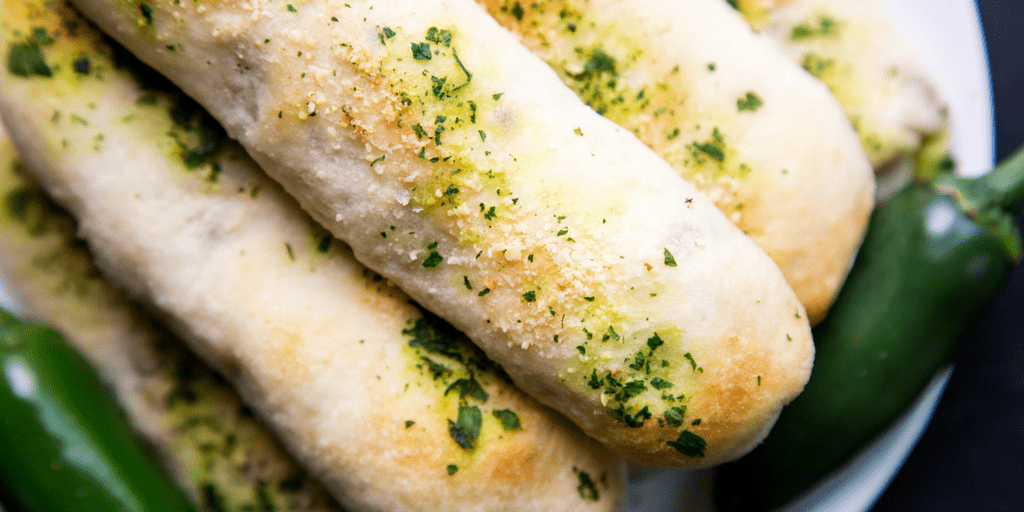 There are somethings that just make your life so much tastier. And these breadsticks are one of those things. My son, Aiden has declared this to be the best thing I have ever made, like ever and said that he highly doubts I will ever be able to top this recipe. We'll see.
My husband literally will eat the entire batch, not kidding. I have made these breadsticks 3 times just this week.
What I love about these breadsticks is that the can really stand alone, no dip or sauce needed.
The cheesy gooey-ness is well almost breathtaking.
We love jalapeno poppers! And these breadsticks combine two of most favorite game time treats. I can't wait for you to try these. Not only are they easy and delicious, these breadsticks will have your crowd cheering and not just for your home team.
Enjoy! XOXO San
Jalapeno Popper Breadsticks
Ingredients
1 Pillsbury Pizza Crust
4 ounces cream cheese, softened
4 jalapenos, stems and seeds removed, cut into quarters
8 tablespoons bacon crumbles
8 mozzarella cheese sticks
2 tablespoons butter, melted
Sprinkle Parmesan
Sprinkle dried parsley
Directions
Preheat oven to 425 degrees.
Spraying a baking sheet with cooking oil and set aside.
Roll out dough slightly on a lightly floured surface.
Cut dough into 8 rectangles pieces.
Spread cream cheese over each pizza dough piece.
Add 1 tablespoon crumbled bacon.
Add 2 quarters of a jalapeno to the top of the cream cheese and bacon mixture. Repeat with remaining dough and jalapenos.
Top with string cheese. Adding one string cheese on top of jalapenos.
Roll up pizza dough into breadsticks.
Place on prepared baking sheet.
Spread melted butter onto each breadstick and then sprinkle with Parmesan cheese and dried parsley.
Stick in oven and bake for 10-12 minutes.
Remove from oven and serve immediately. Be sure to be careful when taking a bite, don't want to burn the roof of your mouth..
https://www.dashofsanity.com/jalapeno-popper-breadsticks/
Don't forget to pin this to your favorite Pinterest board to make for later.

Love bacon? Come check out these other amazing recipes all using BACON! Yum.

French Onion & Bacon Dip from Around My Family Table
Bacon Bourbon Caramel Popcorn from Cooking in Stilettos
Cheesy Bacon Jalapeno Bread Sticks from A Dash of Sanity
Spinach & Bacon Quiche with Sweet Potato Crust from Bread Booze Bacon
Coffee Maple Bacon from Nomageddon
Southern Bacon-Fried Cabbage from Love Bakes Good Cakes
Bacon Stout Risotto from Forking Up
Dark Chocolate Caramel Brownies with Bacon Salt from Hey Grill, Hey
Save