Deliciously simple slow cooker ITALIAN CHICKEN STEW is comforting and full of flavor. Loaded with veggies and chicken it's hearty making a perfect dinner.
This is one of those kind of meals that you just throw together with what you have on hand and prays that it taste good. And I could not be more happy with how this slow cooker ITALIAN CHICKEN STEW turned out.
I had recently just got back from a trip with some girlfriends, a work trip that is but not the kind of work trip you probably experience. This work trip was us sitting around in our sweats and slippers all day long, ordering lunch in, grabbing our Starbucks through the drive-thru so we didn't have to "get ready" for the day. And the kind of trip, you get a whole bunch done on work because you aren't running around kids everywhere, have laundry and housework calling your name and well, you laugh all day long. The kind of laughter where you are laughing so hard that someone eventually snorts.
I spent 3 fabolous days with Mary from Barefeet In The Kitchen (our hostess), Lynne from 365 Days of Baking, Erin from Dinners, Dishes and Desserts and Meseidy from The Noshery. We worked on our blogs (there is so much that goes into blogging that you don't realize), we brainstormed ideas, talked about working from home and managing stress. Because we are all stressed.
I left feeling pumped, yet I could have stayed another day or two and I typically don't feel that way. But it was just the perfect trip, with the best kind of ladies. Hard working, loving, supportive, kind, dedicated and passionate. They make me better. If you don't have friends or co-workers like that, I'm sorry because honestly, I wouldn't have made it the last year blogging if it wasn't for friends like them.
I got home to a clean house, YAY! Mom's dreams come true.
The kids ate amazingly while I was gone, my hubby taking control of the kitchen, he really is a good cook.
I was a little like, what to make I had a ton of stuff to do, like laundry and work so I knew I wanted to make something in the slow cooker. And it had to be with chicken because I was making my friend my Slow Cooker White Chicken Chili in one of my other slow cookers because she had her sweet baby boy while I was gone, so I needed our dinner to be with chicken as well, using the leftovers from what I didn't use in their dinner.
So I browsed the kitchen and threw together to what eventually became this ITALIAN CHICKEN STEW.
I love 2 things about this recipe, wait 3! Easy. Healthy (with lots of veggies). Full of flavor. This will become apart of our monthly rotation, as well as one of those meals I take friends when they are under the weather. It is so easy to throw together and just stunning to look at, so your friends will be amazed.
I love my slow cooker and in fact I try to cook in it 2 times a week, making a busy weeknight dinner still homemade and delicious. A few of our family favorites include this recipe of ITALIAN CHICKEN STEW, Slow Cooker Tuscan Tortellini Soup, Easy Barbecue Beef Brisket and Authentic Tortilla Soup.
So now it's back to normal life, until the next girl's trip, which I am thinking there is one coming up at the end of February….woot woot! Nothing like some friends to feed your soul, and while my family does this too girlfriends do it differently and to that I am grateful. Cheers to friends, family and girls weekends away. Enjoy! XOXO San
My favorite kitchen items to make this SLOW COOKER ITALIAN CHICKEN STEW are below, you will want of few of these just for your everyday cooking.
SLOW COOKER: I prefer my slow cooker to have a timer. This is because I always somehow forget about it. So having a timer and a lid that locks are two essential things for me when purchasing a slow cooker.
MEASURING CUPS: Nothing beats a good set of measuring cups that last a long time. I love metal measuring cups because of their durability.
MEASURING SPOONS: I have to have a metal set of measuring spoons on hand. The plastic ones just don't last long in our house thanks in large part to the garbage disposal.
Don't forget to pin this recipe for SLOW COOKER ITALIAN CHICKEN STEW to your favorite Pinterest board for later.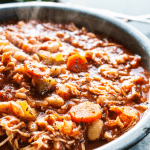 ITALIAN CHICKEN STEW
Deliciously simple slow cooker ITALIAN CHICKEN STEW is comforting and full of flavor. Loaded with veggies and chicken it's hearty making a perfect dinner.
Ingredients
2

chicken breasts

about 1 1/2 - 2 lbs

28

ounce

canned crushed tomatoes

15

ounce

canned tomato sauce

1

cup

chicken broth

1/2

yellow onion

chopped

2

14.5 ounce

canned Great Northern Beans

1 1/2

cups

chopped celery

1 1/2

cups

chopped carrots

3

tablespoons

Italian seasoning

2

teaspoons

dried basil

2

teaspoons

dried orgeano

1

teaspoon

salt
Instructions
In your slow cooker add all of the ingredients in order. Gently stir to combine.

Cook on low 6-8 hours or high for 3-4 hours.

Once the chicken is completely cooked, remove from the slow cooker and shred or chop into medium sized chunks.

Add chicken back to slow cooker and stir to combine. Season to taste and serve.

Serve the stew topped with parmesan cheese and a sprinkle of dried basil, it gives it a very rustic look.
Save