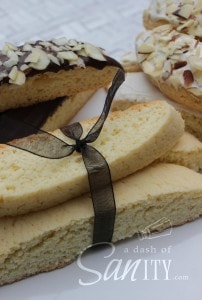 Italian Almond Biscotti  
I love biscotti! Especially on the side of my hazelnut steamer from Starbucks. I had never really found a recipe that I loved that was until Jamie aka friend and mom extraordinaire gave me one. Since that day, I have made this recipe literally hundreds of times. We give it away for Christmas gifts and this is a bigger seller for me during the holiday season.
Now I must mention, that when I make this recipe I double it because I literally eat ½ the dough. The recipe below is NOT doubled. Hope you enjoy this as much as we do!
Ingredients:
2 1/2 cups flour
2 teaspoon baking powder
1/4 teaspoon salt
1/4 cup butter or margarine (softened)
1 cup sugar
3 eggs
2 teaspoon almond extract (you can also use vanilla)
Optional:
1 cup almonds, walnuts, or hazelnuts, sliced
Amaretto or Hazelnut liquor to drizzle over finished biscotti
Melted chocolate to dip baked biscotti in
Directions
Preheat oven to 350 degrees
Stir together flour, salt, and baking powder 3 times.
Beat sugar, butter, until light. Add eggs one at a time and add flavoring. Beat again.
Combine mixtures and add nuts. Roll into 2 logs. Press down slightly. If mixture is too soft, refrigerate for 30 minutes or add more flour.
Bake at 350 for 20 minutes. Cool. Slice logs on the diagonal, lay flat on the cookie sheet and bake again at 250 for 15-20 minutes until lightly browned.
My review: I loved it dipped in dark chocolate topped with slivered almonds.
Kids review: The kiddos will eat this the plain Jane way, with dark or white chocolate but like me they love the dough!!!
Save