Refreshing & easy, this Blue Island Cocktail/Mocktail is made with pineapple juice, limeade, pina colada mixer and lime juice. You can also add rum for the adults.
These Island Cocktail and Mocktail recipes were inspired by my adventures with Princess Cruises. This year, I was blessed to sail away with Princess Cruises to exotic locations, including Costa Rica, Aruba, Colombia, Mexico and most recently, Alaska.
On every cruise, they have this Blue Cocktail that you can easily get made into a blue mocktail. So while I have had this drink before my Alaskan trip, I decided to share it today because the color reminds me of the Alaskan sea and the glacial peaks.
So let's talk about the luxury of cruising to Alaska.
The Sanctuary is literally what it sounds like. I could spend all day here being served hot chocolate, coffee, pastries, appetizers and any drink or food you desire. Now, this isn't the only reason I love the Sanctuary. To me, this is one of the only places I feel pampered.  For each chair and area in the Sanctuary, there is a host. This person waits on you hand and foot – even bringing you warm blankets or an umbrella to take with you in case it rains or snows. They check on you, ask how you are doing, bring you anything you need and if you have a question, they'll answer it.
You cana also lounge in a Sanctuary cabana, which you have to reserve in advance. I highly recommend doing this before you board or immediately after boarding as this is a popular place.
The biggest draw for me is that you can get a massage. During this last cruise, I didn't get one because I had already booked my massages, and by the time I went to change it to the Sanctuary, there weren't an openings. I was a little disappointed because the scenic views in the sanctuary are hands down the best. To get a massage in an area like that would be the ultimate piece of paradise.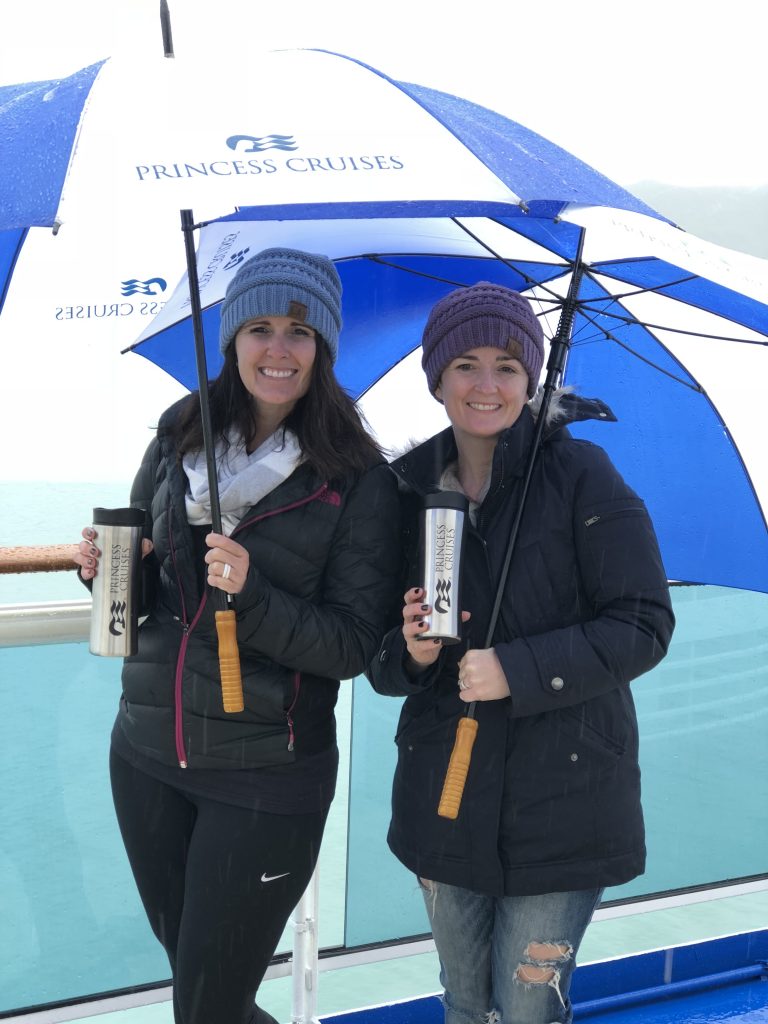 Besides the Sanctuary, this is my favorite place to be. I honestly would get a different massage every day if I could, but with the excursions at the ports, I just couldn't swing it.
This time, my sister and I took full advantage of the spa when we could.
Upon arrival, we got our nails done. I loved seeing my sister pampered. However, we hit the spa very differently. I love to sit and relax, close my eyes or gaze out the windows with the majestic views. My sister, on the other hand, loves to talk! She chatted her nail technicians ears off and laughed at least 20% of the time. While at first, I wanted to shoosh her, I loved hearing her so happy.
The rest of the trip we booked two massages each.
We both got deep tissue massages with hot stones – a must! I have never felt so relaxed after a massage. For our other massages, we decided to try two others.
Every stateroom has a personal attendant who comes in the morning and evening to service your room. What does this mean? They tidy up if you want, turn down your bed at night and even leave chocolate. They tend to your needs. If it's more towels, they have you covered. An issue with your room, let them know, they'll help you out.
They keep you informed and make sure you're fully stocked.
It was so nice upon our arrival; they had chocolate covered strawberries and champagne. I don't drink, so my sister Nicole was left to the duty of enjoying it all. And oh, she did. We instantly felt taken care of. Every day, we were left with an itinerary and things that were coming up or happening around the ship. I loved feeling in the know but not having any pressure to join in.
The one activity we did take part in was trivia. This was so fun! And we are a little competitive, so this made it fun for our whole group.
Along with impeccable service, the food and drinks are just as high quality.
I am not sure what it is about fancy drinks, but I always feel special with them.
This recipe for the Island Cocktail or Mocktail reminds me of the crisp blue Alaskan skies, glacier mountain tops and of course, the ocean. It seems that every Princess Cruise I go on I get inspired by a drink. And this ranks as my #1 favorite.
My second favorite drink is the Nojito – it is a beautiful and fun twist on a Mojito. I love making both of these drinks for family and friends.
It may seem funny that I'm sharing an island drink for an Alaskan post, but literally, island life is all about relaxation, and that is exactly why I loved this cruise. I relaxed, and it was so fun to do this with my sister.
What I love about this combination of flavors is that it taste like the tropics. With coconut, lime, pineapple and Hawaiian Punch, this drink is something our entire family loves. And I think it's fun to share something with them that was inspired by my travels to Alaska.
This drink is perfect for summer because of the ice – made like a slushy, you'll love this blended drink. A perk is that no one will be left out. Kids and parents can enjoy the same fun fruity drink, creating lots of smiles.
My favorite kitchen items I used to make this recipe for ISLAND COCKTAIL.
This post may contain affiliate links. See my Full Disclosure for further details.
Juicer: My kids love making their own fresh squeezed juice, but they refuse to use a juicer. We had one for years, but they always wanted to press the oranges or lemons themselves. This juicer is a win here in our home.
Glass Pitcher: I love having a glass pitcher filled with a gorgeous drink on our table. Not just because the drink quenches our thirst, but it also can be a beautiful centerpiece. I love one that holds 64 ounces or more, but that's because I have a large family of 7.
Don't forget to pin this recipe for ISLAND COCKTAIL to your favorite Pinterest board for later!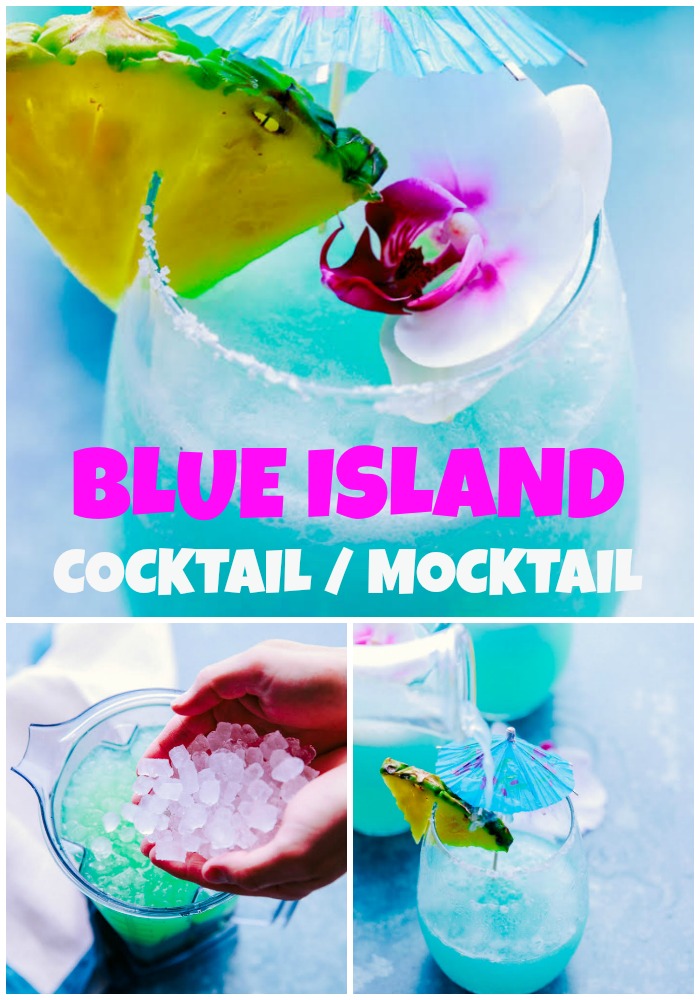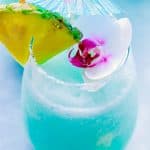 Blue Island Cocktail
Refreshing & easy, this Blue Island Cocktail/Mocktail is made with pineapple juice, limeade, pina colada mixer and lime juice, and you can add rum for the adults.
Ingredients
2

ounces

light rum

2

ounces

blue curacao

3

ounces

pineapple juice

2

ounces

limeade

2

ounces

frozen pina colada mixer

1/2

teaspoon

sweetened lime juice

splash

2

cups

ice

Salt to rim glasses

optional

Pineapple slices

garnish
Mocktail recipe
1

cup

Polar Blast Hawaiian Punch

1

cup

frozen limeade

1

cup

frozen pina colada mixer

1

cup

pineapple juice

1/2

teaspoon

sweetened lime juice

2

cups

ice

Salt to rim glasses

optional

Pineapple slices

garnish
Instructions
Wet the rim of each glass with lime juice and dip into salt.

Add all ingredients into a blender and mix until blended.

Pour into each glass and serve chilled with a pineapple slice.
Nutrition Facts
Blue Island Cocktail
Amount Per Serving
Calories 76
% Daily Value*
Sodium 3mg 0%
Potassium 69mg 2%
Total Carbohydrates 13g 4%
* Percent Daily Values are based on a 2000 calorie diet.
Save