Healthy Sweet & Sour Chicken easy recipes that is grilled to perfection.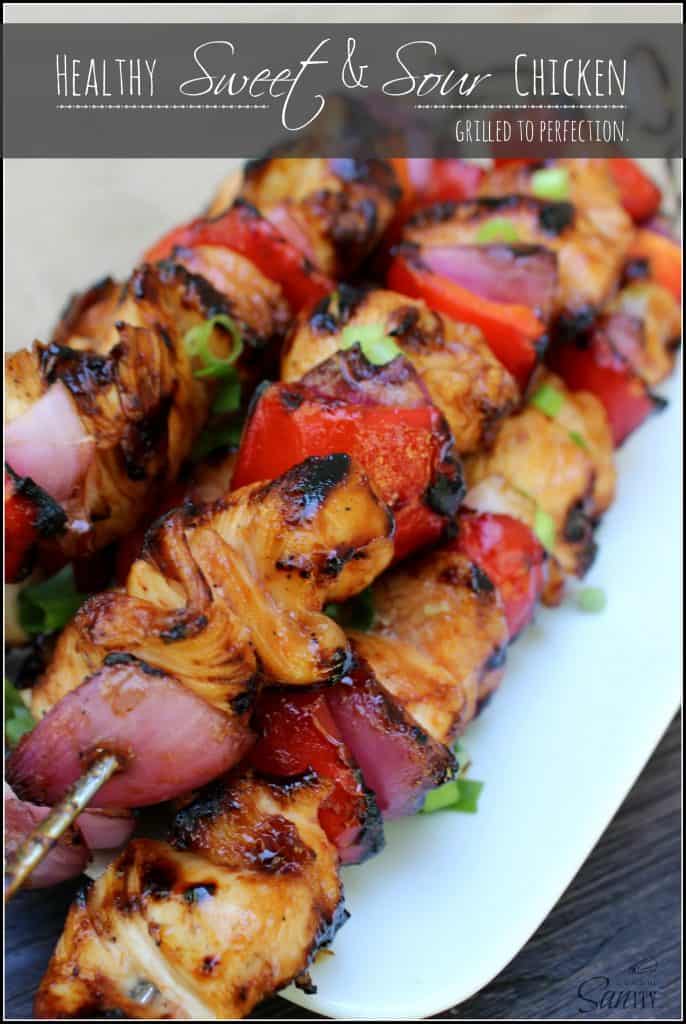 I have mentioned on numerous occasions how much our family loves Chinese take-out.
My kids love Sweet & Sour Chicken, really they love any Chinese chicken that is coated with a yummy sauce.
And while I love Sweet & Sour Chicken too I just never order it because it is so unhealthy, being fried and loaded with sugar. But yesterday I was craving it bad! Like I could taste it by just thinking of it, kind of craving.
So, since our summer theme is the "summer of the kabobs" I tried to give it whirl and bring a family favorite to the grill. Making this recipe healthier and a whole lot tastier.
Enjoy from our grill to yours, Healthy Sweet & Sour Chicken.
XOXO San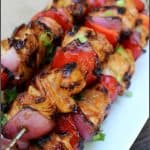 Healthy Sweet & Sour Chicken | Grilled to perfection.
Grilled Sweet & Sour Chicken makes this recipe healthier while still maintaining the authentic taste of this classic and favorite Chinese take-out dish.
Ingredients
2

lbs.

chicken tenders or chicken breast

sliced into tenders

1

tablespoon

rice vinegar

2

tablespoons

soy sauce

¾

cup

sugar

¼

cup

+ 2 tablespoons ketchup

1/2

cup

apple cider vinegar

½

teaspoon

granulated garlic or garlic powder

Salt and pepper to taste

1

red pepper

chopped into large chunks

1

purple onion

quartered and then each quarter halved

2

cups

brown rice

cooked and prepared by package directions
Instructions
Marinade:

Mix rice vinegar, soy sauce, sugar, ketchup and apple cider vinegar in a medium mixing bowl and stir together until well combined. Place chicken breasts in marinade, cover and let it marinade in the fridge for 1-2 hours. I make it in the morning and let the chicken sit in a Ziplock bag with the marinade until dinner.

If you are using metal skewers skip this part, if you are using wood skewers follow the directions below.

Now I know there is a debate whether or not to soak your skewers and to each their own. But I soak mine, I have found that I get less wood pieces in the chicken and they don't go up in flames. They still may char a tad, but not following apart or on fire.

I completely soak my skewers for 30 minutes, sometimes accidentally longer. Make sure the entire stick is completely dredge in water. Once they have soaked, remove and start to assemble the skewers.

Kabobs:

Remove the chicken from the fridge, one piece at a time grab a tender and lace through the skewer. I start at the chunkier end and do a weave motion. Or you can just slide the entire tender on the kabob and not make it all fancy like a wave. Either way, they will taste the same. After adding one piece of chicken, add 2 pieces of purple onion, and 1 red pepper piece, add another piece of chicken and repeat process until skewer is full. Set kabob on a plate and repeat with the remaining chicken, onions and peppers. Keep the remaining marinade, and baste chicken on grill while it is cooking.

Heat gas or charcoal grill. Place chicken on grill over medium heat. Cover grill and cook 3 minutes, then turn over the kabob, baste with remaining marinade and cook another 3 minutes. At this point check the chicken. To know if the chicken is done the juices should be clear and the center of thickest part is cut (170°F). If not done, continue to cook, at this point I leave the lid open and just turn the kabobs so they are cooked evenly on both sides. My chicken takes about 8-10 minutes.

Remove from grill and serve immediately with brown or white rice. Or cover with foil and serve later.
Recipe Notes
Total time does not include the time to let the chicken marinade. Marinade adapted from Damn Delicious
Save